Each month, we post a series of blogs around a common topic. This month, we've asked some of our 2016 National Gathering workshop presenters to share their thoughts on their importance of their workshops in today's context. Amanda Pine and Teer Hardy are two of our presenters. Learn more about their workshop at the end of this post. We invite you to join the conversation here, on Facebook, or Twitter!
by Amanda Pine and Teer Hardy
One of the greatest gifts for youth leaders is social media; Facebook, Instagram, Twitter, Pinterest (who doesn't love the awesome games you can find there), and Tumblr.  All of these social media sites are full of resources that will aid in connecting leaders for idea sharing and tips about what works and what does not. Recently, on a Facebook youth ministry group board, there has been an influx of youth leaders asking for advice on how to handle being laid off (forced resignation), having their hours cut or increased without an increase in pay, or needing to leave congregations because they just are not able to make ends meet. This represents a troubling tone which is reflected among all of Christian education. Securing volunteer leadership is increasingly hard and financial resources to support paid program staff are also becoming increasingly scarce.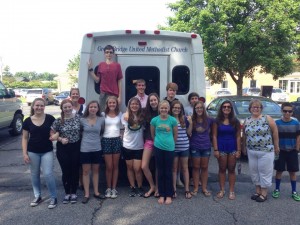 Where is the silver lining in this? What can we possibly take away from job insecurity and financial and volunteer scarcity? "Youth Ministry Beyond the Bubble," the workshop that we will be presenting at the NEXT Church National Gathering, will address how we can escape from our fears about ministry, and take (responsible) risks to make a youth ministry program great. Part of this involves inspiring change in our church communities in general, but part is about branching out to your mission field and partnering with community organizations and business to advance the goals of the ENTIRE community.
Using missional theology, we believe that youth ministry does not have to be the first program cut in a time of budget crisis. We do not offer any quick-fix or attractional advice for youth workers, but rather a change in mindset that we hope will inspire youth leaders to embrace challenges in their congregations with positivity, and treat their youth with top priority. We are passionate about youth ministry and church growth, specifically when the church grows to more effectively nurture the community it finds itself in.
---

Teer Hardy is husband, father, and brewery theologian. He serves as the Director of Youth Ministry at Great Bridge UMC in Chesapeake, VA.

Amanda Pine is a cradle Presbyterian who currently serves the congregation of Great Bridge UMC as Director of Christian Education.
Amanda and Teer's workshop is called "Youth Ministry Beyond the Bubble" – 
Are you constantly plagued by the "numbers" question? How many people are attending your programs? How many are new this week? This workshop will provide participants with practical, tried and true, ways to incorporate an intentionally outreaching focus into your youth ministry setting. Together, we will move beyond the traditional models of ministry and begin the practice of risk taking as a faith community. This workshop is offered on Tuesday during workshop block 3.
https://media.myworshiptimes31.com/wp-content/uploads/sites/55/2016/01/29175653/great-bridge-umc-youth.jpg
720
960
Linda Kurtz
/wp-content/uploads/sites/55/2016/01/NEXT-Logo-FINAL-Horizontal_lato-1030x229.png
Linda Kurtz
2016-01-21 07:19:18
2016-02-16 14:23:33
Youth Ministry Beyond the Bubble