Each month, we post a series of blogs around a common topic. This month, Katy Stenta is curating a series called "Worship Outside the Box" that looks at the elements of worship in new ways and contexts. Each post will focus on one particular part of worship, providing new insights about how we can gather to worship God. Today's post serves as the invitation to the table. What are the ways you worship God in your own community? We invite you to join the conversation on Facebook and Twitter!
by Cheryl Carson
How enthusiastic are you about coming to the Lord's Table for communion? That was a question I posed to 16 high school students as part of my recent doctoral research. What emerged was an interesting tension between their passion for the sacrament and their boredom with the ritual.
The good news was that nearly two-thirds said they were very or extremely enthusiastic. John, an 18-year old high school senior, who was one of two who were extremely enthusiastic said, "It's a way of connecting to God… I'm more of a hands-on person (rather) than just listening, so I think that's part of what I enjoy." Matt, a 15-year-old 10th grader said he was moderately to very enthusiastic "because I realize it's important, and it's necessary to take part in. But, I've done it a lot and it's special but not very exciting."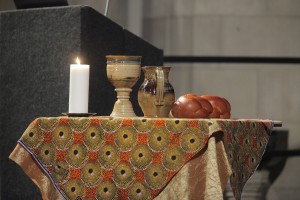 The celebration of the Lord's Supper is a practice of corporate worship where we join with the risen Christ in a meal of remembrance and thanksgiving. But as the youth discovered during our focus group discussions, there are many additional meanings that are rarely lifted up.
In the book, Growing Young: 6 Essential Strategies to Help Young People Discover and Love Your Church, the authors proclaim that youth are trying to answer three questions: "Who am I? Where do I fit? What difference do I make?" Where can students better explore and discover their identity, belonging, and purpose as disciples of Christ than through the celebration of the Lord's Supper?
The youth shared stories of their most memorable experiences of communion. They also, in two focus group discussions, offered their suggestions for making the Lord's Supper more meaningful. They watched a video available through the PC(USA) entitled, "Communion: A Feast of Grace." As they watched, they wrote down meanings of communion they heard. The one meaning upon which both groups wanted to build their Lord's Supper liturgy was the theme of all being welcome. It was important to them to convey that everyone has a place at the table.
The scripture passage both groups selected, unbeknownst to one another, was the feeding of the 5,000. It spoke powerfully to them of the welcome offered by all being fed. They chose to follow the basic liturgical ritual found in the Book of Common Worship. They did not want to dispose of tradition. They wanted to build on it by making communion a full-bodied, sensory experience within that liturgical structure. We need not simply stick to a rote recitation of the Invitation, Great Prayer of Thanksgiving, and Words of Institution. The youth want to engage all the senses — sight, sound, smell, touch, and taste. And when we offer a multi-sensory experience, research tells us the memory of the experience is more lasting.
Here is a sampling of the students' liturgical ideas:
Intinction was identified as a more intimate experience for a number of youth. They felt a greater sense of Christ's presence by coming forward to be served. And they got a deeper feeling of Christ's love when the server said, "The body of Christ given for you," as they pulled a piece of bread from the loaf.
Adding visual elements was suggested by a student based on an experience at a youth conference. Everyone had placed their handprints on a cloth. The cloth was later used on the communion table to symbolize the community gathered at the Table.
One person recalled World Communion Sunday at their church when a variety of breads were served. The different breads provided a representational nod to people around the world who were also participating in communion that day.
It requires some creative thought and extra planning to celebrate the Lord's Supper with more verve. But, it is effort well spent in order to engage our youth in communion and to potentially reveal Christ in new ways.
If you would like the article length summary of the research project which includes the Lord's Supper liturgy developed by the youth, please email me at ccarson@cfpresbytery.org.
---

Cheryl Carson is the Associate Executive Presbyter for Central Florida Presbytery. She advises the Presbytery's Youth Council, serves as staff liaison to the Leadership Development Committee, resources congregations and their members, and oversees the presbytery's communications. Cheryl has a Doctor of Educational Ministries degree from Columbia Theological Seminary. She also has her Masters of Christian Education from Union-PSCE (now Union Presbyterian Seminary) in Richmond and a Masters of Mass Communication from the University of Florida. (Go Gators!) She is also a Certified Christian Educator in the PC(USA). Cheryl and her husband, Bill, live in Merritt Island, FL with their dog and four cats.
https://media.mywtenfold1.com/wp-content/uploads/sites/10/2016/05/29175138/featured-2015-communion.jpg
200
398
Linda Kurtz
/wp-content/uploads/sites/10/2016/01/NEXT-Logo-FINAL-Horizontal_lato-1030x229.png
Linda Kurtz
2019-01-23 06:58:04
2019-01-19 16:05:10
Youth and the Lord's Table in the Real World