by Katy Stenta
"Worship outside the box" is a blog series meant to explore the myriad of ways we find and experience God. To me, worship is all about accessing God. God may be omnipotent, ever-present and everywhere at once, but that doesn't mean we always feel like we have access to God.
Worship services are, in theory, designed to provide a variety of access points to God through speech and silence, companionship and meditation, singing and listening to music. But church happens other times too: in my church's parking lot, during the free playgroup in our building, during conversations with AA members who are hanging around the church. One of my favorite experiences of church was the More Light Presbyterians reception at the 2015 NEXT Church National Gathering, which happened to be the very day that LGBTQ marriage was ratified; a bar full of young Presbyterians celebrating the queer community is one of the rarest forms of church I have ever experienced.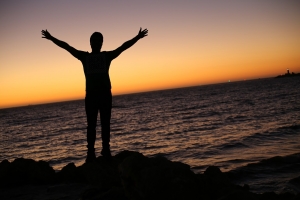 Being Presbyterian, I am very conscious of those things that we prioritize in worship and what we think are the elements that automatically make worship happen: words and language are hugely emphasized. Pieces of paper or screens help us to stay decent and in order, and many things are recited by the corporate body together.
However, for those individuals who are visual, those have trouble reading/speaking/hearing, for those who have trouble standing, and those who have trouble sitting, there is much to be desired in a worship service. As the mother of a basically non-verbal nine-year-old boy with autism who loves church, I get to think about all of this a lot.
If worship is providing ways to access God, then its important to think outside the box, the church box, and even the reading/neurotypical box. Where can we allow creative access to God? Where can we open the door to the work of the Holy Spirit? Where can we learn from other individuals' spirituality?
When we write liturgy, do we examine it to be the most accessible of texts? Does it include everyone? Does it encourage welcome? Do we include images to help our non-verbal individuals? Is the text large enough for everyone to read? Do we have a predictable enough structure to make everyone feel comfortable, but is it open enough for those who need wiggle room?
One example from my context is that we have been writing bulletins for our new inclusive worship community, TrailPraisers. We try to include many elements: moving and non-moving, verbal and non-verbal, loud and quiet, participatory and martyr.
Examining and re-examining how and when and where we do liturgy is essential to expanding our growing knowledge as to how to access God. That's where a series like this is essential, and I am hopeful that there will someday be ways for us to conference/create/congregate for a larger and exciting way to talk about worship and access together. Hopefully this blog series provides insight and inspiration for you to find more ways to access God and provide that access to others as well.
---

Katy Stenta is the pastor of a bigger-on-the-inside church in Albany, NY where she has been the solo pastor for 8+ years. She is the mother of 3 children – Franklin, almost 11; Westley, almost 9; and Ashburn, 7 – and is married to a librarian, Anthony. She loves big and creative ideas and to read as much fantasy as possible. She is also the co-founder of TrailPraisers, a developing inclusive worship experience for all faiths, ages & abilities.
https://media.mywtenfold1.com/wp-content/uploads/sites/10/2019/01/29173141/featured-worship-sea.jpg
200
398
Linda Kurtz
/wp-content/uploads/sites/10/2016/01/NEXT-Logo-FINAL-Horizontal_lato-1030x229.png
Linda Kurtz
2019-01-08 10:22:46
2019-01-08 10:44:41
Worship Outside the Box