Each month, we post a series of blogs around a common topic. This month, Tanner Pickett and Elizabeth Link are curating a series that will reflect experiences of those in the beginnings of their ministry, particularly through the lens of Trent@Montreat. Over the course of the month, we'll hear reflections from past and future participants, track leaders, and members of the leadership team of Trent@Montreat. We hope these stories will encourage you along your journey – and maybe encourage you to join us next April! We invite you to share your own thoughts on Facebook and Twitter!
by Jessie Light
Editors' note: Trent@Montreat is created for people in their first ten years of ministry. Why is that relevant? As they saying goes, "You don't know what you don't know" and seminary can only teach you so much. Most people get into their chosen profession only to realize that there are things that they are not prepared to deal with. The next two posts are from two people on the cusp of this transition, reflecting on their time in seminary and sharing their hopes for their future ministry.
The slightly cooler September air whips through my ponytail as I gain speed, pedaling confidently down the quiet street. A bit awkward on the bike, I make a clunky gear change that slows me down a bit and causes the tires to wobble. Looking down, I suddenly realize that my training wheels – those helpful crutches I had depended on for months, even years – have been removed! Even more surprising, I glance behind my shoulder and realize that I am completely alone on the road, miles away from home. I slow to a stop to breathe for a few minutes and get my bearings.
This is the embodiment of my first three weeks of ministry. And this reflection is the slowing, the stopping to breathe, the trying-to-get-my-bearings.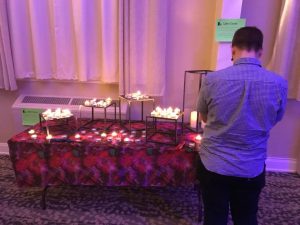 In many ways, seminary was the best experience of my life thus far. I spent the last three years profoundly reflecting on what Christianity means in the world today, creating some of the most meaningful relationships I've ever had, and intentionally cultivating my gifts for ministry. I've been biking down this road for awhile now – writing papers, receiving feedback, going to counseling, working in congregations, preaching and leading worship, completing CPE, winding my way through the ordination process. When I graduated in May, I felt a healthy sense of accomplishment; I felt capable and confident, eager to begin my call.
I'm not even sure when the training wheels came off. Were they unscrewed in the middle of my summer internship after I preached my fifth consecutive sermon? Perhaps they were left in the dust when I sat with an anxious and grieving family at the children's hospital. Regardless, I didn't notice their absence until this week, until I asked myself for the umpteenth time, "am I doing what I'm supposed to be doing?"
It's not an exaggeration to say that I have the dream "first call." As the Monie Pastoral Resident at Preston Hollow Presbyterian, I am responsible for creating and coordinating a brand new worship service on Sunday evenings, for writing all of the church's liturgy, for teaching a well-established bible study, and for exploring the many other ministry areas of the church over the course of two years. I feel incredibly lucky to have this opportunity, and to work alongside so many people that I admire and respect.
And still, every day so far, I've looked around my still unsettled office asked myself, "am I doing what I'm supposed to be doing?" Of course I'm attending scheduled meetings; acquainting myself with the building, staff, and congregation; leading in worship; meeting deadlines; and so on. I feel equipped to fulfill these responsibilities, and for that, I am grateful.
What has been completely unanticipated, and somewhat terrifying, is knowing that I am capable and called, and still feeling like I'm faking it.
Many people in the last few years have reflected on the "imposter syndrome," the feeling of self-doubt and fear that leads to asking the question, "what if they find out that I'm just faking it? What if they realize what a fraud I really am?" I have realized that I might be especially prone to imposter syndrome as an Enneagram Type 3 (The Achiever) because I am both goal oriented and image-conscious. Certainly there have been moments this month where I have felt confident in myself, but often, they have been overshadowed by this syndrome, this tendency to downplay what I am doing
So here I am, feeling like I'm faking it, all the while being introduced to people as "the newest pastor here at Preston Hollow!" Here I am, finally realizing my own grief that seminary – an incredible chapter of my life – is over, all the while forming a beautiful new community here in Dallas. Here I am, repeatedly asking myself an unhelpful question, all the while doing the work of ministry, the work God is calling me to do.
And as I look down toward the tires of my well-loved bicycle, I realize my knees are shaking but my muscles are strong. Maybe it's time to trust myself a little more, to trust the training I've received and to recognize that I've been biking without my training wheels for a long time. As I start to pedal again, I look forward once more, and enjoy the breeze.
---

Jessie Light completed her Master of Divinity at Austin Presbyterian Theological Seminary in May 2017, and is currently serving as the Monie Pastoral Resident at Preston Hollow Presbyterian in Dallas, TX. Jessie is also a graduate of Vanderbilt University. Prior to serving at PHPC, Jessie worked in various capacities at Village Presbyterian Church (Prairie Village, KS), University Presbyterian Church (Austin, TX), and North Decatur Presbyterian Church (Decatur, GA). Jessie serves on the Executive Board of Presbyterian Peace Fellowship, and finds joy in baking sourdough bread, writing poetry, and being outside in God's good creation.
https://media.mywtenfold1.com/wp-content/uploads/sites/10/2017/11/29174055/featured-phpc-service.jpg
200
398
Linda Kurtz
/wp-content/uploads/sites/10/2016/01/NEXT-Logo-FINAL-Horizontal_lato-1030x229.png
Linda Kurtz
2017-11-13 09:03:01
2017-12-05 10:18:51
Without Training Wheels