by Jeffrey Lehn
Preached at a meeting of Whitewater Valley Presbytery, November 7, 2012
Isaiah 40:28-31
God, by your grace may we hear in your word what we need to hear and may we then be strengthened by it in order to do what you call us to do. Amen.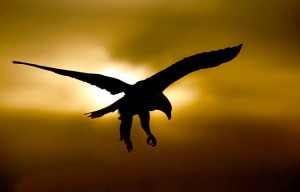 Our Scripture lesson this afternoon comes from the prophet Isaiah, chapter 40, verses 28-31. Listen for God's word to you.
Have you not known? Have you not heard? The Lord is the everlasting God, the Creator of the ends of the earth. He does not faint or grow weary; his understanding is unsearchable. He gives power to the faint, and strengthens the powerless. Even youths will faint and be weary, and the young will fall exhausted; but those who wait for the Lord shall renew their strength, they shall mount up with wings like eagles, they shall run and not be weary, they shall walk and not faint.
– – – – –
Every time I read this passage aloud I can't help but think of a scene from the movie Chariots of Fire. You may remember it. Eric Liddell, the famous sprinter, travels to Paris for the 1924 Olympics games, but instead of participating in the 100-meter dash—a race he is heavily-favored to win—he opts to disqualify himself, because the preliminary heats are scheduled for Sunday, his weekly Sabbath rest. Liddell decides to attend a local church in Paris instead and the film depicts him standing in the pulpit and reading these old, compelling words from Isaiah, his gentle Scottish brogue pervading the sanctuary. In the background, Michael Joncas's contemporary hymn, "On Eagle's Wings," begins softly playing—"and he will raise you up on eagle's wings…"—a piece we all sang together at the outset of our meeting this morning.
Now Chariots of Fire is one of my favorite movies, and I have no interest in bashing it, but I'm afraid this rather sentimental scene hinders more than helps our interpretation of Isaiah chapter 40.
Remember that the prophet Isaiah initially sings these poetic words to an Israelite people who have been paying their dues in exile in Babylon. Captivity in Babylon was a cruel reality—God's people were uprooted from their homes, scattered from their place of worship and forced to learn a new way of life in an unfamiliar place with strange people telling them what to do. Their identity was lost and God seemed more aloof and callous than ever. Perhaps those Babylonians were right. Perhaps Marduk, the chief god in the Babylonian pantheon, did now have the upper hand. The great God of Israel, so faithful and loving and almighty in decades past, now seemed impotent, or at least asleep at the wheel.
Down and out as they are, the word of the Lord the Israelites need to hear is not the soothing Scottish brogue of an Eric Liddell, but the rousing, throat-clearing pleas of a seasoned prophet who knows nothing is guaranteed and every word must count.
So Isaiah minces no words. He goes right for the jugular. "C'mon, guys. You know this. You've heard this a thousand times. Remember our Lord is the never-ending God, the creator of everything that was, is and ever will be. Our God isn't feckless or distracted or tired. Our God isn't stumped by our predicament, scratching his head about what to do next while we wallow here in exile. No, remember our God is the one who empowers us when we're weak and lifts us up when we're bowed down. We have to stop looking for hope in all the wrong places, and start hoping in God, who helps us to run even when we're weary and to walk even when we're faint."
***
As I look around the PC(USA) these days, I think Isaiah's words are as timely as ever. I'm afraid we've gotten caught up in all that we've lost in our exile since the heyday of the 1950s and '60s—the loss of members, the loss of influence, the loss of cash, the loss of buildings. I'm afraid we've been looking down, sulking and murmuring about our decline, far more than we've been looking up to the different but hopeful future God has in store for us. I'm afraid we've been grasping far too often for the latest shiny but fleeting fad that comes down the church-growth pike—"it's all about bringing in young families," "it's all about small groups," "it's all about hiring that dynamic pastor," "it's all about changing our worship style," "it's all about hiring someone to get us on Facebook and Twitter," "it's all about getting rid of the progressives," "it's all about getting rid of the evangelicals."
Understandable as many of our collective reactions are, they are too oriented around us, around our experience of exile, around our litany of frustrations, around our ability to generate hope. Thankfully, Isaiah clears things up for us. He reminds us no matter how energetic or seasoned we are, no matter how impressive our PIF or CIF is, no matter what our church has done in the past or is doing in the present—we are all, every single one of us, going to stumble and fall. We are going to get tired. We are going to daydream about quitting our current church and joining the bigger and better one down the street. We are going to wonder if it is all worth it.
It's in those moments that we find out the true source of our hope. Are we hoping in membership numbers or stewardship results or a return to the glorious glory days of the past? Or are we hoping in the Lord who renews our strength, who mounts us up with wings like eagles, who helps us to run and not be weary, to walk and not be faint?
I wonder, in whom or what are you hoping this afternoon?
Reading the newspaper, especially after yesterday's elections, it's easy to get caught up in hoping in our favorite candidate or political party, or a still tepid economic recovery. Watching TV commercials, it's easy to get duped into believing that youth, materialism and pleasure will give us the hope we need. As a pastor, it's easy for me to get looped into the narrative that if I just skim one more book, watch one more webinar, make one more visitation, offer one more prayer, create one more committee, then perhaps our church will have something more concrete to hope in. But we know better. As Isaiah's vision reminds us, the only hope that truly lasts, that does not disappoint, that renews us when we're tired and lifts us up when we're bowed down, is hope in our Lord.
It was this kind of hope that allowed William Sloane Coffin, former minister of Riverside Church in New York City, to preach the sermon at his own 24-year-old son's funeral service. Days after Alex's death in a freak car accident, Coffin climbed into the pulpit and preached these unforgettable words, "… a week ago last Monday night, driving in a terrible storm, my son Alexander . . . beat his father to the grave." Coffin, who knew God well enough to realize she would never cause such a tragedy, still lamented the loss of a future without his son. The only thing that kept him afloat in those incredibly dark days was his tenacious hope in our Lord for whom death was not the final word.
It was a similar hope that compelled the writers of our Confession of 1967 to open the final paragraph of that statement of faith with this line: "With an urgency born of this hope." "With an urgency born of this hope," they write, referring to the "hope" we have, not in membership figures or stewardship results or fruitful ministries—as good as those things are—but our hope in God, in God's promise to reconcile all of creation someday, somehow and someway.
Friends, may you and I leave this place hoping not in ourselves but in our Lord. As we return to engage in our ministries, may we find our strength renewed and our weariness eased. May we remember that we don't have to be the creators of our hope. We have all the hope we need in our Lord already. And we need only share it.
In the name of the Father and the Son and the Holy Spirit. Amen. 
---

Jeff Lehn is pastor of First Presbyterian Church in Fort Wayne. He hails from St. Paul, Minnesota, where he learned to cheer for the Twins and Vikings and ate far too many casseroles. He grew up attending a Baptist church, but had a theological metamorphosis of sorts after college, eventually finding his way to the Presbyterian fold. He enjoys staying in touch with family and friends, spirited conversations over meals and the gratification of yardwork. And he is grateful every day for Arianne, his spouse and colleague in ministry.
https://media.myworshiptimes31.com/wp-content/uploads/sites/55/2012/12/29175621/Bald-Eagle-gold-black-SILH-_J7X2112.jpeg
417
650
Jessica Tate
/wp-content/uploads/sites/55/2016/01/NEXT-Logo-FINAL-Horizontal_lato-1030x229.png
Jessica Tate
2012-12-11 07:14:50
2016-05-03 15:09:09
With an Urgency Born of This Hope