When Creativity Saves You from the "F" Word in Ministry
Each month, we post a series of blogs around a common topic. This fall we've asked a number of leaders to respond to the question, "What is saving your ministry right now?" Lisle Gwynn Garrity is one of our workshop presenters for the 2016 National Gathering. Learn more about the workshop at the end of this post. We invite you to join the conversation here, on Facebook, or Twitter!
By Lisle Gwynn Garrity
We all know the feeling.  You're neck-deep in sermonizing, lesson-planning, worship designing, or any venture that requires you to put your blood, sweat, and tears into creating something as an offering to others, and then the "F" word starts to rear its ugly head. FEAR is creativity's brute oppressor; it shows up right when we're in the thick of imagining or creating something new, and whispers not-so-sweet nothings in our ears.
"This is the WORST sermon ever written–even Calvin will be snoring from his grave."
"We can't possibly try this new youth activity–the youth will mock it and laugh in my face."
"Members will certainly LEAVE THE CHURCH if I suggest we do something different for the prayers of the people this Sunday."
Fear has this way of gripping us by the throat, choking us of any God-breathed inspiration for which we are gasping. And, too often, the "F" word wins out, shutting down the whole creative operation.  God forbid, the "F" word may even have something to do with that dreaded and familiar moniker, the frozen chosen.
As a liturgical artist, retreat leader, and worship consultant, my ministry is constantly butting heads with the "F" word. When leading worship arts retreats, where I invite anyone and everyone (artist and "non-artist" alike) to create art in community, I talk a lot about the "F" word. There's something about a blank canvas and a paintbrush that tend to strike fear into the hearts of most grown adults. So we talk about that fear. I declare that, if the "F" word shows up, we can acknowledge it, observe it, and then move right past it. That is the gospel promise, after all–fear and death will not have the last word.
When creating live visual art during worship, I am forced to practice what I preach. Being a self-proclaimed "artist" offers no protection from the "F" word, believe me. Painting for an audience to witness and scrutinize any mistake is vulnerability at its finest. But, when I step past the "F" word, I can fully offer myself as a vessel to be shaped and molded by God. Giving my whole self to the creative process is a full-body prayer; in those moments of fearlessness, I am most open, most willing, and most able to offer my gifts to others and to God.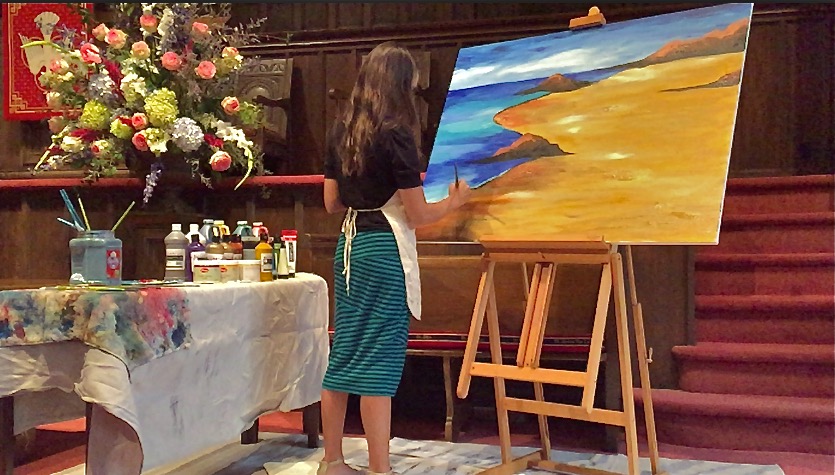 So, what's your fear-stomping creative practice? What's one way you can regularly practice creativity (perhaps through painting, singing, cooking, gardening, wood-working, etc.) to strengthen your capacity to confront the "F" word? What's one way you can offer your whole self to a creative process and to God? Most importantly, how can tapping into your unique, God-given creativity open yourself to that wild and restless divine Spirit that is so ready to do good work through and in you?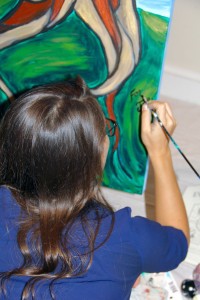 ---

Lisle Gwynn Garrity is a Pastorist (pastor + artist) diving into ministry with a creative and entrepreneurial drive. A recent graduate of Columbia Theological Seminary, she holds master's degrees in divinity and practical theology. If you're interested in pushing past the "F" word to create art in community, sign up for her workshop, "Arts & Worship" at the 2016 National Gathering. See more of Lisle's work at www.sanctifiedart.com or on Facebook at A Sanctified Art.
https://media.mywtenfold1.com/wp-content/uploads/sites/10/2015/12/29175730/Lisle-Gwynn-Garrity.jpg
475
835
Jessica Tate
/wp-content/uploads/sites/10/2016/01/NEXT-Logo-FINAL-Horizontal_lato-1030x229.png
Jessica Tate
2015-12-09 07:35:37
2016-02-18 18:18:46
When Creativity Saves You from the "F" Word in Ministry