Each month, we post a series of blogs around a common topic. This month, Kate Morrison is curating a series featuring reflections on Advent and Christmas from our 2018 National Gathering workshop and post-Gathering seminar leaders. Over the course of the month, we'll hear what this season means to them through stories, memories, and favorite traditions – and how they see the themes of Advent connecting with the work of NEXT Church. We invite you to share your own memories and stories on Facebook and Twitter!
Editor's note: Dave is leading a post-Gathering seminar (a 24-hour opportunity to dig deeper into a topic, new this year!) called "From Text to Sermon: Staying Faithful in a Changed Landscape." It will take place from Wednesday afternoon through Thursday morning following the 2018 National Gathering. Learn more and register! 
by Dave Davis
Advent and Christmas come around every year for the preacher whether you want them to or not! I can't be the only preacher who finds planning for Advent preaching paralyzing some years. When lectionary preachers get bored with the lectionary, I bet it happens mostly in Advent. When topical preachers struggle to come up with the next series or month of texts for preaching, I bet it happens mostly in Advent. The liturgical themes of the four Sundays of Advent unfold with the familiarity of family tradition. The expected rhythm may tamp down the preacher's imagination rather than inspire. So the temptation rises to opt for a cantata, a pageant, and lessons and carols, leaving one Sunday in Advent to preach!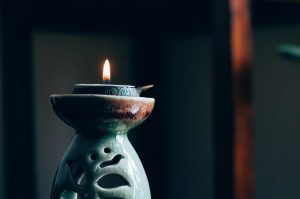 But it feels like there is nothing routine about Advent this year. The list of events that contribute to a growing darkness in the soul is all too real. The chaos of the world and the nation stokes a growing sense of wandering in the wilderness. Trying to preserve the peace and unity of the church these days can be like trying to keep a flickering candle lit through a stormy night. For those of us who rise to preach there has to be an urgency to our gospel proclamation of the very promise of God.
Bearing witness to the promise of God as the landscape shifts all around you. That sounds a bit like Advent. For still, a voice cries in the wilderness. And still, a people who walked in darkness have seen great light. And still. A star rises in the east. And still, you will find a child wrapped in swaddling clothes and lying in a manger. And still, the true light which enlightens everyone, came into the world. And still, the light shines in the darkness and the darkness shall never overcome it. This year Advent is less of a season and more of a plea.
It is getting harder and harder to preach the gospel, especially in Advent. And it many of our lifetimes, it has never been more important to preach the gospel, especially in Advent. It is the paradox of the preaching office these days; the joy and the challenge, the privilege and the heartache. Maybe the first task for the preacher in an Advent season unlike any other is to experience God's promise afresh and to pray for the light of life to come smack into all this darkness. Pray that God's promise of that peaceable kingdom will ever more quickly come. Pray that Isaiah's promise of a child leading them, and of a shoot that comes forth from the stump of Jesse, and of every valley being lifted up and every mountain made low, and of not hurting or destroying on all of God's holy mountain, and of God about to do a new thing….that Isaiah's promise would be fulfilled now. Pray for the Advent light to come.
Advent as a prayer. Advent as a plea. And the preacher crying out, praying for, clinging to the very light of God. Falling, just about helpless, certainly speechless into the promise of God. And then, and only then, daring once again to rise to speak.
Because God has spoken.
Come Lord, Jesus, quickly come.
---

David A. Davis has served as senior pastor of Nassau Presbyterian Church in Princeton, New Jersey, since 2000. David earned his Ph.D. in homiletics from Princeton Theological Seminary, where he continues to teach as a visiting lecturer. Before arriving in Princeton, he served for fourteen years as the pastor of the First Presbyterian Church in Blackwood, New Jersey. He is the author of two sermon collections, A Kingdom You Can Taste and Lord, Teach Us to Pray, and his recent sermons are published on the Nassau Church Sermon Journal. He tweets occasionally at @revdavedavis.
https://media.mywtenfold1.com/wp-content/uploads/sites/10/2017/12/29174034/featured-candle-ceramic.jpg
200
398
Linda Kurtz
/wp-content/uploads/sites/10/2016/01/NEXT-Logo-FINAL-Horizontal_lato-1030x229.png
Linda Kurtz
2017-12-06 07:34:59
2017-12-07 19:27:10
When Advent is a Plea