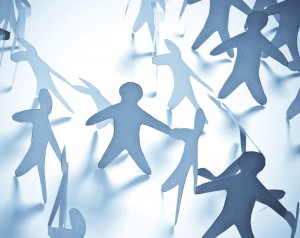 By John Vest
Over the past few years one of the most talked about religious news stories has been the so-called "rise of the nones." According to surveys and studies, one fifth of the United States now claims no religious affiliation. It's not necessarily the case that they aren't spiritual or don't believe in God, but our society is increasingly uninterested in participating in organized religious institutions. This is especially true among young Americans—a third of adults under 30 fit this category.
This trend is not exactly news for mainline Protestants who have been declining in membership for decades. But now that the decline narrative has reached evangelicals, the most vocal representatives of American Christianity are starting to take notice and talk about it. While much of the evangelical handwringing has to do with a perceived image problem—if we'd only seem less judgmental, homophobic, power hungry, and hypocritical young people would stop leaving—the mainline response still seems muted, apathetic, and resigned. We need more voices—like those in the NEXT Church conversation—interested in moving beyond denominational politics and institutional maintenance and committed instead to paying attention to what God is doing in the world and envisioning how we can be a part of it.
If there is anything worth preserving in the Christian witness of mainline Protestantism—and I believe that there is—then we need to be more proactive in our response to the rise of the nones. It seems to me that there are two basic strategies: 1) reform existing expressions of church in ways that captivate the imaginations and passions of young people and others who are leaving our churches for, well, nothing in particular; 2) work with the youth and young people we still have with the clear intention of long-term sustainability. While I have the opportunity to dabble in the first of these strategies (BBQ Church is my pet project in this regard), most of my time and energy is devoted to the second.
Long gone are the days of thinking about youth ministry as "passing on the faith" to emerging generations. The last thing we want to do is simply replicate among young people forms of church that are on the decline and are clearly not compelling for growing numbers of their peers. Instead, youth ministry in the church that is becoming is more about empowering young people to do the work of ecclesial reformation for themselves. It's about helping them catch God's vision of a missional church making a difference in the world and deploying their own passions and creativity to figure out what that looks like in the rapidly changing world they live in and are actively shaping. This is going to look different in each context and there are no one-size-fits-all ideas or models for 21st century post-Christendom youth ministry. But there is an important conversation to be had and perhaps some common themes and approaches to better understand and engage.
I'm excited to be a guest editor on the NEXT Church blog during the month of January, curating a conversation about what is next in youth ministry. I'll share some of what I'm doing in Chicago and a new conversation about progressive youth ministry that I'm hosting this spring. But I'm most looking forward to assembling a diverse collection of voices from around the PC(USA) that will bear witness to our hopes and dreams for youth ministry that matters and makes a difference in the world we live in.
---

John Vest is the Associate Pastor for Youth Ministry at Fourth Presbyterian Church and blogs at johnvest.com. He is completing a DMin thesis on post-Christendom confirmation at McCormick Theological Seminary. He lives with his wife and two young sons on the north side of Chicago and in his spare time dreams of one day achieving the mystical union of BBQ and church.
https://media.myworshiptimes31.com/wp-content/uploads/sites/55/2013/08/29180633/paper-dolls.jpg
2592
3268
maryann
/wp-content/uploads/sites/55/2016/01/NEXT-Logo-FINAL-Horizontal_lato-1030x229.png
maryann
2014-01-07 10:46:01
2016-05-10 21:44:21
What's NEXT for Youth Ministry?