by MaryAnn McKibben Dana
Happy March! This month on the blog we will be featuring reflections from our 2016 National Gathering. Watch this space for thoughts from a wide variety of folks, especially around the question, What "stuck"? What ideas, speakers, workshops or worship services are continuing to work on your heart as you envision "the church that is becoming?" We'll be hearing from ruling elders, teaching elders, seminarians, and more.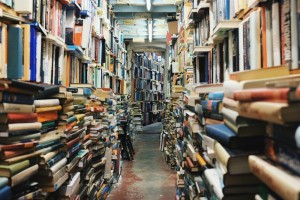 We start with a list of books and blogs collected during our authors' lunch, in which writers and book-lovers came together on Tuesday to share favorite books, websites, and other resources. What is the NEXT Church reading? What is the NEXT Church writing? Here are a few answers, in the order they were shared. Bold items are books written by NEXT attendees and leaders.
A list like this one is by nature incomplete, even inadequate. What would you add?
Aric Clark, et al — Never Pray Again
Martha Spong, editor — There's a Woman in the Pulpit
Denise Anderson — Soula Scriptura blog
Kathleen O'Toole — Meanwhile (poetry)
Andy Weir — The Martian
Mark Douglas — Confessing Christ in the 21st Century, Believing Aloud: Reflections on Being Religious in the Public Square
Christian Wiman — My Bright Abyss
Ta-Nahesi Coates — Between the World and Me
Marilynne Robinson — The Givenness of Things
@ This Point — journal from Columbia Seminary, theological investigations in church and culture
Adam Copeland, editor — Kissing in the Chapel, Praying in the Frat House: Wrestling with Faith and College, Stewardship Made Whole (forthcoming)
Jenny Lawson — Let's Pretend This Never Happened
Mark Davis — Left Behind and Loving It
MaryAnn McKibben Dana — Sabbath in the Suburbs, Improvising with God (forthcoming), theblueroomblog.org 
Theresa Latini —Transforming Church Conflict
Jennifer Harvey — Dear White Christians: For Those Still Longing for Racial Reconciliation (Prophetic Christianity Series)
Scott Dannemiller — The Year without a Purchase (blog: Accidental Missionary)
Fredrik Backman — A Man Called Ove
Lynn Miller — The Power of Enough
Samuel Wells — Nazareth Manifesto
Charles Freeman — blog: Way More Important Than That (A blog on where faith and sports intersect … or don't …)
Mark Fainaru-Wada and Steve Fainaru — League of Denial: The NFL, Concussions, and the Battle for Truth
Diane Roberts — Tribal: College Football and the Secret Heart of America
Jessica Vazquez-Torres, contributor — Church Responds to Racism 
William B. Sweetser Jr. — A Copious Fountain: A History of Union Presbyterian Seminary, 1812-2012
Atul Gawande — Being Mortal
Diana Butler Bass — Grounded: Finding God in the World-A Spiritual Revolution
Ian Haney López— Dog Whistle Politics: How Coded Racial Appeals Have Reinvented Racism and Wrecked the Middle Class
Amanda Palmer — The Art of Asking
Stephen King — On Writing
---

MaryAnn McKibben Dana is a teaching elder in the PC(USA) whose ministry consists of writing, speaking, and freelance writing/consulting with non-profit organizations on their social media needs. She is a member of the NEXT Church Strategy Team. Connect with her at her website, The Blue Room.
https://media.myworshiptimes31.com/wp-content/uploads/sites/55/2016/03/29175515/featured-books-library.jpg
200
398
Linda Kurtz
/wp-content/uploads/sites/55/2016/01/NEXT-Logo-FINAL-Horizontal_lato-1030x229.png
Linda Kurtz
2016-03-01 14:20:31
2016-03-07 13:30:03
What is the NEXT Church Reading?