Each month, we post a series of blogs around a common topic. This month, Steve Lindsley is curating reflections on a physical faith. How does one practice a physical faith – inside or outside of the church? In what ways can we experience God through our bodies and our communities? And how does movement, of many forms, bind us to a deeper sense of spirituality? We invite you to join the conversation on Facebook and Twitter!
by Steve Lindsley
But whenever you pray, go into your room and shut the door and pray to your Father who is in secret; and your Father who sees in secret will reward you. – Matthew 6:6
Oops.  Prayer fail.
How did I find myself here, you ask?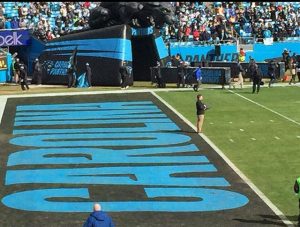 Last September a lady in my church, a sweet woman who sings in the choir and works for American Airlines and happens to be a rabid Panthers fan, commented how cool it'd be if I did an invocation for a Panthers football game. Which I, of course, heartily concurred with. So she made some phone calls and discovered the application process. I submitted a page of information and she a letter of recommendation.
I actually forgot all about it until the January Monday morning after the final regular season game when an email from Jason in the Panthers Entertainment Division (yes, the Entertainment Division) popped up in my inbox. They needed an invocationist for their home playoff game less than two weeks away and had four tickets and field passes to go with it. Was I interested?
You bet your Keep Pounding hashtag I was.
If you want the play-by-play of the whole affair that brisk January Sunday morning, head over here to my blog. In short, it was a pretty amazing experience for the family and a lot of fun for this faithful Panthers fan. That guy you see standing on the end zone line of a home playoff game was as giddy as an elementary school kid on free snickerdoodle cookie day.
But after initially getting over the thrill of Jason's email, I faced the hard questions:
What in the world do I pray for? How exactly does one pray at/for an NFL football game?
Jason had given me some guidelines, which were certainly helpful. No more than 45 seconds. Use generic names for God (in other words, "God"). Non-sectarian in nature. They even provided a sample model prayer. I'd need to submit my prayer by next week for official approval.
I have no problem with that; I'm cool to play by their rules. But still – what do I pray for?
Because I don't pray for the home team to win, right? I mean, not out loud. If you saw me sitting on the living room couch during every regular season game, I think it'd be pretty obvious there was a lot of praying going on. But this would be different. I get that God doesn't care who wins. That's our job as the fans.
I also had a couple of people encourage me to take advantage of the "public pulpit" this kind of venue provides. Seize it as a platform to address some hot-topic issue and make a powerful statement to the masses. But I've never been a fan of that sort of thing – feels too much like deception and dishonesty and, in the end, being more about you than the issue itself.
So what should this invocation be all about? As far as I know, the Panthers are the only team in the NFL who does such a thing, perhaps modeled after the pre-race prayer in nearby NASCAR world. Twenty minutes before kickoff, when a good chunk of the crowd has just popped the top of an overpriced Bud Light in the concourse. Why pray?
Whatever reasons the Panthers have for this pre-game ritual is none of my concern. And I have no desire to be all platform-ish with words far removed from what I'd previously been green-lighted for. I think society expects this behavior from some segments of the church, whether it's protesting against this cause or that policy, waving signs and shouting insults instead of listening and speaking in love. I sense a weariness and rolling of the eyes from the general populous over this sort of behavior.  
At the same time, I think something of value needs to be shared. I'm not a fan of content-void prayer. Because as much as I think society rolls their collective eyes at the church's worst moments, I also believe society longs for the church, and those who represent it, to say and do something of consequence and meaning. They crave authenticity from the church.
So that's what I'd shoot for in my prayer.  And when all was said and done, here's what I came up with: 
God of all creation,
we come to you this afternoon with great excitement and anticipation,
as we share in the privilege
of watching two teams compete for their ultimate goal.
We pray for their safety and well-being;
and in return honor their efforts by exhibiting good sportsmanship and excellence ourselves.  
As we relish the joy of gamesmanship and competition,
we remember those near and far who are hurting and in need.  
May this game inspire us to live our lives to their fullest potential,
so that collectively we may pursue the greater good for all.  
We humbly ask that you hear our prayer this day, and may all the people say, AMEN.
---

When he's not being the senior minister of Trinity Presbyterian Church of Charlotte, or songwriting/gigging, or keynoting/leading music for various retreats and conferences, or blogging at thoughts-musings.com, or playing pick-up basketball with his two sons, or cheering on his beloved Panthers and Hornets, or watching music reality TV shows with his lovely wife, Steve Lindsley is probably sleeping.
https://media.mywtenfold1.com/wp-content/uploads/sites/10/2016/06/29175057/featured-steve-prayer.jpg
200
398
Linda Kurtz
/wp-content/uploads/sites/10/2016/01/NEXT-Logo-FINAL-Horizontal_lato-1030x229.png
Linda Kurtz
2016-06-22 07:15:53
2016-06-20 11:27:59
What Are We Praying For?