by Helen Wilkins
The motto of Presbyterian College is "Dum Vivimus Servimus- While we live, we serve."  It is a motto that finds itself deeply rooted in the hearts of our students, faculty, and staff, and it drives us to consider not only ourselves, but to act out of love and compassion for others. A group on campus for which service to other, and service to God, is the main purpose. This group, the Bluefish, consists of students who are trained and commissioned as Stephen Ministers, and who are called to care for the Presbyterian College community. Stephen Ministers are people who are trained to love and care for their care-receivers, keeping the environment safe, the conversations confidential, and Christ at the basis of our thoughts, words, and actions.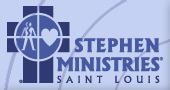 At this time, we have commissioned 27 students and currently have 16 in training. Our first class of Stephen Ministers completed all 50 hours of their training last year and have been learning how to best minister to this campus. Our atmosphere is unique and has therefore made our Stephen Ministry different from the typical Stephen Ministry that exists within a specific parish. Our Stephen Ministers are caregivers to students, teachers, and faculty who they may encounter multiple times every day. It is a ministry experience different to those set before us, but it is one that we have explored and grown into with prayer, conversation, and the guidance of the Holy Spirit. We had to work incredibly hard to find a time that fit all of our schedules, with classes, jobs, and other commitments so that we could meet to train and to share in community. We have learned how to deal with emotions, the resources that are available to us, and how to best serve our care receivers in making sure that, despite whatever they may be going through, we are a safe place for them.
In our group of Stephen Ministers we have Presbyterians, Episcopalians, Methodists, and members of other denominations, we have Math majors and Christian Education majors, and we have aspiring scientists working alongside aspiring pastors. Our group is a diverse one, and is one that represents the diversity that exists not only in our community, but in our world. We recognize the need for each person to have someone who is there to care for them, no matter who they are. We embrace our roles as Stephen Ministers and show our love and the love of God to each person in our care, no matter what they believe, no matter how they act, and no matter what they need help with. We are called to minister to our peers and it is a calling that the 43 students, along with our leaders, have discerned and have decided to follow with open hearts and open minds. We are also able to use our ministry in our own churches, and will hopefully continue ministering to those around us throughout our lives. Stephen Ministry existing on a college campus, especially where there are college students serving as the ministers, is new and challenging, yet it is extremely rewarding.
Matthew 28:19-20 reads, "Go therefore and make disciples of all nations, baptizing them in the name of the Father and of the Son and of the Holy Spirit, and teaching them to obey everything that I have commanded you. And remember, I am with you always, to the end of the age." This is the goal of the Stephen Ministers on our campus: to demonstrate God's abounding love for all of us in our discipleship, in our care, and in our ministry, and to recognize and proclaim that God is with us always, to the end of the age.
---
Helen Wilkins is a Christian Education major at Presbyterian College. She is currently a Sophomore and plans to pursue her calling to ministry after she graduates.
https://media.mywtenfold1.com/wp-content/uploads/sites/10/2013/01/29175620/Stephen-Ministries.gif
90
170
Jessica Tate
/wp-content/uploads/sites/10/2016/01/NEXT-Logo-FINAL-Horizontal_lato-1030x229.png
Jessica Tate
2013-01-18 12:08:17
2016-05-03 15:36:35
We Live, We Serve