by Jessica Tate
As we get our bearings this first week of 2018, many people (consciously or not) are thinking about what they want to be different in this new year. Some even go so far as to set up resolutions. It turns out that half of all resolutions aren't kept and a third are disposed of by the end of January. If you are like me, you resemble that statistic.
For many of us, we want things to be different… to be more like the promises in scripture where hungry are fed and peace is present and life is abundant and the meek inherit the earth… but we're not sure how to get there.
We want our worship services to carry more meaning, comfort, and challenge for people. We want our work in the world to have a meaningful impact. We want to be in communities that form us (not individualistic, consumeristic ways) but into fullness, abundant life, hope (and resolve) in the midst of suffering. We want these things, but we can't seem to get there.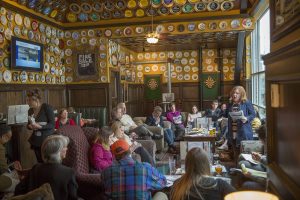 As we set sights on the NEXT Church National Gathering in February, we know many people come because they are hopeful (or need an infusion of hope) that things can be different. And yet at the end of a National Gathering (even a spectacular one!), we return to the contexts that go us here in the first place. As the calendar turns into 2018, we are still ourselves, with our same gifts and struggles, graces and vices. Ron Heifetz and Marty Linsky say, "There is no such thing as a dysfunctional organization. Every organization is perfectly aligned to achieve the results it currently gets." I think it's true for people, too. We are perfectly aligned to achieve our current results.
So, if we really want to change, if we really want our lives/ministries/work to be different, how to we move toward it?
One tool NEXT Church has been exploring is coaching. Coaching, according to the International Coaching Federation, is "partnering with clients in a thought-provoking and creative process that inspires them to maximize their personal and professional potential." Coaching is a tool that can help us move from a wishful thinking to an intentional action. A survey done by the International Coaching Federation found that across 2000 corporations, 34% of executives receive coaching and it does not tend to be remedial help for underperformers but those receiving coaching are usually the mid to upper level performers engaged in coaching. We need action-driven partnerships to support us in the work of leadership and change.
Following the 2017 NEXT Church National Gathering, we piloted a group coaching cohort for ministry leaders (pastors, musicians, and elders) to help support leaders in making the kinds of change they long for in their ministries. (You can indicate interest in a similar group when you register for the 2018 National Gathering.) One of the biggest surprises in the cohort itself was that every time someone raised a sticky issue they faced in ministry in their church, there was a chorus of "me too" around the table. From sleepy worship experiences, to a youth ministry in decline, to Sunday school models not working, to trying to shift a theological culture — even though contexts were different, many of the challenges are the same.
The majority of the blog posts this month will share stories from those who participated in this cohort… the challenges they face, the movements they've made, and what they are learning along the way. We hope they will connect with your "me too" moments and give you a glimmer of a way forward, and the knowledge that you are not alone.
As you embark on your work and your life in 2018, take a moment to reflect on what you want to be different. If you are quick to come up with a long list, narrow it down to three things. (Most of us can't manage more than that, anyway!) And then, for each of those three things, choose one, small action step. Maybe your goal is to lost 15 pounds by spring. A small action step might be to put three workouts on your calendar for this week. But don't stop there, then ask yourself who can be a partner in this to support you and hold you accountable. Reach out to that person and ask if you can check in with them at the end of the week to share what progress you've made. And in all of it, be reminded that the processes of letting go and letting come, of death and new life, often happen in teeny, tiny steps along the way that lead us to transformed lives.
---

Jessica Tate is the director of NEXT Church. She lives in Washington, DC.
https://media.myworshiptimes31.com/wp-content/uploads/sites/55/2018/01/29174006/featured-coaching.jpg
200
398
Linda Kurtz
/wp-content/uploads/sites/55/2016/01/NEXT-Logo-FINAL-Horizontal_lato-1030x229.png
Linda Kurtz
2018-01-03 12:22:45
2018-01-03 16:05:08
We Want Things to Be Different