Each month, we post a series of blogs around a common topic. This month, Steve Lindsley is curating reflections on a physical faith. How does one practice a physical faith – inside or outside of the church? In what ways can we experience God through our bodies and our communities? And how does movement, of many forms, bind us to a deeper sense of spirituality? We invite you to join the conversation on Facebook and Twitter!
by Roy Howard
Solvitur Ambulando: "It is solved by walking." The problem to be solved depends on the person. What I have discovered is that walking provides a medium for reflection, discernment and physical delight. This can be said of other activities like running or biking. Yet, after running six marathons and numerous half marathons, I know the difference. Walking slows me down, running speeds me up. Walking compels me to consider my surroundings differently, notice things as I pass and become more mindful. I experience the earth differently when I am walking.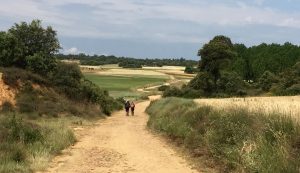 I adopted walking as an ongoing spiritual practice after an epic experience of walking a pilgrimage route that begins in a French village at the base of the Pyrenees Mountains and ends in a Spanish village, overlooking the Atlantic Ocean. In between is a path that millions of pilgrims have walked since the 12th century. In the spring of 2015 I was one of them on sabbatical from my pastorate. The way is known as the Camino de Santiago de Compostela, an 800 km (500 mile) path over the mountains and across northern Spain. Modern pilgrims are a mixed company of many languages; some traditionally religious and others non-religious, though walking with an explicit and often spiritual intent. I didn't walk as a religious penitent. I did walk with a purpose that included listening for God's direction and being free enough from my normal patterns to see them afresh. From the first day I crossed the mountains, walking through snow and rain in the bitter cold, the Camino became an exploration of self-understanding in an utterly new place. The freedom was exhilarating.
Each day at dawn I would arise from my bunk bed, place my belongings in a small backpack and walk out the door. The Camino winds through wide valleys and small villages, among vineyards and the vast grasslands of the high plains. It crosses the rugged mountains of Galicia before descending to Santiago. On an average day my companions and I would walk 12-15 miles. The spring flowers are breathtaking, especially the acres of brilliant red tulips on the hills. Songbirds are abundant, including the ubiquitous call of the cuckoo. Most days I didn't know what I would eat, where I would sleep or whom I would meet. It was a wondrous sense of being on the edge of fear and faith. Daily I prayed, "I will receive this day with gratitude and an open heart." Sharing simple meals with bread and wine, engaging in slow honest conversations that frequently reached rare spiritual depth, tending the pains of another: the Camino is a profound communal experience of conviviality. In nearly every village, there is a daily mass for the pilgrims, who greet each other with "Buen Camino" roughly translated "enjoy your walk." The response is "UltreÏa" a French word of encouragement that means "forward always; keep going [into God]."
I reached Santiago de Compostela in thirty-one days; celebrating joyously with my Camino family. I then walked three days more to Finisterre, the village known as the end of the world. Here, 543 miles from the beginning, the original pilgrims faced the ocean, literally the end of the road, where the world ends and the unknown begins.
There is a saying: the Camino begins when the Camino ends. This has been true for me. Since returning I have continued my practice of walking. I have chosen to arrange my schedule differently and slow my life down to allow walking 2-3 miles to the hospital for pastoral visits or a home for pastoral conversations. I experience the neighborhoods around our church mindfully and even better, I know my neighbors with whom I share stories during my walks.
A month ago, my daughter, knowing how much the Camino has touched my life, suggested I walk the two-day 39.3 miles Avon walk to end breast cancer. Perfect! Remarkably, she, her sister and my wife, who is a breast cancer survivor, decided to walk. We formed a team – Walking in Love – and invited others to join us. We have raised $27,000 and the 13 of us will walk a marathon (26.2 miles) on one day and a half-marathon (13.1 miles) the next. When the Camino ends, the Camino begins.  We are walking in love.
---

Roy W. Howard is Book Editor of the Presbyterian Outlook and the Pastor of Saint Mark Presbyterian Church in North Bethesda Maryland.
https://media.myworshiptimes31.com/wp-content/uploads/sites/55/2016/06/29175115/featured-roy-camino.jpg
200
398
Linda Kurtz
/wp-content/uploads/sites/55/2016/01/NEXT-Logo-FINAL-Horizontal_lato-1030x229.png
Linda Kurtz
2016-06-13 07:22:33
2016-06-13 19:07:51
Walking in Love