Each month, we post a series of blogs around a common topic. This month will focus on the art of coaching and the practice of ministry. Some posts will layout insights or frameworks of coaching and some will be stories of coaching that transformed a pastor or congregation. We hope they will inspire you. We hope that inspiration will turn into actual movement in your own life and ministry so that we might move closer to that vision of the church we long for, closer to the vision of the kingdom on earth as it is in heaven. We invite you to join the conversation here, on Facebook, or Twitter!
by Peter Hazelrigg
In the first section of this blog post, we looked at the question "who are you called to BE?," as the first step to yield sustainable success and personal satisfaction in a career. Then, we explored the second component: knowing the networks we exist within. Today we open up the final building block – Doing.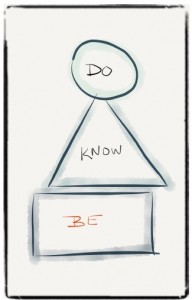 DO: Once there is some clarity about who we are and how we like to be and interact, once we have cultivated our network and explored what we know and what we want to learn, it is time to do a more formal job search process.
I often find that professionals have an easier time finding work they can do, but it is harder to find work they want to do. Finding work is more than just matching skill with a position. When job hunting, there is a lot we can't know from a job description. What is my boss like? What is the culture of the organization? How does this company invest in the development of it's people? Are there opportunities to advance? With whom will I be working?
All good questions. And those questions should come from understanding what will be important for us based on our experiences, values, stylistic preferences, and other factors uncovered at the Being level. When we get to the point that we are ready to do a search for a particular position, many of the established search skills come into play – writing cover letters and resumes, interview skills, researching target companies, etc. These skills are well documented and often the place where people begin the process of a job search. However, asking the question "what am I going to do?" might look a lot different if we first do the hard work of answering the question, "who am I called to be?" There is no shortcut to creating sustainable success and personal satisfaction. That is the hard work of vocational discernment today.
---

Rev. Peter Hazelrigg is senior partner at the Pilgrimage Professional Development Group, www.pilgrimpro.com.
https://media.myworshiptimes31.com/wp-content/uploads/sites/55/2016/02/29175522/doknowbe.jpg
200
398
Linda Kurtz
/wp-content/uploads/sites/55/2016/01/NEXT-Logo-FINAL-Horizontal_lato-1030x229.png
Linda Kurtz
2016-02-22 08:06:31
2016-02-21 16:47:43
Vocational Discernment Paradigm, Part 3