Each month, we post a series of blogs around a common topic. This month, Jessica Tate and Linda Kurtz are curating a series written by participants in the first-ever Certificate in Community Organizing and Congregational Leadership offered by NEXT Church, Johnson C. Smith Theological Seminary, and Metro Industrial Areas Foundation. You'll hear from clergy, lay people, community leaders, and others reflect on the theology of power and how organizing has impacted the way they do ministry. How might you incorporate these principles of organizing into your own work? What is your reaction to their reflections? We invite you to join the conversation on Facebook and Twitter! 
by Paula Whitacre
"From everyone to whom much has been given, much will be required; and from the one to whom much has been entrusted, even more will be demanded."
– Luke 12:48b
I am a recent graduate of Lancaster Theological Seminary (MDiv, 2017). LTS is a progressive, United Church of Christ seminary which affirms and actively supports its diverse community of students.
My senior sermon was scheduled for Wednesday November 9, 2016, the day after the last presidential election. I thought that I had prepared a sermon that was an invitation to reconciliation, flexible enough that regardless of who won the election, the sermon would be relevant. I was wrong. Wednesday morning, I woke to a campus full of crying and scared men and women who, in that moment, felt hugely disempowered and vulnerable, fearful of what the future would bring for them, their family, and their friends. My sermon quickly changed from an invitation to reconciliation to a pastoral call to unity, determination, and hope in this unexpected reality.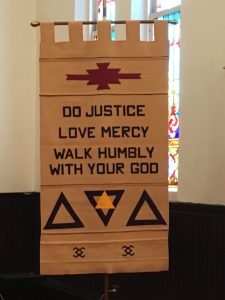 That morning I was "woke." In our modern vernacular a definition of woke might be a reference to how folks should be aware of current events in our society, especially as it pertains to the influence and use of power over people who are disenfranchised and marginalized. I wondered how I might use my white privilege, seminary education, and burning desire to make a difference in these days and weeks to come.
The language of power and the skills learned in the Community Organizing and Congregational Leadership certificate program has enlarged my understanding of not only the mechanics of power but that the crossroads of church community and the larger community has greater potential then I imagined.
One definition of power might be the ability to dictate norms, and create and enforce narratives in any given space. The opportunity to manipulate people, situations, and circumstances can bring out the best in some folks and the worst in others. Power in and of itself is neutral. The heart and ethics of the one wielding it will determine how that power is expressed and perceived by others.
Power may also be defined as the ability to organize people and organize money for specific purposes. The organizing of a diverse group of people for specific goals or long-term synergy is intentional and relational. It requires months, perhaps years, of face-to-face meetings between individuals or groups of individuals to find and articulate communal goals and paths to meet those goals. The ability to raise money in support of these goals, independent of grants or corporate streams, allows the group to maintain its independence and become a force to be reckoned with in local, county, and state agencies.
I believe Jesus' words sit well within the context of community organizing, which is the local community coming together which forms an organization that acts in its common self-interest. It is identifying and training leaders as well as mobilizing people to take action towards a common self-interest. That action might take many forms, including public boycotts of products of services, and public shaming of officials for abuse of power or breaking of laws. It may include going to places of power – city hall, and state and congressional legislative bodies – to speak up for and even negotiate in the communities' self-interest.
This community will consist of not only faith-based groups but civic organizations, schools, and likeminded individuals who are willing to use their own personal and collective power to reshape our world so that it better mirrors the Kingdom of God.
Moreover, I believe it is the leadership of the churches which must begin the conversations around power and organizing. To engage in relational meetings, cross social and political divides to create relationships is both time consuming and exhausting work. But it is imperative to meet others at their points of self-interest so that the self-interests of the community might be revealed and acted upon. To act upon an agreed upon self-interest takes power – organized people and resources.
It's sometimes true that church members may be loath to consider investing resources into what might be construed as political activities. It can be difficult to persuade folks to see through a different lens. However, church congregations all exist as part of a greater community which may be quite diverse in their ethnicity, class, and faith communities. The boundary crossing to meet others where they are, to identify common interests to improve the life of the community is part of Jesus' commandment to care for the least and marginalized. We recall that in Acts 4:32-35 that the apostles were out in the community giving their testimony and that the community came together under their leadership. Those who had much sold what they had (or used their skills) for the benefit for the community and none had need.
As Michael Gecan notes in Going Public: An Organizer's Guide to Citizen Action, "There's a powerful and fundamental tension between our political rhetoric…and everyday practices – a tension written into our founding documents and present in most of our public crises." Community organizers and congregational leaders "live with the tensions, challenge citizens to confront it and … pushes the political world as it is in the direction of the world as it ought to be."
---

Paula Whitacre is pursuing ordination in the United Church of Christ. She and her wife Marge share their home with their sixteen year old tabby, KC.
https://media.mywtenfold1.com/wp-content/uploads/sites/10/2018/04/29173716/whitacre-power-blog.jpg
200
398
Linda Kurtz
/wp-content/uploads/sites/10/2016/01/NEXT-Logo-FINAL-Horizontal_lato-1030x229.png
Linda Kurtz
2018-04-18 07:44:06
2018-04-05 20:31:11
Using Power to Make a Difference