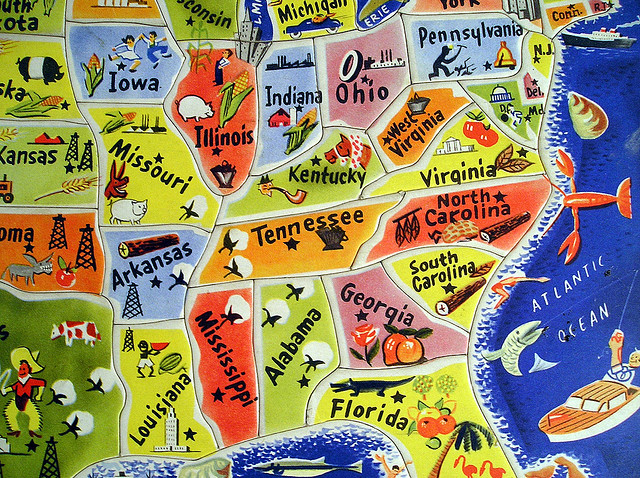 Watch this space in the next couple of weeks for an article from the co-chairs of our national gathering, Chad Herring and Reggie Weaver. They'll share thoughts and plans for our time in Minnesota, March 31-April 2, 2014. (Get it on your calendar now!)
In the meantime, the season for regional gatherings is heating up. There are a number of events planned for the next several months; at press time, here is what we have from the coordinators. As you can see, events are still taking shape, but mark your calendars and share the word with colleagues in these regions:
---
Southern California is planning a regional NEXT gathering for the last weekend in September.  Plans are still coming together, so if you are in the region and have some ideas, please contact Karen Sapio at karensapio@claremontpres.org
---
North Carolina: Andrew Taylor-Troutman writes: "Our gathering is at First Presbyterian in Mount Airy on October 5th. Rev. Betty Meadows, Transitional Presbyter for Charlotte Presbytery will be our keynote speaker, encouraging us to explore the processes of positive transitions in both churches and presbytery levels. I think she is terrific, as well as important for NEXT to work directly with presbyteries. We are structuring the whole day along the lines of our order of worship. Steve Lindsley is leading music. In addition, there will be discussion groups, both formal and informal, designed around the main topic and presentation of the keynote, rather than a series of workshops. A very, very good lunch too! The cost is looking like $30 and we are going to have online registration, hopefully by the end of the month. Right now, we have a Facebook page: https://www.facebook.com/events/483220195081473/ " Coordinating team includes Andrew and Ginny Taylor-Troutman, Eleanor Norman, Cathy Mooney, and Steve Lindsley.
---
Texas and Oklahoma: What's next for Presbyterians in the Southwest?  How about church revitalization, hospitality houses for  young adults, innovative worship and creative models for campus ministry? Join Presbyterian leaders from Texas and Oklahoma October 18-19 in Austin as we collaborate to consider what God has in store for our tomorrows. Contact Joe Clifford: JoeC@firstpresdallas.org.
---
Nashville: Nov 2. Contact Chris Adams for details <christopheradams@fuller.edu>
---
Northeast: Monday, Nov 11th at Stony Point Center. Want to get involved? Share ideas? We're starting a Facebook group. Contact: Rev. Frances Wattman Rosenau of Westminster in Albany, NY: fwrosenau@wpcalbany.org
---
Washington DC/Baltimore: February 22, 2014, Saint Mark Presbyterian Church, Rockville, MD. Tentative theme is "The Way: Creating a Learning Community" and will feature three basic pieces:
– modeling how to be a learning community throughout the day
– providing examples of how to transform congregations into learning communities
– creating community for learning across congregations in our region
For more information: Jessica Tate, nextchurch2013@gmail.com.
---
Would you like to plan an event in your area? We can help you make that happen! Leave a comment here or contact our director, Jessica Tate, at nextchurch2013@gmail.com.
photo credit: Marxchivist via photopin cc
https://media.mywtenfold1.com/wp-content/uploads/sites/10/2013/07/29180639/medium_254465357.jpg
478
640
maryann
/wp-content/uploads/sites/10/2016/01/NEXT-Logo-FINAL-Horizontal_lato-1030x229.png
maryann
2013-07-18 22:48:06
2016-05-10 20:11:40
Upcoming Regional Gatherings! Are They On Your Calendar?