Each month, we post a series of blogs around a common topic. During August, John Wilkinson is curating a month of blog posts exploring where we are as a church through the lens of the new Presbyterian hymnal, Glory to God — what are we thinking about? how are we worshiping? what matters to us? where are we headed? Join the conversation here, on Facebook, or Twitter!
By Katie Styrt
"My soul cries out with a joyful shout that the God of my heart is great." The worship hall in Stony Point's retreat center looks big until you crowd it with millennials. Dozens of future Young Adult Volunteers were packed in, worshiping with our fellow Presbyterians in a way that didn't feel very Presbyterian at all. There was no stained glass, no pews cemented to the floor, and no bulletins, just us singing loud enough to shake the rafters. I'd signed up to spend a year in discernment and service, and already I was learning new things. We sang hymns brought back from other countries by past mission workers. My favorite was "Canticle of the Turning," (hymn 100 in Glory to God) a loud, brash song.
More like a pirate shanty than a traditional hymn, the song retold the Magnificat to an Irish tune. Sung as a crowd at the top of our voices, Mary's words sounded more like an anarchist manifesto than a virgin's hope. "From the halls of power to the fortress tower, not a stone will be left on stone." I sang it and I believed it. Soon our group would be spread throughout the world, completely devoted to fighting injustice with groups in their communities. I had spent years praying for change, without the focus to actually do something. Now I would finally get my chance.
A year went by quickly. Unsurprisingly, I was changed more than the place I served. Also unsurprisingly, I went on to seminary (if you want to feel excited about the future of the church, go be a YAV). Now I'm at my first call, a church in a stately behemoth of a building. And here, we sing the "Canticle of the Turning" every Sunday of Advent.
Our first week was an experience. Here was a song I've only heard on guitar and djembe, now ready to be performed on our sanctuary organ. I looked at the brick walls around us and tried to imagine this place in post-Kingdom revolution. I was surrounded by retirees and their grandkids in satin dresses. Our choir was robed up and immaculate. And then, we stood up sang about turning the world upside down.
It was perfect.
Week after week in Advent, our souls cried out. Every member of our congregation proclaimed that the world is about to turn. And we they took those words with us, out into our imperfect, stuck-in-the-mud lives.
I love singing "Canticle of the Turning," because it reminds us how truly revolutionary Mary's hopes for the Christ child still are today. Those big dreams and revolutionary songs fit in our solid church buildings just as much as in drum circles ; if anything, our established churches need them more. Song by song, we proclaim our allegiance to changing the world, whether it's comfortable or not. We celebrate the dream of God's kingdom, and admit that we aren't there yet. The tension between our lives and God's call resonates through us, shaking us forward to new things.
As we seek what's next for the church we lift up these texts that demand revolution. We hold them close and cry out with joy, even when the gap between the gospel and our reality seems too far to overcome. That distance drives us to keep searching for the Spirit's influence in our communities. Ready or not, our world turns, and we are preparing ourselves to turn it into the Kingdom of God, song by song.
---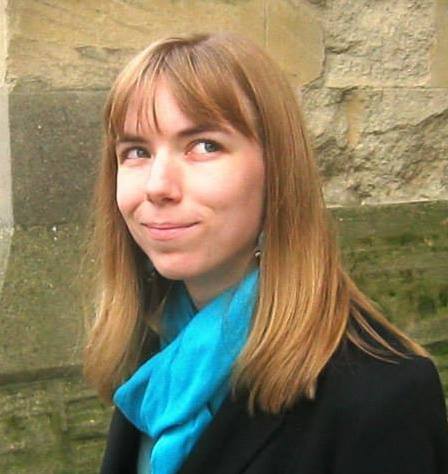 Katie Styrt
Associate Pastor, Gates Presbyterian Church, Rochester, New York and
Pastor, Laurelton Presbyterian Church, Rochester, New York
/wp-content/uploads/sites/55/2016/01/NEXT-Logo-FINAL-Horizontal_lato-1030x229.png
0
0
Jessica Tate
/wp-content/uploads/sites/55/2016/01/NEXT-Logo-FINAL-Horizontal_lato-1030x229.png
Jessica Tate
2015-08-25 05:41:32
2016-02-18 12:49:24
Turning