by Jen Kottler and Leslie Mott
For the last several years, NEXT Church has been inviting its National Gathering participants into a new way of thinking about and doing church, challenging us to live into Christ's calling in ways that are life giving and life affirming. NEXT Church is not about change for change's sake as much as it is about missional change, rethinking what it means to be the church in the 21st century.
This year, we are National Gathering attendees to re-think – or at least consider – what it might look like if we used our time together to practice a new way of being with one another.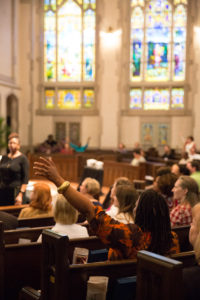 We won't give you a system or process or list of do's and don'ts. (We hate that kind of stuff personally.) As pastors and yogis, we have been processing how we bring the most transformational elements from our yoga practice into our work as ministers. We wonder what might change if we thought of our faith as a practice rather than a set of beliefs?
During our time together, we will introduce you to a simple yet transformational way to re-think our work in the church. How would our meetings or worship services be different if they began with a clear intention that moved us into engagement and on to reflection that did more than evaluate what was done, but really challenged us to go deeper and shift our original intention?
As people in ministry, our personal and professional lives overlap, so the questions of the heart, our intentions, our engagement and our personal and professional reflection have much to inform each other.
What do you wonder about? Bring those thoughts with you. Share them with others. Be open to meeting new friends and having a few heart-to-heart conversations – ones where you are listening to connect and grow through sharing with others.
Someone once proclaimed to Maya Angelou, "I am a Christian," to which she replied, "Already?" We wonder how our churches might change if we focused on loving people into discipleship with the challenge of living out our faith on a daily basis, worrying less about what that looks like, and more about a fresh appreciation of wonder.  In essence moving from the 'how' to the 'wow.'
This is what happened to the woman at the well. Because she was open, because she listened and wasn't afraid, she had a conversation that transformed her life. Indeed, it transformed not only her life, but the lives of others – and is one that can continue to transform our lives even today. You are still welcome to come to the National Gathering with your to-do list and set of tasks for learning that you wish to accomplish. But we also hope that you will come with an open mind, an open heart and a desire to connect deeply with others.
---
Jen Kottler and Leslie Mott are pastors, spiritual directors and yoga practitioners who love Jesus, are passionate about the church and will be inviting all attendees of the 2017 National Gathering to consider a different way of being together during our plenary time at the conference this March.
https://media.myworshiptimes31.com/wp-content/uploads/sites/55/2017/01/29174720/featured-transformation-hand-up.jpg
200
398
Linda Kurtz
/wp-content/uploads/sites/55/2016/01/NEXT-Logo-FINAL-Horizontal_lato-1030x229.png
Linda Kurtz
2017-01-24 14:27:34
2017-01-24 14:27:34
Transformative Learning at the National Gathering