Each month, we post a series of blogs around a common topic. This month, Tanner Pickett and Elizabeth Link are curating a series that will reflect experiences of those in the beginnings of their ministry, particularly through the lens of Trent@Montreat. Over the course of the month, we'll hear reflections from past and future participants, track leaders, and members of the leadership team of Trent@Montreat. We hope these stories will encourage you along your journey – and maybe encourage you to join us next April! We invite you to share your own thoughts on Facebook and Twitter!
by Brandi Casto-Waters
Outside the Sally Jones Pottery Studio in Montreat, NC, there is a sign that says, "Encountering God through relationships, renewal, recreation, and rest." As a PC(USA) Pastor, I have had that experience in Montreat more times than I can count. During times of grief, conflict, peace, and great joy, Montreat has been for me, as I pray for you, "a place set apart."
Several years ago at the NEXT Church National Gathering in Chicago I was flipping through the conference program and the page for Trent@Montreat caught my attention. Not only did it include the word Montreat in the title, but it promised to be a "different kind of conference" with tracks related to worship and music, Christian education, pastoral care, preaching, youth, mission, and more. So often as church leaders, we go off to different conferences or continuing education events related to our specific interests or areas of service. I love the Festival of Homiletics. Our church educator is a faithful participant in APCE. The director of music looks forward to Worship and Music at Montreat all year long. The list goes on. Trent@Montreat seemed to offer something for everyone.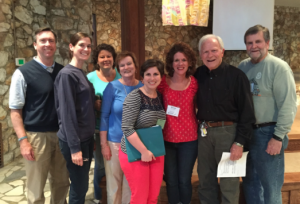 At our next staff meeting, we talked about it, registered, and for the first time in the history of First Presbyterian Church, Greer, the church staff went to a continuing education event together. Rather than planning and carrying out all the details related to worship, we worshipped together. Rather than managing the volunteers and ordering the food for the meal, we ate together. Rather than remembering all the materials and arranging the classrooms, we were students together.
It is a little crazy to consider that although we had worked together in the church for ten years, we had not once all sat in the same pew to sing, pray, and hear the word of the Lord proclaimed together.
During the day we all went to our individual tracks. I went to the preaching workshop entitled, "The Relentless Return of Sunday." The director of music went to the music and worship workshop led by Eric Wall and Theresa Cho. The church administrator and associate pastor spent their time with Pete and Margaret Peery discussing the joys and challenges of pastoral care. The list goes on.
I realize the thought of the entire church staff leaving town at once might make some people nervous but it was good for us and it was good for the church. Elders were happy to offer congregational care and volunteers were glad to tend to building while we were away.
Each member of our staff learned something different through our experience. We all agreed that the workshops were meaningful, the worship was creative, and the leadership was top-notch. Most importantly, we were all grateful to be together in a time and place set apart for encountering God through relationships, renewal, recreation, and rest. Your context may different than ours. You may be a solo pastor, or chaplain, or church professional serving in a non-profit, but the thing about Trent@Montreat is that it is a different kind of conference, so it could be exactly right for you too.
---

Brandi Casto-Waters has served First Presbyterian Church, Greer, since December of 2006. She received a Bachelor of Science in Religion and Sociology from Presbyterian College, a Master of Divinity from Columbia Seminary and a Doctor of Ministry from Columbia Seminary. She is married to Rev. Andy Casto-Waters. They have two children, Ella and Lucy.
https://media.mywtenfold1.com/wp-content/uploads/sites/10/2017/11/29174057/featured-trent-greer.jpg
200
398
Linda Kurtz
/wp-content/uploads/sites/10/2016/01/NEXT-Logo-FINAL-Horizontal_lato-1030x229.png
Linda Kurtz
2017-11-09 09:39:46
2017-12-05 10:19:06
A Time and Place Set Apart