Each month, we post a series of blogs around a common topic. This month, Jan Nolting Carter is curating a mosaic of perspectives on the art of transitional ministry. How do we work with people and systems in the midst of change? What does transitional ministry look like inside and outside of the church? We invite you to join the conversation on Facebook and Twitter!
by Robin Currás
When I was a young mother, I spent a good part of one summer's vacation lakeside, in Vermont, blissfully writing "my novel." When I write, I lose track of time, forget to eat, and emerge from this euphoria only with the sound of human alarm: "What's for dinner?" or "Where are the kids? Alive, I hope." On that particular vacation, my husband, tired of being ignored, finally tapped me on the shoulder and said, "Hello?! We're here to spend time together as a family." He was right, and I made the decision to focus on my family. The problem is that when I returned home, I could not figure out how to be a full-time pastor, mother, and wife, and still carve out time to write. Preaching, crafting worship, and writing children's plays sustained me.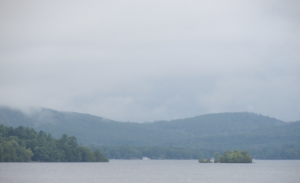 On July 31, 2015, I stepped down from a seventeen-year call. My it-took-me-a-while-to-figure-out-and-accept next call was/is to be more present to my family and more specifically to my two teenagers who have to navigate the choppy waters of modern adolescence. For the first time in my adult life, I am not receiving a paycheck. Cue: identity crisis. But with crisis comes opportunity. I have a room of my own to write (Think Virginia Woolf.) and to ask the questions—Who am I? What do I love to do? What do I want to be when I grow up?—and to pray, "Lord, I'm listening," all at the same time. I am being present to myself with the Holy Spirit as my constant companion.
Two books have found their way to my nightstand: one is Richard Rohr's Falling Upward about the second half of life and becoming who you truly are, and the other is about leading change by C. Otto Scharmer entitled Theory U: Leading from the Future as It Emerges. Scharmer invites us to dive deeply into ourselves and be present with the source of our creativity in order to envision our future. It's a different approach than other change theories (Think Heifetz–adaptive, Cooperrider–appreciative, Kegan—competing values, or Bridges—transition). Here, we have "presencing."
I am thrilled and consider myself blessed to have this time and space to explore, listen, create, experiment, wonder, dream, and ask, "Who or what is the fullest expression of who God created me to be?" Scharmer recommends morning meditations or, in my language, dwelling in the Spirit. Another spiritual practice that I find helpful is Julia Cameron's "Morning Pages" from The Artist's Way. She recommends writing three pages in the morning to start the day "to help you retrieve your creativity." (Google it.) I find my three pages are often a conversation with God—some days are more profound or likewise mundane than others. ("Lord, I need to go grow grocery shopping sometime. We are out of milk. But I also want to work on my play, and exercise, and then there's the basement. And what about dismantling racism?" I know my mind is not the only one that works this way.)
My prayer for my former church is that they are asking themselves similar identity questions. Who are they? Who are they without me? And, who, what, where are they called to be? I hope they are taking advantage of this time-between to ask the deeper questions and to wonder what is the fullest expression of who they were created to be as a church? It can be, and I hope it is, a creative time, a blessed time of communion with God to ask essential questions and discern together what is the Spirit's will for their life together. And I hope they don't rush it, which may be key. You know, the push to get to the next installed pastor without taking the time to seriously consider where God is leading. And then there's the transitional pastors who get itchy after a certain period of time. And there's me who wants absolutely clarity yesterday.
In times of transition, we have, both personally and collectively, an opportunity to reexamine, dive deep, change course, and reaffirm or reenergize oneself for ministry, to connect to The Source of Our Creativity. (And in my case, time to write!)
Cameron, Julia. The Artist's Way: A Spiritual Path to Higher Creativity. Los Angeles, CA: Jeremy P. Tarcher/Perigee, 1992. Print.
Rohr, Richard. Falling Upward: A Spirituality for the Two Halves of Life. San Francisco: Jossey-Bass, 2011. Print.
Scharmer, Claus Otto, and Peter M. Senge. Theory U: Leading from the Future as It Emerges: The Social Technology of Presencing. San Francisco, CA: Berrett-Koehler, 2009. Print.
Woolf, Virginia. A Room of One's Own. New York: Harcourt, Brace, Jovanovich, 1957. Print.
---

Robin Miller Currás has 20+ years experience as a PCUSA pastor, with a majority of those years working in interdenominational settings. She has experience in adaptive leadership, family systems, transitional ministry, mediation and conflict management, New Beginnings mission studies, New Church Development, and missional church dynamics. She is a coach trainee in an International Coach Federation accredited program through Auburn Theological Seminary. Robin is mom to Ben and Eve, and wife to Carlos.  
https://media.mywtenfold1.com/wp-content/uploads/sites/10/2016/07/29175035/featured-lake-transition.jpg
200
398
Linda Kurtz
/wp-content/uploads/sites/10/2016/01/NEXT-Logo-FINAL-Horizontal_lato-1030x229.png
Linda Kurtz
2016-07-18 07:43:53
2016-07-15 09:48:44
Thinking Creatively About Living in Transition