by Freda Marie S. Brown
I was both mad and sad when I first became aware of the public murder of George Floyd by a Minneapolis police officer. "Here we go again, I thought. No justice for injustice, no rest for the weary; how long must we endure this, O Lord, how long?" I am quite aware of the cries of my ancestral lineage that goes back almost 400 years. I will never get over the fact that THIS, is the place at which America has arrived; the place where her enduring ethos of white supremacy and racist hatred can now be seen and called what it is in the light of day. For most of the people who look like me, we have known all along the insidious cancer that has fed upon this soil. As an African-American Episcopal priest and mom I will NEVER get over the fact that the list of names has grown longer and not shorter in the past 4 or 5 years. Say their names: Trayvon Martin, Tamir Rice, Eric Garner, Freddie Gray, Michael Brown, Sandra Bland, Breonna Taylor. Four-hundred years and this s—continues? My heart literally hurts.
Besides all of this, I have been unable to get over the fact that the vast majority of my non-POC "brothers and sisters in Christ Jesus" in the Church have been reticent to speak with a single voice about this enormous and ongoing SIN of racism in America. Because I love Jesus Christ and his body deeply on this planet, I have a bone to pick with the Church in its whiteness. I am both mad and sad.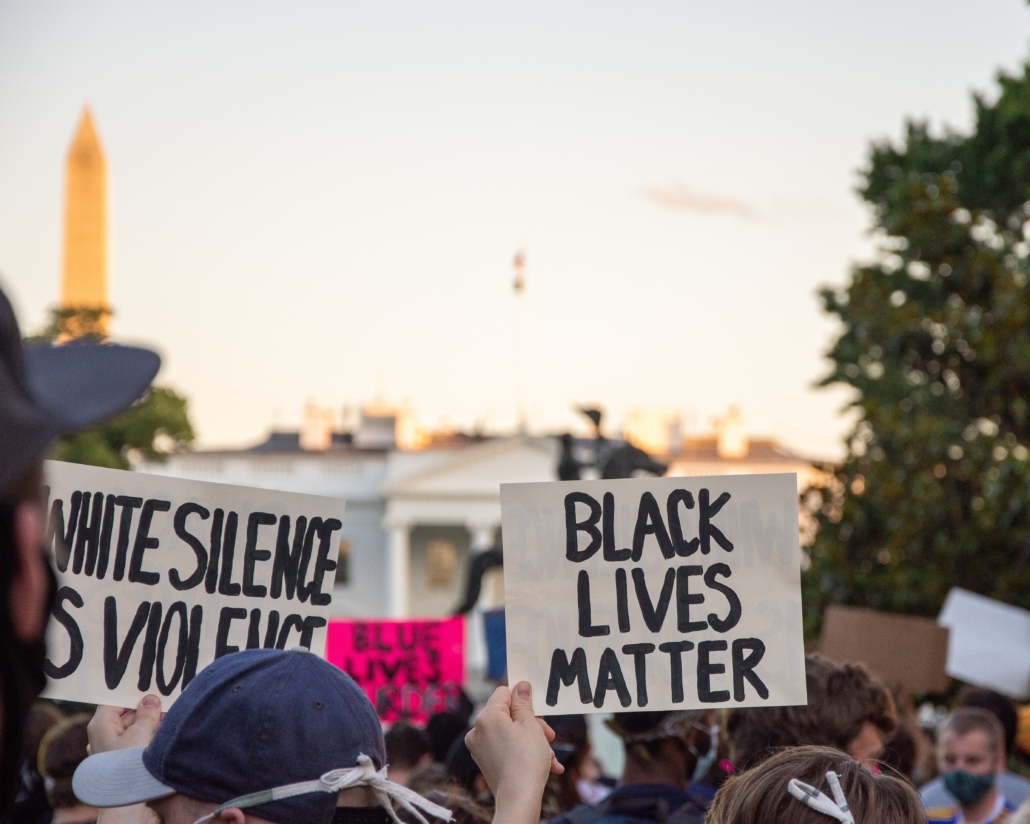 Governments come and go, but the Kin(g)dom of God—that governance which we claim rules forever— is given nary a thought in the minds and hearts of many of you professing Christians. Your submission to the ONE whom we call GOD is often lower than the recovering alcoholics to their higher power of the Big Book. It is simply amazing. Could this be because you are using a limited map of reality, one that no longer fits the current state of growing in spiritual (not necessarily, religious) awareness?
Albert Einstein is famously quoted to have said, "the mind that got us here, will not be the mind that gets us out." You need a BIG PARADIGM SHIFT; indeed, we all do. A new cosmology is required to accommodate the work of the Holy Spirit at this time in creation. Along with that new map of reality, comes the practice of continuing repentance, instead of some one-shot deal that you have played with oh, these many years. The old mechanistic, predictive, hierarchical, anthropocentric, competitive cosmology will no longer do. It is time for new wine in new wine skins. A dynamic state of self-awareness, mindfulness, and readiness to change must take root within you.
The overwhelming masculine energies of the ages that have given us our current state of affairs, is no longer holding. Witness the state of the nation and of the world.
I want to be clear in my use of the term "masculine energy" though, as opposed to males or men. I am a woman who loves men. No problem there. But the grip of patriarchy has devasted both the world and the Church. For me, the Church's influence has often been in death-dealing ways that fail to reflect the LIFE of Christ so that others want to live that life. Besides males and females are comprised of both masculine and feminine energies. The imbalance in these energies is expressed in the woundedness, anger, and outright hatred we are observing all around us and in the suffering of oh, so many. I often wonder, "do non-POC Christians really believe a 'new life' in Christ exists? No? Is that why so many of them can easily accept the status quo?"
The rise of compassion, collaboration, mercy, and kindness, generosity, and hopefulness are all feminine energies. (Again, not female) and are needed to balance the overly masculine-energized reality that has been created—primarily by you, I am sad to say. You have forgotten who you are.
Repentance, like conversion, is a returning repeatedly to Holy Mystery, whom we call GOD. I commend to you Jim Wallis' very timely book, A CALL TO CONVERSION, written more than 30 years ago. It is the only way the mind of Christ might truly be formed in ALL of us. I am sorry to inform you that the concept of autonomy has no place in the Kin(g)dom of God. Let me know if you find it in the bible, please. We can remain in a state of continuing repentance by asking the Holy Spirit (with thanksgiving) for it. We pray for all sorts of things. Why not something that really matters?
The entire world, but America in particular, is on a highly desirable path of human evolution. So, discreetly discern when you judge what your eyes are seeing, or your ears are hearing. Human evolution is the telos for which we, POC and non-POC were all created; to be a paradise for the Beloved Community.
That evolution will hurt and be inconvenient to you. It will require the death of many dreams, hopes and most certainly ideologies. But it will not kill you; not if we hold faithfully to the truth of Ultimate Reality—that we are already ONE. As much as you like to feel comfortable and hate being inconvenienced, the Church in America can no longer remain as it is and go with G-D. G-D is on the move. LIFE is dynamic and changes abound. It is time for divinization. It is time to take on Christ-consciousness for the sake of the world.
I and so many other siblings of color can no longer tolerate your apathy, Church. Each one of us must become the change we wish to see in the world. We need you to step up. God grant you the grace to receive this gift and to live into it with us.
---

The Rev. Freda Marie Brown is a priest in the Episcopal Diocese of Maryland currently serving as Associate Rector at The Church of the Redeemer, Baltimore. She formerly served as the Executive Director of St. Vincent's House in Galveston, a 501(c)3 non-profit and Jubilee Ministry of the Diocese of Texas. Prior to coming to the Diocese of Texas, she was the Associate Rector at the Episcopal Church of the Annunciation in the Diocese of Dallas. She received her undergraduate degree from Xavier University of Louisiana and was employed as a clinical laboratory director for 21 years at St. Paul Medical Center in Dallas before saying "yes" to God's call to be ordained priest in His Church. She earned a Master of Theological Studies from Perkins School of Theology at Southern Methodist University, Dallas and a Master of Arts in Religion (with a concentration in Anglican Studies) from the Seminary of the Southwest in Austin, TX. For 7 years she served as a Palliative Care chaplain in hospice and hospital settings and has spent many hours serving the dying and those who love them.
She loves her work among God's people and is constantly amazed by the many disguises of Jesus Christ —especially among the marginalized. She enjoys yoga, gardening, cooking, hiking, reading, writing, and listening to jazz. She loves good food, good wine, and good conversation. She is Crystal's Mom.
Freda is also a member of the NEXT Church blogging cohort and her writing focuses on the intersectionality of Christian spirituality with what may commonly be called energetics or specifically energy medicine.
https://media.mywtenfold1.com/wp-content/uploads/sites/10/2020/06/04172946/koshu-kunii-Q5sHZ-_lxvE-unsplash-scaled.jpg
2048
2560
Layton Williams
/wp-content/uploads/sites/10/2016/01/NEXT-Logo-FINAL-Horizontal_lato-1030x229.png
Layton Williams
2020-06-04 17:32:07
2020-06-04 17:32:07
The SHIFT: It's Time to Make That Change