Each month, we post a series of blogs around a common topic. The majority of blog posts this month will share stories from church leaders who participated in a pilot coaching cohort in 2017. They will share the challenges they face, the movements they've made, and what they are learning along the way. We hope they will connect with your "me too" moments and give you a glimmer of a way forward, and the knowledge that you are not alone. We invite you to join the conversation on Facebook and Twitter! 
by Tara Spuhler McCabe
Way way back, there was a skit on SNL with a character looking into the mirror with the mantra: I am good enough, I am smart enough, and gosh darn it, people like me.
I laughed so hard because it was silly AND it was true! Today, we have an updated version of the truth we can laugh about and recognize in our faith: You are creative, resourceful, and whole! We all are. Creative Resourceful and Whole, CRW, is the foundational mantra for the coaching practice.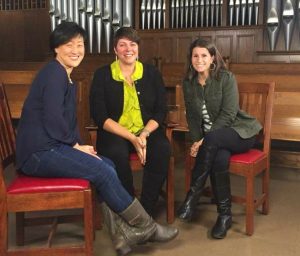 CRW is one of the many ways I recognize we are powered through the Spirit. Remember your baptism? Or someone telling you about your baptism? God claims you and blesses you! Yet we constantly wrestle with remembering our baptism — our creativeness, our resourcefulness, our wholeness. No surprise that when we wrestle in life and in faith, the root of the wrestling tends be in forgetting, ignoring, or just not believing in our God-given CRW anymore. An example of this brokenness is when any one of us may feel stuck in our discernment and decisions and we stop or spin in our own growth opportunity. We recognize this as self-sabotaging. You deserve to connect with a coach who can support you in getting out of that cycle.
We coaches stand alongside people and support them in their work to connect with their own creativeness, resourcefulness, and wholeness. A coach is another teammate in the journey along with pastors, therapists, friends, teachers, mentors — you name it. We work with a person's opportunity and powerful questions towards their own goal. We celebrate the work and the self awareness as the person in engaging with the power of the Spirit within them.
The power in coaching is participating in the building up of God's kingdom with others by working and living out of our CRW(ness). The power in coaching is being a helpmate with another while someone is in threshold moments of decisions and opportunities. There is accountability in coaching through support in holding up the mirror of what one says is most important to them. Accountability and celebration is the work with your coach. That is the fun part! When the person connects with their own CRW through our coaching work together, there is automatic celebration.
During a series of sessions, one of my clients shared that she was surprised by all of the laughter. I asked, what surprises you about your laughter? She reflected on how often she is laughing because she continues to be so surprised by herself. Say it with me: "I am creative, resourceful, and whole." This self-celebration is so vital. This is not about shaming one another in the work but supporting one another to recognize the power of the Spirit within them. Her response was about how she is surprised with her awareness that comes from the inside of her. The awareness seems so simple since it is within her, and yet the spontaneous joy at connecting to it is that sacred place of healing and wholeness. What I appreciate in her reflection is the joy and celebration (a little of not taking ourselves too seriously) and the absence of self shaming.
That is the work and the joy of being a coach (and a minister): knowing that our brokenness is not the end, modeling how to be in relationship with all of who we are, and living into the unlimited Grace that is affirmed in our baptism because we are creative, resourceful, and whole!
---

Tara Spuhler McCabe is a Presbyterian minister currently serving as the Coordinator for the PC(USA) Young Adult Volunteer program in Washington, DC, as a parish associate at Faith Presbyterian Church, a life and leadership coach, and as a "concierge" pastor who spends most of her time bringing pastoral presence and skill in response to the needs and opportunities in her neighborhood and community.
https://media.mywtenfold1.com/wp-content/uploads/sites/10/2018/01/29173952/featured-tara-becca-yena.jpg
200
398
Linda Kurtz
/wp-content/uploads/sites/10/2016/01/NEXT-Logo-FINAL-Horizontal_lato-1030x229.png
Linda Kurtz
2018-01-19 07:09:13
2018-01-18 20:29:01
The Power of Coaching