Each month, we post a series of blogs around a common topic. This month, Rev. Michael McNamara is curating a series that will explore the theme of Christian contemplative practice, which has been central to the formation and development of Christianity. We will learn from writers exploring spirituality from both the secular and the religious, embracing the paradox within that — a paradox essential to contemplative practice itself. How can this Christian or secular tradition impact today's church? We invite you to join the conversation on Facebook and Twitter.
by Stuart Higginbotham
​The day-to-day life of a parish priest can often be a surreal experience. Sometimes, I find myself moving from preparing for a funeral with a grieving family, to calendar planning, to liturgical details for Christmas six months from now, to reviewing monthly budgets, to hosting a community opioid crisis group, to addressing a dogwood tree that was mowed down on the edge of the parking lot after a centering prayer group.
The days are long, as are the memories of valued customs and a typical discomfort and resistance in departing well-journeyed patterns and routines. Add to this the complexity of the larger dynamic of the decline in attendance and interest that spans any denominational constructs, and the spiritual and emotional weight bears down on weary shoulders.
As I scan bookshelves, I see methods and frameworks that offer programs for myriad issues and stresses. There is an understandable desire for some answer, some relief to the pressure we feel in traditional congregations. While I celebrate well-developed plans for Christian education, for example, something in my soul resists relying too heavily on a program-maintenance model in congregational ministry.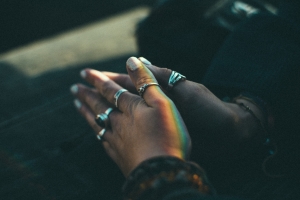 ​For the past several years, I have been curious about the possibility of a contemplative reformation within the traditional, institutional church. Rather than rely on corporate models and cultural assumptions so often laden with a consumeristic mindset, I feel led to delve more deeply into the fullness of the prayerful tradition we have been given. What role does prayer play in engaging the tensions we feel in traditional parish churches? How do we understand the presence of the Spirit of Christ as guiding us? What does it feel like to trust in this Spirit's movement?
​In the broader Christian contemplative tradition, we understand that the presence of God is the foundational element of our lives. Our practice of prayer does not seek to bring God closer to us or us to God, per se; rather, we seek to become more aware of this indwelling presence in our lives. As St. Catherine of Siena described, "just as the fish is in the ocean and the ocean in the fish, so are our souls in you and you in our souls, O God." It is a matter of cultivating an awareness that enables our hearts to be further transformed.
​This contemplative grounding is essential for how I understand parish ministry because it challenges me to consider whether I am trusting in the movement of the Spirit or in my own cleverness and egoistic persistence (and need for success and accomplishment). Rather than seeing contemplative practice — such a cultivation of attunement with the Spirit's abiding presence within our spiritual heart — as something offered in side retreats for "those who are into that sort of thing," how does such a practice of waking the spiritual heart reform the very way we understand Christian community within long-standing congregations?
​For me, it boils down to what I understand as the trajectory of transformation: the movement from a deeper awareness of God's indwelling presence in our lives to a reorientation of the way we live in the broader world. In liturgical studies, we claim lex orandi, lex credendi, that the way we pray shapes the way we believe and thusly live in the world. Our practice of prayer reorients us; therefore, a practice of prayer that nurtures an awareness of the indwelling Spirit of Christ leads us to trust that the Spirit is indeed at work in the life of our community — all communities. Our anxieties and fears are reframed.
​We become less anxious about maintaining programs and more curious about what the Spirit is up to in our midst — and how we can share in that movement. Our ears become more sensitive to listening for what the Spirit is saying. Our eyes become sharper to catch glimpses of God that offer us hope in the midst of stress. Our spiritual hearts become even more spacious to respond with compassion to those who are in need. Perhaps we say, "Come, Holy Spirit" with a bit more enthusiasm!
---

The Rev. Dr. Stuart Higginbotham is the rector of Grace Episcopal Church in Gainesville, Georgia. He is the co-editor of Contemplation and Community: A Gathering of Fresh Voices for a Living Tradition. His vocation explores the intersection of contemplative practice, spiritual leadership, and congregational development, and he has worked and studied with the Shalem Institute for Spiritual Formation for many years. His writings and resources can be found at www.contemplativereformation.com.
https://media.mywtenfold1.com/wp-content/uploads/sites/10/2019/08/29172454/featured-praying-hands.jpg
200
398
Linda Kurtz
/wp-content/uploads/sites/10/2016/01/NEXT-Logo-FINAL-Horizontal_lato-1030x229.png
Linda Kurtz
2019-08-25 12:50:02
2019-08-25 17:15:26
The Possibility of a Contemplative Reformation