Each month, we post a series of blogs around a common topic. This month, Steve Lindsley is curating reflections on a physical faith. How does one practice a physical faith – inside or outside of the church? In what ways can we experience God through our bodies and our communities? And how does movement, of many forms, bind us to a deeper sense of spirituality? We invite you to join the conversation on Facebook and Twitter!
by Rachel Pence
Legs burning. Sweat in your eyes. Your lungs feeling as though they might burst with your next breath, and yet you keep moving forward. And then you step through the clearing, and see the expanse below you, it's almost as if the whole world is happening under your feet and all you can hear is the wind subtly blowing the dirt, watching the clouds move across the landscape. It is a moment that can only be described as holy.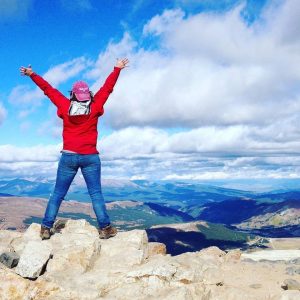 I have been hiking for as long as I can remember. Exploring trails with my family, friends or on my own.  There is something about carrying everything you need on your back, for a day, or multiple days, on trails carved by the feet of strangers. There is something about this that connects me to the divine. There is the obvious creator-creation connection, but that is just where it begins.
Maybe it's because I have never been very good at sitting still or calming my thoughts on my own, whatever it is, when I walk through the mountains, on the cliffs above a beach, or a rocky outcropping, I find myself engaged in a type of worship I can't find anywhere else.
The movement of putting one foot in front of another is primal, it requires me to pay attention to the way my body moves, responds, and adapts. I am able to quiet my mind, open my heart, and let the meditations of my body connect to God in a way that I forget in my daily life working at a desk, or living in a city.
For me, hiking and my faith go hand in hand. I have experienced communion with granola bars and Gatorade, passed the peace with those on the path, and found unexpected moments of pastoral care.  Hiking connects my body to the body of the world, and in turn, the body of Christ.  These spaces in nature are sacred and protected for a reason. There is much to learn about God in the woods, there is much to learn about ourselves there too, and how the image of God lives and moves and has its being.  
---

Rachel Pence is a graduate of San Francisco Theological Seminary. She is currently living in North Carolina adventuring any chance she gets.
https://media.mywtenfold1.com/wp-content/uploads/sites/10/2016/06/29175054/featured-rachel-hiking.jpg
200
398
Linda Kurtz
/wp-content/uploads/sites/10/2016/01/NEXT-Logo-FINAL-Horizontal_lato-1030x229.png
Linda Kurtz
2016-06-27 07:28:16
2016-06-27 08:46:04
The Mountains Are Calling