by Adam Ogg
In the past month, I've been a part of multiple discussions that have asked the question "what do you want to get out of this? What's your plan? How are you going to capitalize on this time?" I confess when I hear that question, I feel a sudden exhaustion, accompanied with guilt and embarrassment for not having those questions figured out. Maybe you have as well.
Pandemic or not, the work of the Church is to proclaim the Grace of God most fully known and seen in Jesus. As we're all collectively operating more online in the time of quarantine, the Church is called to proclaim a word of Grace to fit the times. And a word of Grace the Church can proclaim for this time comes from the middle of the Sermon on the Mount:
"So do not worry about tomorrow, for tomorrow will bring worries of its own. Today's trouble is enough for today."
I'm especially grateful for this word because right now the world wants to proclaim an extremely subtle word contrary to this Grace. This word is so enticing because it can appeal to us on a deep existential level, it can stave off boredom and make promises to help us be some place other than where we find ourselves in this time. And that word is "opportunity".
Thought leaders, motivational speakers, leadership gurus, and yes, even church leaders and pastors talk a big game about this time during a Pandemic, when the world is flipped upside-down, as an "opportunity".
This so-called "opportunity" may be the chance to learn a new skill, or start a side-hustle, or do whatever it is you haven't had the time to do, because if you're of a particular privileged class, you've got tons of time on your hands. Never mind that this is a collective trauma we've gone through together and it's harder to focus and function. Never mind that this only applies to people who work at home or don't have young children to constantly take care of, feed, and educate. Never mind that people are trapped with whatever domestic abuse, or mental health struggles, or crippling isolation by themselves. This is an opportunity to maximize and increase and grow in ways corporate and individual, economically and spiritually.
There are churches in this time- on the Holy Saturday when I write this- who are responding to this pastorally by connecting and worshipping and caring for one another. Others rightfully see this as the time to speak out prophetically against the injustices in our healthcare, economy, and privilege to self-quarantine and social distance. And these are injustices that were always there, but being highlighted and revealed even more.
And yet, church leaders may very well be tempted to see this as a chance to start something new, and do something big, or use that strange word "opportunity". It's an opportunity to reach new people, it's an opportunity to launch new ministries, it's an opportunity to really grow the church. Those are all great things, but if we're honest with ourselves, how many of us actually have the capacity to do something new right now?
In the best case scenario, many are pivoting: moving to Zoom, getting familiar with technology, trying to get our kids educated, learning how to teach and conduct business online. Yet for the millions who have filed for unemployment in the last month, or are struggling to live day to day, we're not pivoting, the goal is survival.
I don't think the word of Grace here is "opportunity". I think the troubles of today aren't "opportunities", they're apocalypses. "Apocalypse" as in: an uncovering, an unveiling, a revelation. The faults in our society and our systems, our need to consume, how we do or don't spend our money and what we all rely on as so fragile- all of that is being revealed.
But the apocalypse isn't just about revealing what's wrong, but a revelation of God to us as well. On Good Friday, Jesus proclaimed from the Cross in John "it is finished". I can't help but hear the flipside of that in Genesis 2, when God finishes creating and "finished the work". Proclaiming Grace is about pointing to God's revelation to us about what God has done, and what God is doing.
In light of God's Grace, perhaps the question isn't "what do you want to get out of this" or "how do you want to maximize on this opportunity", as if a pandemic is something that we extract value and meaning out of. The Grace of God asks us instead "what is being revealed?" What do you see? What do you hear? What have you experienced? What are you going through?
There's a very important distinction there, because there's no wrong answer. The focus moves away from planning one's way through a pandemic, and more on what God is doing right now, and bearing witness to it in the past tense- today has enough troubles, so how did you see God today?
Even if you're like Job and the place of God in a tragedy is absolutely confounding, the Grace of God takes the emphasis off of what you have to do to "succeed" through a pandemic. Again, it's an apocalypse, not a writer's retreat, a hackathon, or Shark Tank.
A week and a half ago we experienced a…strange Easter about the other thing God has done, by resurrecting the Son by the power of the Holy Spirit. The disciples couldn't plan their way from Friday to Sunday, they simply did the best they could, and God revealed Jesus in completely unexpected ways. And the next Sunday, many churches heard the story of the disciples hiding with their fear and trauma, and that is exactly where God reveals Jesus as alive.
I've seen friends vulnerably and beautifully documenting their lives in real time, reflecting on what they've learned and the struggles they've overcome in this time, and I think that's a good option. But the Grace of God says that even if that seems too much, if you don't have the time and emotional resources to do that in public, that's okay. We can reflect and grow, we can do interesting and cool stuff, but if just getting a load of dishes done after feeding the kids, or making human contact was enough for the day, God will still meet us.
The apocalypse of God shows us that God is at work, and the Church can point to the present instead, and echo with Jesus "Today has enough troubles of its own".
---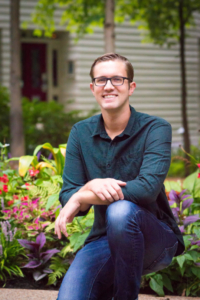 Adam Ogg currently serves as the Associate Pastor for Youth Ministry at Burke Presbyterian Church in Burke, VA.
https://media.mywtenfold1.com/wp-content/uploads/sites/10/2020/04/22104606/vladislav-muslakov-CwIU33KGToc-unsplash-scaled.jpg
1943
2560
Layton Williams
/wp-content/uploads/sites/10/2016/01/NEXT-Logo-FINAL-Horizontal_lato-1030x229.png
Layton Williams
2020-04-22 10:51:55
2020-04-22 10:51:55
The Grace of Achieving Nothing