Ten Tech Tips for Meeting Online
NEXT Church has been operating virtually for the past 7+ years, so we are super familiar with meeting online! Mostly, we have used Zoom, so we refer to that platform here, but we hope these tips will translate across different platforms.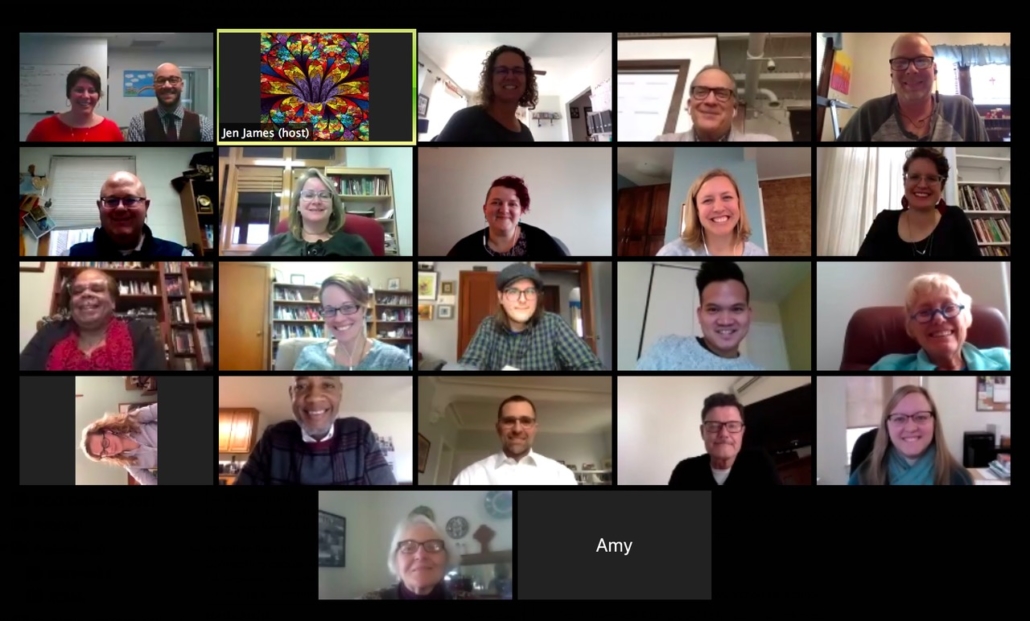 Lessen the technological divide! Create some practice sessions for people who aren't familiar with the technology. Share the help videos from the website of the platform you are using. Take a few minutes at the beginning of a meeting to orient people to the technology.
Have someone run the tech who isn't also facilitating the meeting. This allows someone to troubleshoot, mute people when unexpected background noise comes up, help people who are new to the tech, etc, without holding up the meeting. You can also make others co-hosts with you so they have the same abilities as you.
Practice Zoom Hospitality

Ask people to use video, if possible. It really is helpful to see people's faces!
Use headphones, if possible. This cuts down on background noise. Mute yourself if someone is chainsawing outside your window.
Invite people to change their user name so that it reflects their first and last name. Hover in the upper right corner of your picture, click on the three dots to find "rename." The host can change the name of anyone, including people who call in on the phone.
Greet people by name as they come on. Ask, "who is calling in from the (336) area code?" and change their name for them.

Welcome people! As people come on, greet them and chat like you would at the start of a meeting. It's super awkward to come on to silence. If you are the host, continue to repeat something like, "We're going to give folks a couple more minutes to get on and then we will get started." As people join mid-meeting, welcome them, but don't rehash everything you've already gone over.
Play around with the settings so that you use all the technology options to your advantage. (Chat, breakout rooms, screen share, polls, raising hands, etc.)
Use the chat feature. This can be a great way to capture a lot of responses at once. It can be a critical time saving feature and also give voice to everyone at once. It's particularly helpful for people who are more shy about talking over video or for those with a lot to say to channel some of their thoughts while giving some space for other voices to be heard. If concrete information needs to be shared (e.g., website, google doc, etc) this is a great way to do it. Also a great place to crack a joke!
Don't forget the folks on the phone. Since you will likely have people call in as well as being online and on video, keep in mind that those on the phone can't see the screen. Narrate a few key things like, "Joe, Denise, and Suzanne are on the call" or if everyone cracks up because Joel's cat just mooned everyone, let the folks on the phone know what they missed.
You can share your screen on Zoom. This is a great tool if you need to show people something all at once. But please don't share your screen the whole time (an agenda for instance), it can be cumbersome for long periods of time.
You can record the meeting to share with people who couldn't be on. We recommend saving to the cloud to avoid huge download files. Zoom will curate a link that you can send out to your people. Delete old meetings to free up space. And the chat can be changed in settings to save automatically, too.
Do basic things that are in the culture of your place and people, like pray to open and close the meeting.