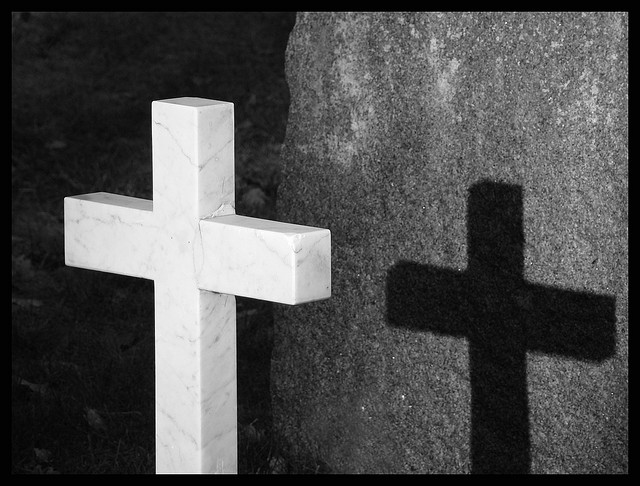 This month, NEXT Church is highlighting passionate leaders within the Presbyterian Church (USA) who are committed to equipping and supporting new pastors, alongside those up-and-coming leaders with whom they have connected or mentored. Bob Henderson's post on being a mentor went up yesterday. Join the conversation on Facebook.
By Petra Wahnefried
I drove past the gravesite where the crowd was already assembling, parked and pulled down the visor to take one last look at myself in the mirror. Taking a deep breath, I rearranged my hair so that my ten white hairs would show. I normally am appalled that I've started going gray at age 27 and I try to pluck the white ones out, but on this day I needed to look as wise as I could get. It was the first time I was officiating a funeral, and as I sat there looking in the mirror, I was aware of the burden that looking young can be.
As a young, female pastor, I am told again and again that "I cannot be a minister" simply because I do not look like the old man who they have come to associate with the title Reverend. Entering hospital rooms to do pastoral care, I am constantly confused for the patient's grandchild rather than being considered a spiritual leader. When I do premarital counseling, couples wonder what wisdom I could offer them as a young, single female. Day in and day out, I struggle with people telling me that I cannot do a job that I feel called to do not in some distant future, but right now.
It is these voices that tell me that I cannot be a pastor that play though my mind as I prepare for the funeral. It's intimidating to go to a funeral knowing that you are the youngest one there by 20 years and that it is your responsibility to lead people in celebrating the life of their loved one, grieving their loss, making sense of death, and finally proclaiming a message of the hope of the resurrection – all within a 30 minute service in which you also commit a person's body into the ground before the rain storm blows in. Maybe they are right – maybe I am too young to be a pastor.   I begin to pray earnestly, "God, I know I am young, but please let me not screw this up. Also, I've heard rumor that sometimes pastors slip and fall into graves. I don't know if that is true, but if that could also not happen, that would be great!"
It's at this moment where I look down and get the exact reassurance that I need. I see scrawled out on paper the notes that I had taken earlier that day in a meeting with my supervisor. I was not going into this situation alone, but with the advice and knowledge of somebody who had been doing funerals for upwards of twenty years. My supervisor had carved out an hour from his busy schedule to help me prepare for the funeral and walk me through logistics. That's the difference between many ministers who face the difficult situation of their first funeral as a young pastor and myself. I am not just a pastor but also a pastoral resident. While I perform most of the same things that an associate pastor would do, I have a supervisor to guide me through many of these intimidating firsts. In the same way that a medical resident works beside a more experienced doctor who can help them grow, I work with a great pastor who has a few more gray hairs than my measly ten so that I can succeed far more in my first years of ministry and grow into an even better minister than I am. I have profited so much from working alongside him and gleaning his knowledge. In return, my fresh look at ministry has freshened his view of the church and enabled him to be a better pastor. It is with this assurance and support that I entered my first funeral.
So, to all of those who say I am too young to be a pastor. In many ways you are right. At my first funeral, I ended up forgetting to find where the burial hole was before the service, so when it came time to put the ashes in the ground, I fumbled around to find out where the hole was underneath the astroturf rug. I ended up knocking over a whole vase of flowers that was caught by the daughter of the deceased woman who dove out onto the floor to catch it.   But, the prayers and order of service that I got advice on before that was flawless, and after having debriefed the experience with my supervisor, I will go into my second funeral with a few more gray hairs and more experience to thrive.
Petra Wahnefried is a pastoral resident at Covenant Presbyterian Church in Charlotte, NC.
https://media.mywtenfold1.com/wp-content/uploads/sites/10/2014/10/29180221/cemetary.jpg
486
640
Jessica Tate
/wp-content/uploads/sites/10/2016/01/NEXT-Logo-FINAL-Horizontal_lato-1030x229.png
Jessica Tate
2014-10-28 07:25:18
2016-02-18 13:53:51
Ten Gray Hairs and a Lot to Learn