Each month, we post a series of blogs around a common topic. This month, David Norse Thomas is curating a series featuring reflections on the 2019 National Gathering, which we held March 11-13 in Seattle. We'll share the stories and insights of people who attended the Gathering in person and virtually (via our live stream), and experienced new life and a deeper sense of hope for the people of God we call the Church. What piece of the National Gathering has stuck with you? Where are you finding hope? We invite you to join the conversation on Facebook and Twitter!
by Rachel Cheney
This year during Youth Sunday, a sixteen-year-old girl stood in the pulpit. She was barely visible, given her small stature. From my view in the choir loft, I could see her knees trembling. Getting her up there was a challenge, but now she stood before our congregation and shared about her struggle with mental health issues. I watched the faces of the people in the pews; many nodded their heads in agreement, others looked surprised at her openness. "Anxiety is a relevant and personal battle many of us face," she said passionately. "We need to start talking about it in the church."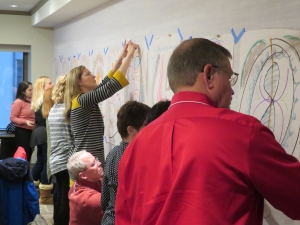 The days that followed brought a flood of emails and calls from congregants who heard her message and wanted to express their own struggles with mental health. Her boldness opened up new possibilities for conversation in our church. It took courage and honesty on her part, but it also required that the church make room for her young voice to be heard.
One of the most impactful ideas from the NEXT Church National Gathering centered around the importance of giving our youth space to share their stories. In a workshop designed specifically for youth ministers and leaders, Shelley Donaldson led a candid conversation on the obstacles and gifts of doing youth ministry today. While the first part of the workshop was devoted to time for us to bond over our shared failures and frustrations, the latter half was spent thinking about ways to integrate youth ministry into the broader church. Too often, it seems that our youth programs are sequestered from the congregation. This only fosters the harmful idea that youth are not interested in church, and even worse: that the church is not interested in our youth.
Even though we did not arrive at any earth-shattering solutions for this problem, I left with a simple but profound insight: the church belongs to the youth today. It often seems that we are waiting for our young people to grow up, go to college, spend a decade absent, and then come back to church when they have a couple of kids. Instead, the church belongs to them exactly as they are today. It belongs to our sixth graders who exclusively ask unrelated questions, our eighth graders who feel endless pressure to fit in, and our seniors who want to act grown up but still love playing dodgeball.
When we listen to the voices of our youth, we communicate to them that they are a valuable and essential part of the church. Our congregations should be guided by the stories and ideas of our young people. Though this is impossible when our youth are rarely involved in our services. By creating an inclusive environment for our youth, we meet them wherever they are in their story.
I left the NEXT Church National Gathering committed to lifting up the voices of our young people, hearing and sharing their stories, and looking for opportunities for the church to grow towards them during their faith journey. This past Sunday, thirteen eight graders stood in front of the congregation. Each of them begged me not to make them share first. But, despite their trepidation, each one gave a part of their faith statement. It was a holy moment. Going forward I hope we can keep creating places for the stories of our young people.
---

Rachel Cheney is a Youth Director in North Carolina who is passionate about ministry with students, healthy living, and outdoor adventures.
https://media.mywtenfold1.com/wp-content/uploads/sites/10/2019/05/29172814/featured-2019-ng-workshop-art.jpg
200
398
Linda Kurtz
/wp-content/uploads/sites/10/2016/01/NEXT-Logo-FINAL-Horizontal_lato-1030x229.png
Linda Kurtz
2019-05-23 22:11:57
2019-05-23 22:11:57
A Space for Stories