Each month, we post a series of blogs around a common topic. This month, Rev. Ken D. Fuquay is curating a series featuring an eclectic group of voices responding to the question, "Does church matter? And if it matters, how, and if it does not, why?" Some of the voices speak from the center of the PC(USA); others stand on the periphery. One or two of the voices come from other denominations while some speak to us from the wilderness and barren places. "To every age, Christ dies anew and is resurrected within the imagination of humans." These voices are stirring up that imagination in their own way. May your imagination be stirred as you consider their insight. We invite you to join the conversation on Facebook and Twitter!
by Nathan Rouse
My story is little different than many others, but maybe not that different from yours. It starts in the pews of a church and ends… well, I suppose in the ways that matter most it hasn't ended, but for this part at least it ends outside those walls in the wilderness. But the wilderness is where life is, where true Goodness and holy light may be discovered. And the place you had always thought to be identity reveals, upon sober reflection and the benefit of hindsight, its own decayed innards.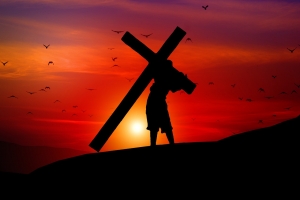 My story is a story of walking away — no, limping away — from religion and a subsequent stumbling, staggering, into Hope; and maybe these are the wrong verbs. Maybe it's more of a 'dying to' religion or, if I'm being perfectly honest (and really it's just you and me here so why not be honest) it was more a 'being crushed by' religion, a crushing which itself resulted, thankfully, in a subsequent 'being born into' Hope. Yes, being crushed and then being born. Those feel right.
See if you can chart this path with me, as odds are good you've borne witness to it, if not actually lived it yourself: idealistic young adult of faith hitches his (or her) fortunes to a community he loves and in which he feels loved, welcomed, even known, insofar as we can comprehend known-ness. Even when teaching that runs counter to instinct is posited, the love of the community and the belief in its perceived core integrity rivals the impulse to dissent. Until that one day, that day it all sours, that night it all withers; power abused, ostracism enacted, silence condoned, community lost, faith dimmed.
The place I'd known intimately had abandoned even the artifice of faithfulness to loss and revealed its ugly commitment to power and control and personality-worship.
Thank God for therapy.
Then, of course, in the middle of my own intimate faith doldrums, the presidential election of 2016 happened and the angst and grief I felt at the church locally ballooned and magnified, exponentially scaled up, into a wellspring of angst and grief at the church nationally.
This all sounds poetic, perhaps, but at the root of these experiences, at the heart of this forced questioning over these past 5 years, I keep being led back to a most basic line of thought: if adherence to the traditional forms of church and its mores can still result in catastrophe, then why bother? When pastors and presidents are guilty as hell of heinous wrongdoing; when leaders of faith and of civic life metaphorically and literally abuse those in their care; where, then, are we left to turn?
With unveiled faces and with tear-reddened eyes, I have come to think, to maybe believe that we turn — impossible as it may be — to the Suffering Servant; perhaps, ultimately, into the Suffering Servant. The face we had before the world was made is that of humility, lowliness, meekness. We are taught self-aggrandizement. We are modeled ego-stroking, even (and especially) by those in pulpits. Thus, only in the rubble of our old identities can we finally forsake the security of the puffed-up self; can we finally abandon the rigid language of religion and embrace the untamed and untamable spirit of Christ, adopting the posture of loss as the only example worth emulating. We've grown drunk following Christ, letting him do all our dying for us, forgetting that the end-goal of any following is embodying.
God help us, we're so pathetic at embodying.
Reject the Cross as purely and solely substitution, and embrace the Cross as our own will to loss. Resistance only matters if we know what we're resisting for, if we comprehend what our resistance has to offer instead. Merely holding back the hordes of corruption and decay is not enough. Resistance is painting a picture with our lives, by the aggregation of all our mutual loss into a redemptive counterforce; the very essence of light in darkness.
We dissent in practical ways, like holding our tongue long enough for our words to transmute our anger into tenderness; like truly attempting to conduct a life of love towards others, all others; like recognizing our own limited perspective and embracing the discomfort that comes in broadening it.
We dissent in our religious life by interrogating our biases; by insisting on accountability for our leaders; by fully and completely rejecting the notion of a national identity as a theological one; by recognizing that our own theology has an adverb; by seeing the true dignity of every life at all stages; by full and unfettered inclusion of LGBTQ+ persons and minorities in the life of faith, abandoning the extreme exegetical gymnastics required to keep others from Christ's great feast; by dignifying the agency of all in our midst, especially our mothers and sisters and daughters.
Once the church I loved had expelled me into the wilderness, I ceased striving against what I'd come to know is true: Christ's kingdom and its gates are offensively inclusive and insultingly wide, and I would no longer be party to bodies, religious or otherwise, that worked to keep others from the Feast of Plenty, the Great Table of Christ's Welcome.
Forced exclusion from a church congregation pushed me deeper into the suffering servant's state, and imbued within me a permission to dissent; from the imperially entwined American church leadership that trades its sisters' safety for power, its parishioners' presence for pleasure, others' children for perceived security, and its witness for an empty electorate.
There do remain good churches doing good work. But Christ's kingdom isn't bound by four walls and a steeple, no, it is unwalled and elevated, raised high and visible, it is untamed and untamable in the hands and feet of those embodying His prophetic witness to speak truth to power and to issue forth a Kingdom of goodness, where mercy and justice flow like a river.
The church was never a place, but a people. We fashion this Kingdom where we are so those who don't know the way Home can more easily recognize it and find themselves amidst it. In the life to come for sure, but the life to come begins with the life at hand.
Repent, for the Kingdom is at hand. So, too, dissent, for the Kingdom is in your hands.
---
Nathan Rouse is a husband, a father, a pet-owner, and a fool for hope. He can be found on Twitter at @thenathanrouse, and also co-hosts a podcast called The Fear of God, discussing horror movies and faith, if you're into that sort of thing.
https://media.mywtenfold1.com/wp-content/uploads/sites/10/2019/06/29172747/featured-jesus-cross-sunset.jpg
200
398
Linda Kurtz
/wp-content/uploads/sites/10/2016/01/NEXT-Logo-FINAL-Horizontal_lato-1030x229.png
Linda Kurtz
2019-06-11 06:34:26
2019-06-07 07:35:17
Permission to Dissent