Each month, we post a series of blogs around a common topic. This month, Katy Stenta is curating a series called "Worship Outside the Box" that looks at the elements of worship in new ways and contexts. Each post will focus on one particular part of worship, providing new insights about how we can gather to worship God. Today's post serves as the sermon. What are the ways you worship God in your own community? We invite you to join the conversation on Facebook and Twitter!
by Shawna Bowman
When we consider the sermon moment we often think first of the spoken word, whether an extemporaneous litany or carefully crafted prose. In the predominately white and western Christian communities I've been formed by, we have historically privileged the voice of a single preacher and depended upon the auditory (and hopefully eager) listening and learning of a gathered community in worship. This method of preaching and proclamation is beautiful, rooted in tradition, and has the capacity to inspire, form, and stretch the theological and spiritual imagination of our people.
And… and… it is only one of so many ways we human beings can engage with God's dream for us and with God's dream for the world. Rather than use words alone to demonstrate what I'm suggesting, I will invite you on a multi-sensory journey. Let us move for a moment from a stationary pulpit into the streets and look with fresh eyes and open hearts for a prophetic word preached in the visuals of street arts, graffiti and public installations.
As an artist/preacher, I am interested in cultivating an honesty about our own power and perceptions as we approach either the task of preaching or receiving a prophetic word. I invite you to carry these questions with you as we begin our journey into the streets:
Who decides what is acceptable "street art" and what qualifies as graffiti or even vandalism? Who and what artists are commissioned for particular and planned pieces of art and when does an artist risk a prophetic word or statement over and against the institutions who "own" public space? When is it the right time to break the rules, even the law, to risk a prophetic word or piece of visual proclamation?
YOU ARE BEAUTIFUL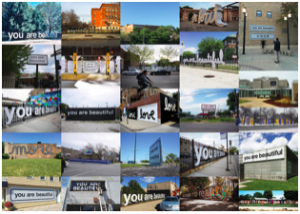 Chicago based artist and designer Matthew Hoffman has been the custodian of a public art project that began in Chicago but has expanded across the globe in recent years. The project began as stickers and now includes public installations with the simple statement: you are beautiful in all kinds of shapes and sizes. It has turned up on the sides of buildings, in parks, along Lake Shore Drive, and has been re-created and imagined by kid artists in public school students and public artists around the world.
You can visit versions of the work here. Take a moment and soak them in! While the artists may not have set out to offer a sermon, take a moment to imagine how prophetic a word this truly is. How does the message "you are beautiful" resonate with our biblical story? How does God's own voice shine through this particular invitation to embrace our beauty?
WHAT WE DO IN LIFE…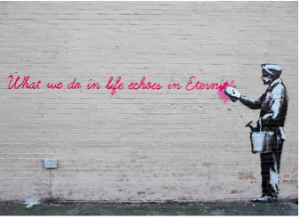 One of the most famous and yet anonymous street artists currently creating and curating work across the globe, known only as Bansky, calls their self a "quality vandal," and their work appeared first in the UK and recently in Bethlehem, Palestine. The artist offers critiques on the status quo, and observations on systems of oppression and violence often revealing the way human beings in positions of power are complicit in upholding them. I love this because it reminds me of some of Jesus' best parables. Simple yet prophetic, offered in a way that catches us off guard and invites us to see ourselves and the world through a fresh and potentially liberating lens.
You can visit more of Banksy's work here. Take a moment to absorb each piece as it moves across your screen. Can you see God's prophetic words peeking through these installations? How is this artist offering an alternative narrative to what many of us experience and put our faith in, in our day-to-day lives?
LARGER THAN LIFE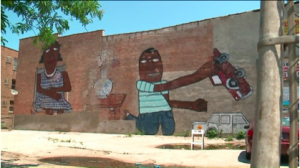 We know a prophetic word can change our thinking and can move whole communities towards hope and transformation. Chicago public artist Max Sansing creates public murals that are works of reclamation and representation in his community and across the city. He painted this particular mural in the neighborhood where he grew up. Sansing says, "I know a lot of times we get portrayed as certain things, and I wanted to reinforce we could be larger than life." Isn't that often the role of a prophetic word? To give voice, worth and hope to a particular people and in a particular context? To hold God's dream up for the people to see, not only as a beacon but as a mirror? To say, "look, we have all we need, right here."
You can learn more about this particular mural here, and explore here how Sansing and another street artist, Sydney James from Detroit, use their artwork to impact culture, encourage diversity, and engage youth in their communities. Can you hear and see God's invitation to embrace the fullness of our human experience in their work? Do they disrupt, confirm, or challenge your assumptions about God's dream the world?
AN INVITATION
Next time you encounter public art in the form of murals, installations, or graffiti take a holy moment. Breathe in the color, the imagery, the form and shape and listen for the prophetic word speaking through the work. Let the work wash over you like liturgy and let God's dream for the world bubble up in your imagination!
---
Shawna Bowman is an artist and pastor doing ministry with the creative and justice-seeking folks at Friendship Presbyterian Church in Chicago. Shawna is co-founder of Creation Lab, an arts incubator and working studio space at the intersection of creativity, spirituality, and prophetic imagination, also in Chicago. Shawna is also Associate Director of Field Ed & Experiential Education at McCormick Theological Seminary.
https://media.myworshiptimes31.com/wp-content/uploads/sites/55/2019/01/29173106/featured-chicago-mural.jpg
200
398
Linda Kurtz
/wp-content/uploads/sites/55/2016/01/NEXT-Logo-FINAL-Horizontal_lato-1030x229.png
Linda Kurtz
2019-01-21 06:45:12
2019-01-19 16:05:32
Public Art as Prophetic Word