Each month, we post a series of blogs around a common topic. This month, Lee Hinson-Hasty is curating a series identifying books that Presbyterian leaders are reading now that inform their ministry and work. Why are these texts relevant today? How might they bring us into God's future? We invite you to join the conversation on Facebook and Twitter!
by Elizabeth Hinson-Hasty
Theological perspectives are noticeably lacking in news reports and political debates about the Trump administration's immigration policies even though many religious leaders and faith communities are inspiring non-violent demonstrations and advocating for a new, more robust sanctuary movement. Indeed, there is a deep well of resources to inspire faith-filled activism.
Two "must reads" remain easily accessible on my desk: Daniel G. Groody's and Gioacchino Campese's co-edited volume entitled A Promised Land, A Perilous Journey: Theological Perspectives on Migration (Notre Dame, 2008) and Miguel de la Torre's Trails of Hope and Terror: Testimonies on Immigration (Orbis, 2009).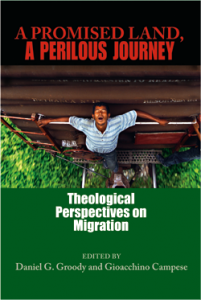 Groody and Campese have assembled a vivifying collection of essays written by the world's leading theological voices on economic migrants and refugees. Essays explore the basis for a theology migration in biblical stories and the traditions of the early church, attend to the politics of human rights, and imagine a constructive theology of migration. Groody is well-known for his work with migrants seeking to cross the U.S. Southern border. He has also collaborated with John Carlos Frye to produce films such as Dying to Live and One Body, One Border which partner well with A Promised Land, A Perilous Journey.
Another important book, Trails of Hope and Terror by de la Torre dispels the myths about migrants informing our contemporary politics of fear. Most important, de la Torre includes powerful testimonies given by people crossing the U.S. Southern border, border patrol officers, and ministers and activists carrying water out into the desert so people don't die of thirst.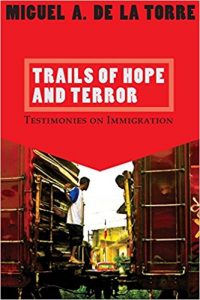 De la Torre also includes creative voices through poetry and songs. Corridos are Mexican ballads that convey news and can express the feelings of people who are oppressed by the most powerful. The excerpt below was translated from Spanish into English and originally written by a Salvadorian factory work about a Sheriff in Maricopa County, Arizona.
"… he says that they are criminals.

But they only look for a decent job,

That in their country they have not found,

And without any apparent sense or reason,

Down the streets while in chains he paraded them"
(de la Torre, Trails of Hope and Terror, 130).
 These books will disturb your conscience and force you to confront the realities faced by economic migrants and refugees. Their stories will remain with you as you develop your own theology of migration and sense of God's mission for the church today.
---

Elizabeth Hinson-Hasty is chair of the department of theology at Bellarmine University in Louisville, Kentucky and member of the Presbytery of Mid-Kentucky. The church's role in addressing issues of social and economic justice has long been one of her principal concerns. She is author of Dorothy Day for Armchair Theologians (2014), Beyond the Social Maze: Exploring the Theological Ethics of Vida Dutton Scudder (2006), Reconciling Paul: A Contemporary Study of 2 Corinthians (2014-2015 Horizons Bible Study) and The Problem of Wealth: A Christian Response to the Culture of Affluence (forthcoming from Orbis in 2017).  She co-edited Prayers for the New Social Awakening (2008) with Christian Iosso and To Do Justice: A Guide for Progressive Christians (2008) with Rebecca Todd Peters. She is an alum of Louisville Presbyterian Theological Seminary (MDiv 1995) and Union Presbyterian Seminary (PhD, 2002). Elizabeth and her partner, Lee, make their home in the Highlands of Louisville with their two children, Garrison and Emme, and their dog, Bacsi.
https://media.mywtenfold1.com/wp-content/uploads/sites/10/2017/03/29174506/featured-eliz-hinson-books.jpg
200
398
Linda Kurtz
/wp-content/uploads/sites/10/2016/01/NEXT-Logo-FINAL-Horizontal_lato-1030x229.png
Linda Kurtz
2017-03-29 10:12:59
2017-03-29 10:27:43
Thinking About Your Own Theology of Migration