Each month, we post a series of blogs around a common topic. This month, our blog features reflections on vocation, offered by people who are engaged in ministry and work outside the church. What is God's calling on our lives outside of the church? What is difficult about being Christian in the working world? How do our churches nurture a sense of Christian vocation? We invite you to join the conversation on Facebook and Twitter!
by Suzanne Davis
The hardest question I have to answer in polite conversation is, "What do you do?" The answer for me is a struggle because I have no satisfactory answer that is immediately understood. So I sometimes answer, "Just a housewife" or "professional volunteer." My husband's career in the military was launched because of our desire to have a family. My career then became the care and feeding of two children, a husband and most times a dog. Being a "stay at home" wife has to be one of the loneliest vocations there is — especially when you move 13 times in 25 years!
When my husband was assigned to Korea, our family was one of 200 that was permitted to move and live with our military member on a base that had over 5,000 people. While this was the first time in a while that my husband actually got to come home most evenings, we were all aware that we were very lucky to be together. It was very unusual to have most of the people around you without their families!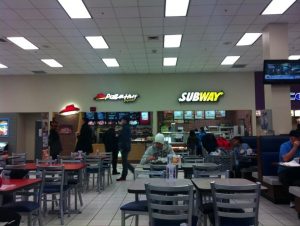 One night in particular stands out — a random weeknight that I did not want to cook. As a family, we went to the food court on base. We are sitting and having normal family banter between two parents, a five-year-old and 2-year-old. I looked up beyond our table only to catch the teary eyes of an airman sitting alone. Of course, he looked away quickly, but I saw him. I gave him a minute, then I excused myself from our table. I did not know him, but I asked how he was doing. He told me he was missing his family that was back in the US and seeing my family eating dinner together made him miss his own family more. I asked to see pictures of his children. It was a delightful, meaningful conversation.
I realized later that when we held hands as we prayed (which is something that I balked at!) in the worship service on Sunday that this was the one opportunity for most people around me to be touched by another human during the week. Can you imagine being far away from your loved ones and friends and not being touched? Is it possible that even in our church right now, on any Sunday, that there are many sitting in the congregation that feel the same; searching and achy for a personal connection? And for those not in our congregation, do they know where to get that connection?
In my small circle of influence, I try to connect with others around me and truly be present with them. Is that not what we all should do whatever our vocation? Reassuring others that they are not alone in the world. They are loved. They are seen. They are heard. Anyone, with any profession, call or vocation can show others the love of God.
---

Suzanne Cannon Davis is a mother of two beautiful grown children, Caroline and Jackson, and wife of a wonderful retired Air Force colonel, Ted (or T.O. to his AF buddies). She has had the honor of serving on two sessions in two different churches and is currently worshipping at Hopewell Presbyterian in Huntersville, NC, where her mother, aunt and uncle all share a pew.  She volunteers her time on several committees at Hopewell, the Bi-Lingual Preschool La Escuelita San Marcos, and NEXT Church. 
https://media.mywtenfold1.com/wp-content/uploads/sites/10/2016/10/29174944/featured-food-court.jpg
200
398
Linda Kurtz
/wp-content/uploads/sites/10/2016/01/NEXT-Logo-FINAL-Horizontal_lato-1030x229.png
Linda Kurtz
2016-10-12 07:55:31
2016-10-12 11:13:17
Connecting in Our Vocations