Each month, we post a series of blogs around a common topic. This month, Jessica Tate is curating a series that will reflect experiences of living in diverse community. Over the course of the month, we'll notice practices that enable diverse communities to thrive and we'll reflect on the promise of Christ in whom there is no Jew nor Greek, no male nor female, no slave nor free and what that promise means for our lives today. We invite you to share your own thoughts on Facebook and Twitter! 
by Susan Thornton
We were a people wandering in the desert – grieving, aimless, keeping to our own; bewildered after a season of dissention, debate, distrust, and dismissal. Eleven of our sister churches were gone, several more were discerning their futures, and we were left to wander brokenhearted.
We were a people connected by membership in a diminished presbytery. We were from Korean, Hispanic, Indonesian, Kenyan, Chinese, Anglo, African American, Taiwanese, Formosan, and Vietnamese congregations. We were from Not Church in Mexico and an RV Chapel near the Pacific Ocean.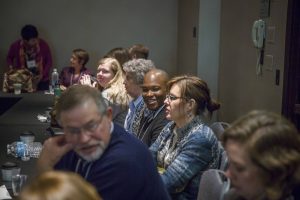 We were so different. We were from churches large and small, rich and poor, long established and recently birthed, conservative and progressive. We worshipped in many styles. We read scripture through varied lenses.
How could we heal this wound? How could we fill this emptiness? How could we build trust? How could we bridge the theological divide? How could we arrive at the Promised Land? We did not know how.
We were a people longing to connect, aching for community, missing what had been, afraid, yet daring to hope.
We went to committee meetings and worked through the business. We came for presbytery gatherings that felt contentious, where groups competed for power, advocated for their own causes, and fostered an atmosphere of winners and losers. It felt wrong. We knew we could be better. We did not know how.
In the midst of our desolation, the Holy Spirit was on the loose. In the summer of 2015, a small task force was commissioned to study the presbytery meetings. They were too long, too boring, too impersonal. The group recommended:
Spend less time on business, more in worship.
Invite speakers to inspire and equip presbyters and congregations.
Focus on building relationships.
Create opportunities for conversation.
Establish a Presbytery Gathering Team to plan and implement gatherings.
The Spirit "blew through the wilderness" calling us a new way of being. Every minute of each gathering is now carefully planned around a portion of our vision statement. We gather around tables for more than a quick meal. We sit with people we do not know and share stories, answer questions prompted by special speakers, and provoked by careful listening. We are getting to know our brothers and sisters, acknowledging our differences and celebrating what unites us. We look across the table and see the image of God in one another.
We are on the mend. We dare to hope and to trust. We are still wandering, but we journey together and rejoice in our new and renewed relationships. We are on the way to the Promised Land. We are Los Ranchos.
---

Susan Thornton is a ruling elder at St. Mark Presbyterian Church in Newport Beach, CA, and a member of the NEXT Church strategy team.
https://media.mywtenfold1.com/wp-content/uploads/sites/10/2017/05/29174422/featured-2017-workshop-chatting.jpg
200
398
Linda Kurtz
/wp-content/uploads/sites/10/2016/01/NEXT-Logo-FINAL-Horizontal_lato-1030x229.png
Linda Kurtz
2017-10-09 08:29:07
2017-10-09 15:05:28
Wandering in the Desert