Each month, we post a series of blogs around a common topic. This month, Deborah Rexrode is curating a blog series called "A New Perspective on Stewardship." We'll hear from some stewardship experts across the country on a wide range of what stewardship means for them. What are ways stewardship can be a spiritual practice? How might we come to a new understanding of the role of stewardship in ministry? We invite you to join the conversation on Facebook and Twitter!
by Sean Mitchell
When I was attending a seminary class years ago, a professor ended the lecture with a statement that stuck with me. The final moments of this class had moved all of us into a discussion on prayer. One student finally asked the professor, "If you could summarize the theology, mystery, and practice of prayer in one sentence, what would it be?" Yes, I thought, good question. Without missing a beat, the professor said, "The most important thing I have learned about prayer from study and practice is this: simply show up."  
Simply show up. At the time, these words seemed, ironically, too simple. Yet after years of living as a pilgrim, I get it. We need to keep showing up and praying…again and again and again. Show up, do it, and trust God.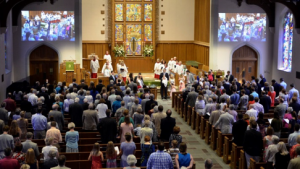 After eleven years of working in stewardship ministry, one of the greatest lessons I can pass on to those hoping to become leaders of stewards is, in the words of my seminary professor, simply show up. There is much to be learned about stewardship ministry: the asking, teaching, preaching, mentoring, as well as the storytelling, reading, writing, and team-building. But to show up again and again is at the essence of practicing the leadership.
On multiple occasions, I have worked with pastors or lay leaders, who, when looking to practice more intentional stewardship leadership, have shared some reservations due to perceived lack of skills and lots of fear. Sometimes it is obvious that the fit is not right. For some, it is simply not time for them to lead.
But for others, as they are discerning a call, I often counsel for them to show up and just to do it afraid. The more immersed they are in the work, the less afraid they are of it. As in the case of Moses and others who have taught us how to live faithfully, the way forward is to trust God that all will be provided. We simply show up, read what we find, write and preach what is inspired by Scripture and sacred conversation, live what we are learning, and lead others through the courage that God provides.
Showing up is a practice of prayerful attentiveness. We show up, committed to leading in the ways that God shows us to lead. We show up with our strengths and weaknesses, our convictions and concerns, our hopes and worries. We show up as we are and expect God to be with us along the way and for the Kingdom to come and God's will to be done. Over the years, I have watched many people show up in stewardship ministry and begin leading. What did they do? What did they learn about becoming a leader of stewards?  What happened to them along the way?
Here are two stories:
A pastor and her church community began their first capital campaign together. This size fundraising initiative was the first for this pastor. How could she lead? What was expected of her? One of her first steps was to write some of the narrative for the campaign communications pieces. She is a good writer and communicator, so she decided to share this strength with the campaign implementation team. Her writing was meaningful, challenging, faith forming, and of course, well received by the congregation.How did she lead?  She simply showed up.  And then she did the next thing: share her strengths with the campaign.
A church member was invited by his pastor to join him in a multi-month stewardship ministry learning experience, to which he said yes. Weeks later, after some of the education had taken place, he decided to write out his stewardship journey. He shared it with his pastor, and the pastor invited him to share it with the church on a Sunday morning. He did, and as he did, he was leading. He showed up. He learned. He reflected. He shared his story, and his story inspired others.
The first step on the journey of leading stewards is simply showing up. It's about saying yes. Yes to the opportunities, invitations, and resources God will provide for the leadership. This is what the above leaders have learned, and what many more will learn as they humbly, courageously, and faithfully show up again and again and again.
---

Sean Mitchell is the Stewardship Development Director at Myers Park Presbyterian Church in Charlotte, North Carolina.  He is also the founder of Generosity Development. Sean works closely with churches to develop annual and capital campaigns, major gifts, and planned giving.  
SaveSave
https://media.mywtenfold1.com/wp-content/uploads/sites/10/2017/07/29174308/featured-stewardship-myers-park.jpg
200
398
Linda Kurtz
/wp-content/uploads/sites/10/2016/01/NEXT-Logo-FINAL-Horizontal_lato-1030x229.png
Linda Kurtz
2017-07-24 07:40:43
2017-07-24 08:41:08
Becoming a Leader of Stewards: The Practice of Showing Up