Each month, we post a series of blogs around a common topic. This month, Deborah Rexrode is curating a blog series called "A New Perspective on Stewardship." We'll hear from some stewardship experts across the country on a wide range of what stewardship means for them. What are ways stewardship can be a spiritual practice? How might we come to a new understanding of the role of stewardship in ministry? We invite you to join the conversation on Facebook and Twitter!
by Than Hitt
I was in Paris recently for a screening of "From the Ashes," a powerful new documentary on climate change, and the contrast was hard to miss: Paris, a symbol of global cooperation for climate protection, on the heels of the American withdrawal from the Paris Agreement.
It's true that traveling helps you see home in a new light, and this trip certainly did for me. I found myself asking how America, the largest contributor to climate change, could turn its back on the global effort against climate pollution and meanwhile miss new opportunities for clean tech innovation and job creation at home?
The word "negligence" comes to mind, as do others unfit to print.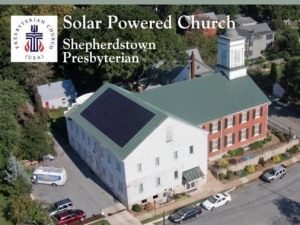 But seeing home from a distance also helps me appreciate the good that is afoot: many American cities and states have stepped up to achieve the Paris goals. Many churches have as well, notably through the "Paris Pledge" organized by Interfaith Power and Light with over 160 congregations dedicating themselves to this goal.
Yes, many churches are responding in creative and positive ways, including new investments in clean energy. So why aren't all church rooftops crowned with solar panels today? Perhaps congregations don't see a connection between their faith, the Earth, and their energy source, but I doubt that is the main reason. Instead, I think it's primarily a financial hurdle – particularly the initial investment capital. And who wants another capital campaign?
So how do we move forward?
Let me share some thoughts from my experience helping Shepherdstown Presbyterian Church (SPC) "go solar" in 2014. Full disclosure: I'm not an expert on the solar industry or financing (I'm a fish biologist working on climate change science and endangered species research in West Virginia). But I have glimpsed how financial thinking can merge with ethical and spiritual thinking when it comes to a church's investment in clean energy. And that's some powerful stuff.
In our initial discussions at SPC, the environmental benefits of solar usually came up first. That makes sense, particularly in West Virginia where we see the costs of fossil fuel development. Of course this issue was not new to folks at SPC, which has been a proud PCUSA Earth Care congregation for years. The question was more "how" than "why."
We couldn't take advantage of federal tax incentives and our state incentive programs had recently been stripped away. So we had to think differently. And we did. We started working with Solar Holler to finance our solar project from energy efficiency savings pooled from our individual homes. It worked. We were fortunate to receive a national award for our efforts, and we plowed the award money back into energy efficient LED lighting for the sanctuary.
We're currently saving thousands of dollars a year on electricity bills and are producing about 40% of our electricity demand. Meanwhile, the regional utility rates keep going up, so this further increases the value of solar into the future.
If you want to go for it, here's where I recommend you start: take a look at your church's energy bills over the last several years. You might be amazed, particularly when you consider the opportunity costs. What mission work is not happening because you're paying so much for energy?
Then look around the church for ways to improve its energy efficiency. You might find what others have – that you already have the capital for an investment in solar all around you – that you could use cost savings from energy efficiency planning to finance an investment. This is the model currently expanding to churches and other nonprofits across West Virginia from the good work of Solar Holler.
Particularly now as we hear the tired, false narrative of "jobs versus environment" touted loudly by national leaders, it's up to us to tell a different story. Churches have to be leaders in this great effort. After all, the sun gives physical energy – and metaphysical energy!
---

Than Hitt lives in Shepherdstown West Virginia where he spends his time as a husband, father, biologist, musician, river runner, explorer, and procrastinator.
https://media.mywtenfold1.com/wp-content/uploads/sites/10/2017/07/29174322/featured-solar-church.jpg
200
398
Linda Kurtz
/wp-content/uploads/sites/10/2016/01/NEXT-Logo-FINAL-Horizontal_lato-1030x229.png
Linda Kurtz
2017-07-13 07:51:07
2017-07-13 12:52:17
Stewardship of Energy