Each month, we post a series of blogs around a common topic. This month, Lee Hinson-Hasty is curating a series identifying books that Presbyterian leaders are reading now that inform their ministry and work. Why are these texts relevant today? How might they bring us into God's future? We invite you to join the conversation on Facebook and Twitter!
by Linda Kay Klein
One of the most meaningful influences on my ministry and work today is Dr. Curt Thompson's The Soul of Shame — a Bible-based exegesis of shame authored by a psychologist most comfortable in the intersection between interpersonal neurobiology and Christian spirituality.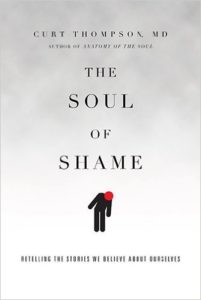 At a time of tremendous national division, I wonder if some of us have become too comfortable with the notion that we and our kind are "right" and "good," while others are "wrong" and "bad." For example, I recently heard a pastor say that she would not speak with anyone from "the other side" unless they first admitted to her that they were a bad person. The room full of similarly-politically-minded pastors and other religious leaders mmhmm'd in agreement.
I am uneasy with how easy shaming has become among us. And I fear that, if left unchecked, it will continue to lead us down a very destructive path.
After all, that's just what shame does.
Let's pause for a moment and talk about what shame — or what Thompson calls "the primarily tool that evil leverages, out of which emerges everything that we would call sin" (page 22) — actually is, and how it affects us. From a research perspective, shame is different from guilt, humiliation, embarrassment or any of the other words we tend to lump together.
For example, researchers consider guilt the feeling "I have done something bad," and shame the feeling "I am something bad." The effects of these two neuropsychological states on people's lives could not be more different. Whereas guilt makes us reach out to people and connect in an effort to repair relationships, shame inspires us to disconnect — perhaps we withdraw, lash out (either at ourselves or others) or hide.
It is important to name and fight for what we see as right, and against what we see as wrong. But when we engage in shaming — dehumanizing others by declaring them, rather than their positions or actions, to be wrong or bad — we create what Thompson refers to as "states of aloneness within us and between us, and most substantially between us and God" (page 54).
It is the disconnection that shame and shaming engenders within and among us that causes Thompson to refer to shame as "the emotional weapon that evil uses to (1) corrupt our relationships with God and each other, and (2) disintegrate any and all gifts of vocational vision and creativity" (page 13).
For communities that are, like me, trying to find ways to unapologetically speak and fight for our truths while honoring the humanity of those who disagree with us, Thompson's book is a resource. He presents meaningfully about the nature of shame, which can help us understand the dangers of shaming, and offers Biblical tools for growth and healing. Thompson's review of Biblical stories through the lens of shame also makes it a particularly strong tool for those interested in offering sermons and Bible studies on the subject.
---
Linda Kay Klein

blends research and stories to expose unseen social problems and devise potential solutions. Her current project centers around the developmental effects of purity-based religious sexuality education programs on the lives of girls as they grow into adulthood. Formerly, Linda was the founding director of the Work on Purpose program at Echoing Green, a social entrepreneurship accelerator best known for helping launch Teach For America, the Freelancers Union, City Year, and over 600 other ground-breaking social change organizations.
https://media.mywtenfold1.com/wp-content/uploads/sites/10/2017/03/29174622/featured-book-shame.jpg
200
398
Linda Kurtz
/wp-content/uploads/sites/10/2016/01/NEXT-Logo-FINAL-Horizontal_lato-1030x229.png
Linda Kurtz
2017-03-09 11:06:05
2017-03-29 10:22:57
Speaking Our Truth Without Shaming Those Who Don't See It: The Soul of Shame