Each month, we post a series of blogs around a common topic. This month, Rev. Shavon Starling-Louis, NEXT Church interim communications specialist, will be sharing particularly timely past NEXT Church blog posts. These posts point to hope and wisdom for these days that you might have completely forgotten about but are faithful reflections. We invite you to join the conversation on Facebook and Twitter.
This article was originally posted on December 27, 2013. The author's ministry context may have changed since then.
by Paul Roberts
17 If you say to yourself, "These nations are more numerous than I; how can I dispossess them?" 18 do not be afraid of them. Just remember what the Lord your God did to Pharaoh and to all Egypt, 19 the great trials that your eyes saw, the signs and wonders, the mighty hand and the outstretched arm by which the Lord your God brought you out. (Deuteronomy 7:17-19)
13 So in the lowest parts of the space behind the wall, in open places, I stationed the people according to their families, with their swords, their spears, and their bows. 14 After I looked these things over, I stood up and said to the nobles and the officials and the rest of the people, "Do not be afraid of them. Remember the Lord, who is great and awesome, and fight for your kin, your sons, your daughters, your wives, and your homes. (Nehemiah 4:13-14)
And Stephen replied: "Brothers and fathers, listen to me. The God of glory appeared to our ancestor Abraham when he was in Mesopotamia, before he lived in Haran" (Acts 7:2)
These are just a few snapshots in the life of Israel, moments when they are commanded to go forward into new and sometimes dangerous places and circumstances. Each time, the people of God are challenged to first look back, to remember, to be confident not in themselves but in the God who is constantly sending and rescuing and delivering and saving and calling and loving.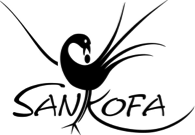 In the African-American community, we have embraced the concept of SANKOFA, from a West African proverb. SANKOFA teaches us that we must go back to our roots in order to move forward. That is, we should reach back and gather the best of what our past has to teach us, so that we can achieve our full potential as we move forward. SANKOFA is visually represented by a bird that is in forward flight while looking back, with the egg of the future in its mouth.

At Johnson C. Smith Theological Seminary, our tag line is "called to create what's next." But to create what's next, I believe we do well to first look back, gather all the best in preparation for exploring what's next. Should theological education today resemble that represented in scripture? Many would question whether that is even reasonable, but, if it should, then it seems that that education must be less about the accumulation of knowledge and more about the formation of a way of life, of being.
Pastoral education should not take place in an isolated academic environment, but in the midst of the world for which the disciple is being prepared. It should, at least in part, take place at a point within which there is a seamless integration of spiritual, intellectual and practical concerns; there should be strong mentoring/partnering relationships with individuals who have not just experience, but are themselves active learners, willing to push against and test the status quo, who themselves embody faith rather than just imbibe knowledge about faith. These mentors should be men and women who can exegete the culture as effectively as they can exegete Scripture and are able to guide the disciple in how to weave both exegeses together.  So, pedagogy should move outside the walls of academe and into the world of the missioning God where people live and work and worship. The interaction between academy, church and community should be always in flux.
Looking back for one more moment, Gregory of Nazianzus (who fled the pastorate four times and was finally forcibly ordained by his congregation) noted that pastoral formation is a life-long endeavor: "Not even extreme old age would be too long a limit to assign."). Becoming a pastor is the work of a lifetime. Theological education needs to give pastors a better start on becoming a pastor.
---

Paul Timothy Roberts is president-dean of Johnson C. Smith Theological Seminary and a member of the NEXT Church Strategy Team. You can watch his keynote to the 2013 NEXT Gathering here.
https://media.mywtenfold1.com/wp-content/uploads/sites/10/2019/09/29172432/featured-sankofa.jpg
200
398
Linda Kurtz
/wp-content/uploads/sites/10/2016/01/NEXT-Logo-FINAL-Horizontal_lato-1030x229.png
Linda Kurtz
2019-09-30 06:08:26
2019-09-18 16:12:52
Re-post: Back to the Future: A Sankofa Moment