Each month, we post a series of blogs around a common topic. This month, Lee Hinson-Hasty is curating a series identifying books that Presbyterian leaders are reading now that inform their ministry and work. Why are these texts relevant today? How might they bring us into God's future? We invite you to join the conversation on Facebook and Twitter!
by Kathy Wolf Reed
Earlier this year I was fortunate to read Walter Brueggemann's Sabbath as Resistance: Saying No to the Culture of Now. Like many of Brueggemann's works, the book is both brief and powerful, making it (somewhat ironically) an ideal choice for those in professional ministry.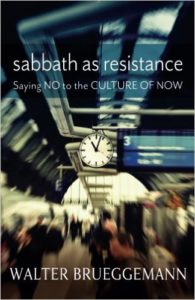 Striking to me was Brueggemann's description of ancient Egypt: defined by anxiety, overly concerned with productivity, and overcome with an idolatrous worship of commodity. This exhausting mode of existence is not only an apt description of modern day society but modern day mainline Protestantism as well. I suppose that's why I have not been able to get this book out of my mind.
Amidst threats that somehow our hard-earned commodities might not be safe or our ability to be productive could become compromised, human fear propels us into overdrive. We believe that if we could just do or have more, we might attain the peace our hearts long for – peace that in truth comes only from relationship with God. In the church, the tendency toward commoditization manifests itself as measuring ministry in numbers: membership, budgets, baptisms. We look across the street at what others are doing and think, "Maybe we should start a new program for singles/coffee ministry/contemporary worship service."
Brueggemann names the flaw in our logic, describing the "endless pursuit of greater security and greater happiness, a pursuit that is always unsatisfied, because we have never gotten or done enough… yet" (page 13). He reminds us how in the Sabbath commandment, our God "nullifies that entire system of anxious production" (page 27). God gives us not just an option but a direct order to place boundaries on our inclinations to perpetuate anxiety.
"Such a faithful practice of work stoppage is an act of resistance." Brueggemann writes. "It declares in bodily ways that we will not participate in the anxiety system that pervades our social environment" (page 31). He goes on to remind us how Jesus said, "Come to me, all you that are weary and are carrying heavy burdens, and I will give you rest." (Matt. 11:28)
I cannot think of a more relevant book for today's world and church. I am grateful for the gift of a biblical framework through which to understand my own anxieties and the restlessness of the society and systems in which I serve. I recommend this book to all church leaders as we continue to navigate anxious times.
---
Kathy Wolf Reed has served as co-pastor of First Presbyterian Church in Auburn, AL since 2014. The Mayberry-esque setting of Auburn provides a context in which Kathy and her family (co-pastor husband Nick and their three small children) can enjoy all the perks of small town life while the presence of a major university offers them constant opportunities to attend interesting programs and cheer on the Tigers from football games to equestrian meets.
https://media.mywtenfold1.com/wp-content/uploads/sites/10/2017/03/29174535/featured-sabbath-as-resistance.jpg
200
398
Linda Kurtz
/wp-content/uploads/sites/10/2016/01/NEXT-Logo-FINAL-Horizontal_lato-1030x229.png
Linda Kurtz
2017-03-20 09:27:00
2017-03-29 10:31:54
Resist Right Now