Each month, we post a series of blogs around a common topic. This month, Suzanne Davis is curating a series highlighting the working relationship between ruling elders and ministers of the Word and Sacrament (or teaching elders). We'll hear from both individuals and ruling elder/pastor partners reflect on the journey in ministry they've had together. How do these two roles – both essential to our polity – share in the work and wonder of the church? What is the "special sauce" that makes this special partnership flourish? We invite you to join the conversation on Facebook and Twitter!
by Lisa Raymaker and Heather Newgreen
Growing up, pastors were always on a pedestal – set apart by God, always doing and saying the right things, seemingly without fault. As we get older, perspectives change. Set apart by God is still true, called for a special service is true… AND we are ALL set apart, we are ALL called for a special service. Responding to that call sometimes makes us feel inadequate."But I'm just a layperson, how am I equipped to answer that call?" God doesn't pay attention to the "just." He/She gave each of us particular gifts and calls us to use them, regardless of whether we think we're up to the task.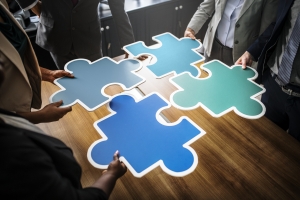 We've been able to believe this more because of our relationships with our pastor. He treats us as an equal in the body of Christ and encourages us to lead where we are called. In the beginning, it's normal to feel that we need to be careful with our words, to put our best foot forward. We are in a church, after all. As we work together more as the hands and feet of Christ in our faith community and in our city, we can become more comfortable being our authentic selves, for better or worse. We have learned that it's alright to question the way things are done; to speak the truth in love; to challenge each other to think, love, and serve more deeply. We learned that our thoughts and ideas are valued, and that the diversity of our thoughts is exactly what the church needs.
The relationship between a pastor and an elder can be summed up in one word: equals. We should be listening to each other, questioning each other, and trusting that we are capable to serve in the roles where God has placed us. When a congregation sees that the elders they elected are working in partnership with their pastor and not for their pastor, they can trust that their voices are being heard.
We believe there are three components to making a teaching elder and ruling elder partnership successful (of course, there are three – thank you, Triune God): always making room for the Holy Spirit to move and lead us, the teaching elder valuing and encouraging the work of lay leaders, and the ruling elder believing in and using their spiritual gifts. God's call comes in many different forms and at different volumes. It can be a burning bush and it can be a whisper. It can be to serve as a pastor and it can be to use your skills as a business person to help lead your faith community into uncharted territory. If we listen, if we respond, if we work together as equals in the body of Christ, if we get rid of the "just" in our vocabulary, God will lead us to amazing places.
---

Lisa Raymaker is a member of Caldwell Presbyterian Church in Charlotte, NC, and a ruling elder. After serving a 3-year term on the Session at Caldwell, she is chairing the Hope Committee, which is part of the new Gambrell Social Justice Fellowship program, and the Touchpoint Committee, which focuses on Caldwell's outreach to the Charlotte LGBTQ community. Lisa works in the insurance industry and her husband, Patrick, is a musician.

Heather Newgreen was born and raised in the Presbyterian Church. She was ordained and installed as an Elder in 2009 and recently reinstalled in 2018. Heather currently serves as the Chair of Christian Formation where she oversees the education programs from infants to adults for Caldwell Presbyterian Church. She has remained an active volunteer in many of the church's educational programs such as Godly Play, Youth Sunday School, and Confirmation. Though she holds a degree in music, Heather works for a non-profit that provides financing to small businesses. Her husband Kyle, and their two small children, James and Emily, are her greatest blessings.
https://media.mywtenfold1.com/wp-content/uploads/sites/10/2018/09/29173343/featured-partnership-puzzle.jpg
200
398
Linda Kurtz
/wp-content/uploads/sites/10/2016/01/NEXT-Logo-FINAL-Horizontal_lato-1030x229.png
Linda Kurtz
2018-09-13 10:56:11
2018-12-22 19:26:03
Removing "Just" From our Vocabulary