Each month, we post a series of blogs around a common topic. This month, our blog features reflections on vocation, offered by people who are engaged in ministry and work outside the church. What is God's calling on our lives outside of the church? What is difficult about being Christian in the working world? How do our churches nurture a sense of Christian vocation? We invite you to join the conversation on Facebook and Twitter!
by Robert Hay, Jr.
I remember a car ride home from youth group Bible study one Wednesday night with my dad. I was a freshman in high school and my dad was the youth pastor.  For some reason we were talking about call. As a preacher's kid (or PK as we are affectionately known), everyone assumes you will go to seminary. My dad understood that pressure too since he was a PK as well. That evening my dad said something that has stuck with me ever since. He said that "the angels of the world are the volunteers."
Now, my family business is church work. Six generations of my family are Presbyterian pastors. So, paid "ministry" is what we know. But what I learned from my dad then and over the years since is that ministry happens not because of paid pastors and paid staff, but it happens because faithful people (paid and volunteer) work together to glorify God.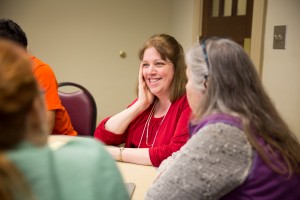 As a typical PK I rejected the idea that I would have a career in the ministry. So, after receiving a business degree from Auburn University, I started my career as an analyst working for a large business and technology consulting firm. My work days were spent taking business requirements and transforming them into technical solutions. The work was good and I was good at it, but God had other plans for me. God led me to a faith-based nonprofit and showed me how I could use my business skills for ministry.
It was through this experience that I gained a better appreciation of how we are all called to use our unique skills to glorify God. We are all called to serve and love God with all our heart, all our soul, and all our mind. And we are all given many different gifts that can be used to glorify God in many different ways. Yes, some people are "called" to ministry in a paid capacity. But I believe we are all called to ministry in our own unique ways.
Fast forward many years and I now find myself working for the Presbyterian Foundation as a Ministry Relations Officer. One of the joys of this calling is that I get to work with a lot of church volunteers. My work mainly focuses on helping churches with their stewardship programs (annual stewardship and planned giving stewardship) as well as helping churches with their investments and endowments. To some, this work may not seem like ministry. This work seems to be about money; how to get more money and how to manage money. But I see things very differently.
The members of the finance committee who struggle with income and expenditures and the balance sheet have been called to use their gifts of finance and administration to make sure that God's church is financially viable and is maximizing ministry.
The members of the stewardship and generosity teams who share how the church is being the hands of feet of Christ in the community and then invite other church members to give of their time, talent, and treasure are called to use their gifts to help build energy and excitement about God's church.
The members of the endowment committee who are encouraging church members to leave their faith legacy through a planned gift to the church and who are managing the endowment investment are called to use their gifts to ensure that God's church continues for generations.
These volunteer jobs in the church may not seem like ministry, but I can assure you that these folks are called to this and see it as a ministry. Many times they are the "angels" of the church that get overlooked.
God calls us all in unique ways. Be on the lookout for the "angels" among us and affirm their calling. And listen with an open heart for the opportunities you are being called to by God.
---

Robert Hay, Jr. is the Ministry Relations Officer covering the southeast region (MS, AL, GA, FL, TN, and Puerto Rico) from the Presbyterian Foundation. Robert is a Ruling Elder and has volunteered in many different roles within the PCUSA. He lives in Peachtree City, GA with his wife, Morgan Hay (who serves as the Pastor of First Presbyterian Church Peachtree City), and their two children. Robert enjoys spending time with his family, playing golf, and watching college football (War Eagle!).
https://media.myworshiptimes31.com/wp-content/uploads/sites/55/2016/04/29175331/featured-good-news-women.jpg
200
398
Linda Kurtz
/wp-content/uploads/sites/55/2016/01/NEXT-Logo-FINAL-Horizontal_lato-1030x229.png
Linda Kurtz
2016-10-10 09:39:00
2016-10-10 09:41:51
The Angels of the World are the Volunteers