Each month, we post a series of blogs around a common topic. This month, Jeff Bryan is curating a series reflecting on the 2018 National Gathering in late February. You'll hear from clergy, lay people, community leaders, and others reflect on their experiences of the National Gathering and what's stuck with them since. How does the "Desert in Bloom" look on the resurrection side of Easter? What are your own thoughts of your National Gathering experience, or on what these reflections spark for you? We invite you to join the conversation on Facebook and Twitter! 
by Jeff Bryan
I feel like an apology is in order. Here I am, curating the NEXT Church blog, writing the opening and closing pieces, and I didn't even attend the 2018 National Gathering. I have a good excuse. We had a serious medical emergency in the family. Don't worry. It's been a long haul, but everyone is okay. I have a good excuse for my absence; I also have a silver lining. The family emergency gave me the opportunity to listen and watch the National Gathering events online, look at pictures, and read these blog posts with a different perspective. Things look different from far away. Plus, I got to see them from the resurrection side of Easter.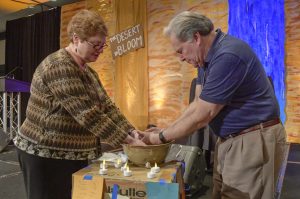 The desert is in bloom. There is life on the other side of death. Resurrection is real. I saw it in my family, as we kept vigil in the hospital for a week, prayed, and witnessed a full recovery. I saw it in the loving hands of church members, bringing countless casseroles and pound cakes to the house. I was surprised to see it in relationships: "You and I haven't always seen eye to eye, but you really came through for me. Thank you, brother. I love you." I heard it in the voices of children, shouting "Hosanna!" on Palm Sunday. On Good Friday, I heard resurrection in the clarinet of a 91-year old man—
the band director from the old, segregated, black high school,
marching into the all-white cemetery,
past the statue of a Civil War soldier
and the rusty C.S.A. markers,
in an integrated band,
the jazz cats giving the old man respect…
"Yeah, man, play!"
"He's 91 and the best musician in town!"
"It's an honor to march with you, sir."
with an integrated crowd,
arm in arm, singing,
"Just a closer walk with thee!"
too many layers of meaning to count,
that ancient clarinet wailing front and center,
with hope as strong today as 1950
—and I'll never be the same again. I saw it on the smiling faces on Easter morning, children screaming "Risen indeed!" I've seen resurrection in congregations, our denomination, and the NEXT Church National Gathering, asking the hard question, "What is God calling us to do, be, or change?" And I read it in the voices of these blog contributors. Their excitement for the future is palpable, and their hope is contagious. Make no mistake. We bear witness to the resurrection of Christ, we proclaim the victory of God's grace, and the Reign of Heaven is gaining ground.
Readers, I invite you to pay close attention to these blog posts. They are us, they are the future, and they are fantastic. Enjoy!
---

Jeff Bryan is senior pastor of Oakland Avenue Presbyterian Church in Rock Hill, SC. A graduate of Princeton Theological Seminary, Jeff has also served churches in Ann Arbor, MI, and suburban Philadelphia. He enjoys spending time with family, and has an embarrassingly large music collection.
https://media.mywtenfold1.com/wp-content/uploads/sites/10/2018/04/29173700/featured-desert-bloom-handwashing.jpg
200
398
Linda Kurtz
/wp-content/uploads/sites/10/2016/01/NEXT-Logo-FINAL-Horizontal_lato-1030x229.png
Linda Kurtz
2018-05-01 05:44:20
2018-04-13 10:56:23
The Desert is in Bloom