Each month, we post a series of blogs around a common topic. This month, Linda Kurtz is curating a series we're affectionately referring to as our NEXT Church book club, which aims to share insights on a variety of texts – and how they have impacted our bloggers' ministries. Understanding that reading in and beyond one's field is important to offering good leadership, we offer this series to get your juices flowing on what books you might read next. What are you reading that's impacting how you think about and/or do ministry? We invite you to join the conversation on Facebook and Twitter!
by Fernando Rodriguez
There are questions that open up possibilities and inch us closer to a better understanding of the community around us, and, ourselves. Then, there are questions that simply mess you all up. Mike Mather's Having Nothing, Possessing Everything, finding abundant communities in unexpected places has not only pushed me to ask questions, but has changed my paradigm for community and ministry.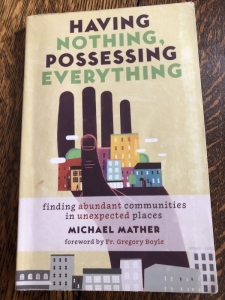 I met Mike during the early years of my ministry serving as a church planter in a Latinx community in Indianapolis. His ministry at Broadway United Methodist Church influenced me tremendously early on. Now, as an associate pastor leading mission and outreach efforts of a suburban high steeple church, his book has pushed me to continue wrestling with what it means to see and be a part of an abundant community.
Two of the most foundational questions one can ask as a church planter are "What are the needs of the community?" and "how can the church provide for those needs?" The ultimate purpose is to engage the community and hopefully grow the new church. Based on these questions, we developed programs like tutoring, dental clinics, etc. Many of these programs were successful as they provided for a perceived need the community had while creating opportunities for us to develop relationships with neighbors. However, this engagement was transactional and did not always lead to more people in worship.
The stories shared through the pages of Mather's book offer different questions. Instead of asking what the needs are in the community (as real and pressing as they may be), the questions should be, "What are the gifts and talents of those in the neighborhood and what does it look like to build community around them?" They focus on what the community has, not on what it lacks.
The first time I considered these questions I was both excited and worried. Excited, because I knew that everyone in the neighborhood I was serving was a child of God, and consequently, was given gifts that build community. I was worried because it changed the paradigm from one that built a church to one that built community. These questions messed me up. They were convicting. They challenged all my pre-conceived notions of church, engagement, and community building.
Even today, as I serve a very different context, the questions persist. My current church is one that seeks to fund efforts such as those in my first ministry. We are constantly discerning what the best way is to invest in ministry outside the walls of the church. We serve as volunteers in local community organizations and have even developed a non-profit that brings music programming to public schools in the neighbor city of Pontiac.
Though the context may be different, Mather's book reminds me not to stop asking questions that focus on seeing abundance in communities that are often thought to have nothing. The challenge now is to think if/how the programs we are funding are building off of the existing gifts and talents in the neighborhood being served. Although we have had good results with getting people to serve in local community organizations, a next step would be to ask: what has this engagement looked like? How are relationships being formed beyond the "service?"
Questions abound when exploring how to live into community in a way that celebrates true God-given abundance. The questions that Mather's book raise for us are one's that not only affect the church, but also socio-economics, health, education, etc. These questions are bigger than us. However, our calling is to ask them and "follow the story" that comes from them.
---

Fernando Rodríguez currently serves as Pastor for Missional Renewal and Stewardship at Kirk in the Hills in Michigan and has also pastored churches in Indiana and Delaware. He enjoys laughing with his wife and two children and screaming at the television without regard during FC Barcelona futbol matches.
https://media.mywtenfold1.com/wp-content/uploads/sites/10/2018/09/29173356/featured-stacked-hands.jpg
200
398
Linda Kurtz
/wp-content/uploads/sites/10/2016/01/NEXT-Logo-FINAL-Horizontal_lato-1030x229.png
Linda Kurtz
2019-02-28 07:02:50
2019-02-26 20:14:26
New Questions for a New Paradigm