Each month, we post a series of blogs around a common topic. This month, Tanner Pickett and Elizabeth Link are curating a series that will reflect experiences of those in the beginnings of their ministry, particularly through the lens of Trent@Montreat. Over the course of the month, we'll hear reflections from past and future participants, track leaders, and members of the leadership team of Trent@Montreat. We hope these stories will encourage you along your journey – and maybe encourage you to join us next April! We invite you to share your own thoughts on Facebook and Twitter!
by Loren Mitchell
As mom of a toddler and as pastor, I don't get to travel to as many conferences as I'd like. It is important to me that a conference be easily accessible, cost effective, and worth the precious time away from home and office. Trent@Montreat fits squarely into these three categories and I strongly urge you to look at this excellent opportunity. It will renew your sense of call and strengthen your ministry in your individual context.
Here's why I "Trent."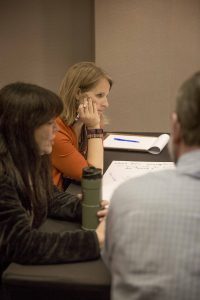 Community. Trent at Montreat is accessible in terms of both physical location and online presence. I live in Virginia, so Montreat Conference Center has always been my favorite location for conferences. I can drive there in a few hours and find myself in a beautiful, familiar location not far from Asheville and enjoyable amenities. The conference is set up to be simple to navigate and makes wonderful use of space so conferees are not spread all over the campus. The leadership of Trent@Montreat also makes excellent use of social media and has a strong online presence. Registration is a breeze, as are introductions to conference leadership and selecting the track that best suits your needs. By utilizing online platforms, Trent@Montreat feels like a community before you ever arrive and maintains a thread of connection after you leave.
The best bang for your buck. You can attend Trent@Montreat without breaking your continuing education bank. Some conferences present five-star leadership and amazing networking opportunities, but they require your entire budget to attend. Not so with Trent. Because the mission of Second Presbyterian Roanoke's Trent Fund aligns so beautifully with those of NEXT Church, Macedonian Ministry, Union Presbyterian Seminary, and Montreat Conference Center, what you discover is leadership that is committed to providing practical education for today's church leaders in ways that are innovative yet create a comfortable space for learning. You're getting focused, quality time with other pastors, educators, and leaders that is relational in nature. Combine this with the beautifully renovated Assembly Inn and delicious meals that can be included in your package and this is a great deal.
One track mind. The greatest gift that Trent@Montreat gives you is time. The schedule of the conference allows you time to focus on one track that is of most interest to you. You are contacted ahead of the conference by track leaders and invited to bring resources and ideas that will be pertinent to your group discussions. You are asked to share questions or challenges in your own ministry that might shape the conversations. In addition to this, you are given time to yourself to break away from these groups and work on your own plans for effective ministry moving forward in your own context. I have never attended any other conference with that type of model and I truly believe that it works! At the end of the conference you are given lists of resources and contacts with peers and conference leadership who are willing to continue a relationship with you. In addition to this quality time, you can experience meaningful worship each day with your peers and a keynote speaker that changes each day with a focus on different interesting topics that range from music in worship to Christian education, to outreach ministries.
I attended Trent @ Montreat in its first year and the overwhelming response from attendees was "please host this conference again." I am so pleased that it is returning in 2018 and I am looking forward to returning and trying a new track. If I have not sold you on this event, take a leap of faith and try it; you will not be disappointed.
---

Loren Tate Mitchell is currently serving as Associate Pastor of Christian Education at Covenant Presbyterian Church in Roanoke, VA. Loren has a Bachelor's degree from Hollins University and two Masters' degrees from Union Presbyterian Seminary in divinity and Christian education. Loren currently serves as chair of the Committee on Preparation for Ministry in the Presbytery of the Peaks and sits on the board of the Presbyterian Community Center. You may occasionally see her writing in The Upper Room and Devozine devotional magazines or Union Presbyterian Seminary's Storypath; an online children's book review page. She also has a blog at preachingthumbelina.blogspot.com. Loren, her husband Michael, and their three year old son Kemper very much enjoy spending quality family time together in the Roanoke Valley.
https://media.mywtenfold1.com/wp-content/uploads/sites/10/2017/07/29174311/featured-stewardship-calendar.jpg
200
398
Linda Kurtz
/wp-content/uploads/sites/10/2016/01/NEXT-Logo-FINAL-Horizontal_lato-1030x229.png
Linda Kurtz
2017-11-21 08:59:25
2017-12-05 10:18:05
Why I "Trent": Attending Trent@Montreat