Each month, we post a series of blogs around a common topic. This month, Rev. Shavon Starling-Louis, NEXT Church interim communications specialist, will be sharing particularly timely past NEXT Church blog posts. These posts point to hope and wisdom for these days that you might have completely forgotten about but are faithful reflections. We invite you to join the conversation on Facebook and Twitter.
This article was originally posted on November 24, 2014. The author's ministry context may have changed since then.
by Jarrett McLaughlin
The church where I serve is currently reading Brian McLaren's Why Did Jesus, Moses, the Buddha and Mohammed Cross The Road together in small groups. After getting about two weeks in, our Director of Spiritual Growth met with the group facilitators to get some feedback – the leaders reported a discomfort among several participants that echoed what I heard around my table at McLaren's lecture at George Mason University earlier this month.
In Chapter 9 – "How a Liberal Arts Education Ruined My Opinion of Christopher Columbus" – McLaren relates the experiences of going to college where his course work invited him to swap out the childhood tale of Columbus sailing the ocean blue in fourteen hundred and ninety two for first-hand accounts of the enslavement, rape, and torture of the local Taino population. The point is that the way we remember and tell and shape young minds in the patterns of our history…all of that matters. If history is truly prologue to the present, then we need to tell the truth about our prologue – and the Christian Church needs this as much as any one else if we are to cultivate a "strong-benevolent" Christian identity.
It seems, however, that more than a few people experience some discomfort with this idea – and perhaps I have a simplistic view of the objections, but I believe it mostly boils down to a sense that "that was then and this is now – why should I take responsibility for the crimes committed by people who lived hundreds of years ago?" Some responses to that question:
"Because Jesus Does It All The Time" – A Doctrinal Response From Scripture
In 2 Corinthians 15, Paul speaks about the ministry of reconciliation and penned some incredible words (pardon my selective editing, I have a word limit) – "…in Christ, God was reconciling the world to himself, not counting their trespasses against them, and entrusting the message of reconciliation to us. So we are ambassadors of Christ, since God is making his appeal through us…for our sake he made him to be sin who knew no sin, so that in him we might become the righteousness of God."
It's difficult to overstate how tremendously huge this is. God made Jesus to take on sin that was not his own and only by doing so was there ever going to be a chance at reconciliation. Without getting into the mechanics of exactly how this all works, the general sense is that Jesus is sinless and yet Jesus takes on the sins of others in order to create an environment where peace might be possible and where reconciliation becomes a reality. If we are following Jesus to the other side of the road, then surely we must follow in these footsteps as well.
"What Does it Hurt?" – A Practical Response From Scripture
Paul's first letter to the Corinthian church is filled with many beautiful and memorable passages – about the body and its members, about the greatest of these being love; but the part that gets very little air time is chapter 8 in which Paul addresses the seemingly anachronistic topic of whether Christians can eat meat sacrificed to idols. At the end of the day, Paul says idols are not real gods and so, of course, eating that meat doesn't hurt you in the least.
If, however, somebody else who is less certain in their faith sees you eating that meat, will it cause that person to stumble and give up the Gospel because of your example? If the answer to that is yes – as it must have been in the Corinthian community – then maybe one small sacrifice you can make for the greater good would be to give up eating meat offered to an idol. It will not hurt YOU, but it might hurt somebody else – and that is reason enough to temper that particular liberty.
In the same way I would ask what it really hurts to acknowledge to somebody of another faith – "You know, the Church has not always been the most faithful in its witness to the Gospel…I wish it had been in that time and place and I hope that it will be different in this time and in this place." I can't help but wonder how a confessional posture might open the conversation in a way that a defensive or even a distancing posture might now allow.
"Because Christians Do This All The Time" – A Liturgical Response
The posture of confession may be a practical way to engage in more healthy and productive interfaith engagement, and the good news is that it's not really as difficult as it might seem – Christian worship has given us great practice at assuming the sins of another. Every week, many churches offer a prayer of confession – and the common critique is not so different from the discomfort here – "I don't do those things, why should I have to read this prayer that indicts me for things I did not do?"
When we confess our sin together in corporate prayer, we're not necessarily confessing our individual sins but rather the sinfulness that is always a part of us. One way or another, we take responsibility for the actions of others all the time. It's in our worship; it's in our theology; and thanks to Jesus Christ, it's in our genes, too…thanks be to God.
---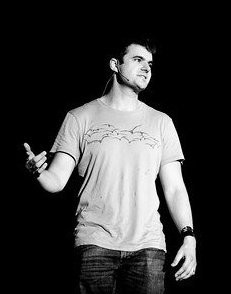 Jarrett McLaughlin and wife Meg Peery McLaughlin are co-Pastors at Burke Presbyterian Church in Burke, VA.  
https://media.mywtenfold1.com/wp-content/uploads/sites/10/2019/09/29172418/featured-mclaren-conference.jpg
200
398
Linda Kurtz
/wp-content/uploads/sites/10/2016/01/NEXT-Logo-FINAL-Horizontal_lato-1030x229.png
Linda Kurtz
2019-09-22 06:46:23
2019-09-18 15:52:34
Re-post: What?!? You Don't Want To Take Responsibility for Centuries of Christian Oppression, Pogroms, and Genocide? I Can't Imagine Why Not!