Each month, we post a series of blogs around a common topic. This month, we continue to post a series curated by Sarah Dianne Jones and written by our workshop leaders at the 2017 National Gathering. What excites them about the Gathering? What are they looking forward to sharing and discussing during their workshop? We invite you to join the conversation on Facebook and Twitter!
by Jen Kottler
FAQs (Frequently Asked Questions) about "The Yoga Workshop":
No, this workshop is not just for yogis (people who practice yoga).
Yes, if you would like, bring your mat.
No, you don't have to have any prior experience with yoga to attend our workshop.
Yes, do dress comfortably.
No, we won't make you sit on the floor (if that is uncomfortable for you), but we might encourage a bit of exploration.
Yes, we will ask you to breathe.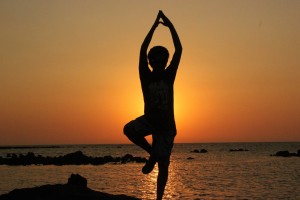 Phew. Now that we've got that out of the way…
I do yoga almost every day. It keeps me sane. And it gives me hope. It opens my heart.
This is not why I started doing yoga. I started doing yoga because, well, you know, it seemed the thing to do, right? I'm a pastor, but the "not serving a church right now" kind of pastor, and since I work from home, I settle into a new community by finding a place where I can go to work out – preferably within walking distance of our home. (My husband is an interim pastor/mid-council leader in the PCUSA, and when we change jobs, we usually move. Often, it's to a new state or a place that we have not lived before.)
So while it started out as an exercise class, it's become much more than that. As my yoga practice has deepened, my Christian faith has deepened. My prayer life has deepened. And I've learned many lessons about Christianity and yoga and life that I'm looking forward to sharing at the 2017 NEXT Church National Gathering. Here are three:
Christianity is a practice.

I've learned that rather than a set of beliefs, Christianity is more about how I live out my day to day life. One of my yoga teachers taught me to remember that in every moment of the day begins the practice of yoga. In the same way, I am reminded in everything that I do as I go about my ministry and my work, that I am

practicing

Christianity. I am living it out. Some days I live it out better than others, but each day is a new beginning.

Patience can be learned.

Anyone who has tried yoga knows, crow pose wasn't built in a day. In fact, most of the poses in yoga take a lifetime to master, and so we continue to practice. And we continue to breathe. Even when it's hard and you really would rather escape the pose and run to the bathroom, you don't. You remind yourself that it will be easier tomorrow and you just continue to breathe.

Meditation opens us to the voice of God.

I like to think that prayer is when I talk to God, and meditation is when God speaks to me. It's hard to hear what God is trying to say to us when we rarely get quiet enough to listen attentively to the still small voice. Learning to be still allows us to be still

and know

.
We are looking forward to sharing so much more during our time together! See you there. Namaste.
"Diving into the Well: Yoga Practice and Christian Praxis" is offered during workshop block 3 on Tuesday of the National Gathering.
---
Rev. Jennifer Hope Kottler is a spiritual director and a certified clergy leadership coach (ACC) focusing on vocational discernment, women's empowerment, self-care and congregations/leaders in transition. A daily yoga practitioner, Jen encourages others to try yoga and other mindfulness practices to deepen their spiritual journey. She will be leading the session, "Diving into the Well: Yoga Practice and Christian Praxis" with Rev. Leslie Mott.
https://media.myworshiptimes31.com/wp-content/uploads/sites/55/2016/02/29175517/yoga-featured.jpg
200
398
Linda Kurtz
/wp-content/uploads/sites/55/2016/01/NEXT-Logo-FINAL-Horizontal_lato-1030x229.png
Linda Kurtz
2017-01-04 17:32:28
2017-01-04 17:34:57
Three Lessons This Christian Learned from Yoga