Each month, we post a series of blogs around a common topic. This month, our blog features reflections on vocation, offered by people who are engaged in ministry and work outside the church. What is God's calling on our lives outside of the church? What is difficult about being Christian in the working world? How do our churches nurture a sense of Christian vocation? We invite you to join the conversation on Facebook and Twitter!
by Josh Durham
The most important lesson I learned in my law school trial advocacy class was to be myself. It was a good lesson, particularly since the TV lawyers of the day from shows such as The Practice, Ally McBeal, and Law and Order did such a good job that it was natural to want to be them instead. But I have generally heeded the advice of my trial professors, and their lesson has served me well through my eighteen years of practice and through many, many cases that arise from one business dispute or another.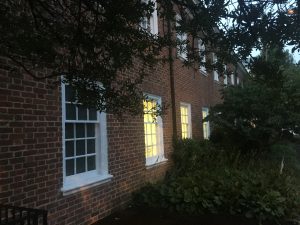 There are still times, though, when it's easy for this introvert to want to be one of those dramatic, bang-my-fists-on-the-table lawyers. A client gets burned by a business partner whom they'd considered a close friend, and their deep hurt and thirst for punishment become mine. Or when opposing counsel plays fast and loose with the rules of procedure, and I not just want to call them out on it, I want to bury them for it.
I know, though, that in such times my clients and I are much better served when I remain myself.  
And that's exactly where my church comes in. Especially on Friday mornings, when I gather with a small number of men with diverse careers in one of our church classrooms for a weekly Bible study. We've studied Mark, Luke, Acts, Genesis, Exodus, and we are now working our way through Joshua. All one chapter at a time.
Through all my church involvement in my life, and through the many Sunday sermons and Sunday School classes, I have learned a lot about Christ and Scripture. But it is on these Friday mornings, in this safe haven for doubt, questions, honest conversation, and confession, when I have learned so much about myself.
I am a child of God, and I am neither perfect nor alone.

I am part of a community whose members are each uniquely imperfect, and it is from this community that God often chooses people to do amazing things.

I am loved.
Of course, I likely knew all of this already, but somehow it's different hearing it on Friday mornings, and these lessons have therefore become ones that I look forward to, and carry with me, each and every week. All of us in this group feel this way.
I am so unbelievably grateful for so many things in my life, and included on the list are our Friday mornings together, that sincere invitation to attend from a fellow church member several years ago, and God's gentle nudge toward that very first meeting. And I am thankful that through all of my figurative and literal trials, I know this:
I am someone to whom God promises this: I will be with you wherever you go.
---

Josh Durham is an attorney in Charlotte, North Carolina, where he helps businesses and business owners through all sorts of disputes. He's also an aspiring screenwriter, but his real dream is to play second base for the Houston Astros. Josh is married to his law school sweetheart, Lynette Neel, and together they have three marvelously beautiful (and funny) children. They are members of Trinity Presbyterian Church. You can follow Josh on twitter: @joshdurhamlaw.
https://media.mywtenfold1.com/wp-content/uploads/sites/10/2016/10/29174929/featured-josh-durham-building.jpg
200
398
Linda Kurtz
/wp-content/uploads/sites/10/2016/01/NEXT-Logo-FINAL-Horizontal_lato-1030x229.png
Linda Kurtz
2016-10-27 07:07:23
2016-10-26 17:15:10
Courtrooms, Friday Mornings, and Just Being Me