Each month, we post a series of blogs around a common topic. In this month's series, we are excited to share some sneak peeks of NEXT Church's forthcoming "Field Guide for Cultivated Ministry," alongside articles and stories that reflect on the importance of mindfulness, discernment, and learning as crucial to the flourishing of ministry. We can't wait to share the whole thing with you this fall! We invite you to share your own thoughts on Facebook and Twitter! 
by Frank Spencer
Jesus never said check your intellect at the door and forget what you have learned outside the Church. Jesus praises the good manager in parables and chides those who waste or steal. We are obligated to make good use of our time, talent and treasure. Thus, we are called to excellence in all we do while extending the hand of hospitality and living in the grace of compassion.
Here at the Board of Pensions, we often say that the numbers can never define our values, but analytics must always inform our stewardship.
Jesus also talked a lot about vineyards and the hard work that goes into growing good fruit. He used that analogy to talk about fruitfulness in our lives. NEXT Church has furthered that analogy to explore new ways of assessing ministry effectiveness. A cultivated ministry exhibits the following four principles: theological reflection, constant learning, mutual accountability, and storytelling.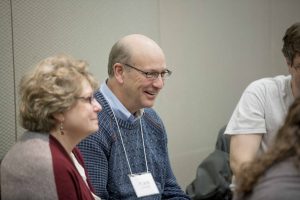 Asking the theological "why?" has transformed the Board and its programs. We began the change three years ago by developing a Theology of Benefits. That work allowed us to understand our mission as a vital part of enlivening the body of Christ in the PC(USA). It led us to understand benefits as wholeness, rather than a financial proposition. This theological understanding is embedded in everything we do, seeking well-being for those who serve Christ's Church in the four critical arenas of health, spirituality, finance, and vocation. Those who have experienced the CREDO program know these focus areas well.
We believe in constant learning, evaluating and re-evaluating everything we do. To learn from past errors and identify future possibilities, we have had to be brutally honest about the current state of things. Some things like care for our members and investment of our assets we did really well and we affirmed that excellence. Other things, like information technology, flexibility, and cost control were not as good. By facing these challenges, we have dramatically improved how we serve and expanded whom we serve. But we are only just beginning because there will always be more to learn. Knowing that we can and will improve keeps us energized and hopeful for the future.
We practice mutual accountability with many levels of constituencies. We are of course accountable to our Board and have developed a culture of openness and honesty that has allowed us to work through problems together and take bold steps for improvement. We are accountable to members whom we serve in a consultative framework. We are accountable to the larger Church through the General Assembly and to each congregation. We have adopted a posture of complete transparency and have spent the past three years unmasking hidden subsidies and telling the Church honestly what benefits cost. We have scrapped hundreds of administrative rules trusting each congregation to make decisions that best fit its unique context.
And oh do we love the stories! We know our members personally because they call us and write us and meet with us. Some of these stories are wonderful triumphs of healing and wholeness. Others speak to the deep grief and disappointment that is a part of all of our lives. We always try to say "yes" but sometimes we have to say "no" and those stories are always the most painful. There is rarely a month that goes by without my being moved to tears of joy or sadness.
Cultivated Ministry implies a never ending cycle of assessment, reflection, input from constituents, and sharing of personal stories. Just as the vineyard is always in need of tending, so it is with every ministry. Staying centered in the face of constant change is a challenge. For us, prayer is an important part of staying centered. Every Executive Team meeting and every Board committee begins with prayer. We pray in thanksgiving for the honor of serving Christ's Church. To remind ourselves of the community we serve, every prayer ends by lifting up another agency or organization of the PC(USA).
What a wonderful thing it is that sisters and brothers care for each other in the name of Jesus Christ. If you count all the active members and their families, retired members and their spouses, surviving spouses and children, and vested former employees, PC(USA) is caring for 61,000 individuals through the Board of Pensions. This ministry is well-planned, theologically grounded, ever reforming, and abundantly fruitful.
It is indeed a well cultivated ministry.
---

Frank Clark Spencer is the president of the Board of Pensions of the Presbyterian Church (USA) and served on the initial strategy team for NEXT Church. Before turning to full-time ministry, Frank had an outstanding business career which included leading his company to its initial public offering on the New York Stock Exchange and being recognized by Ernst and Young as 2009 Entrepreneur of the Year in the Southeast. Frank is the past Chairman of Montreat Conference Center and former President of Habitat for Humanity of Charlotte. He was a Morehead Scholar at the University of North Carolina Chapel Hill, a Baker Scholar at Harvard Business School, and earned his M.Div. at Union Presbyterian Seminary in Charlotte. You may listen to Frank's sermons and find out about his latest book at www.fspencer.com.
https://media.mywtenfold1.com/wp-content/uploads/sites/10/2017/08/29174243/featured-frank-spencer.jpg
200
398
Linda Kurtz
/wp-content/uploads/sites/10/2016/01/NEXT-Logo-FINAL-Horizontal_lato-1030x229.png
Linda Kurtz
2017-08-08 07:36:56
2017-12-24 15:12:42
Cultivated Ministry at The Board of Pensions