Each month, we post a series of blogs around a common topic. This month, Rev. Michael McNamara is curating a series that will explore the theme of Christian contemplative practice, which has been central to the formation and development of Christianity. We will learn from writers exploring spirituality from both the secular and the religious, embracing the paradox within that — a paradox essential to contemplative practice itself. How can this Christian or secular tradition impact today's church? We invite you to join the conversation on Facebook and Twitter!
by Rev. Michael McNamara
Since contemplation can be a bit of a slippery term, I would like to try and define Christian contemplative practice as accurately as one can. It refers to a long practiced, deeply rooted Christian tradition that goes at least as far back as the first time Jesus went off by himself to pray (although its not like he was the first person to do that, so it rooted in something even more ancient than the Christian church). At its most basic level, Christian contemplative practice could be understood as meditation or silent prayer — but it has a far more robust history and practice than that.
Contemplative practice has been central to the formation and development of Christianity. There are thousands of years of Christian writers exploring and putting language to their contemplative experiences of God, people like Augustine, Benedict, Bernard of Clairvaux, Meister Eckhart, Julian of Norwich, John the Cross, Teresa of Avila, Brother Lawrence, Thomas Kelly, Howard Thurman, Thomas Merton, Thomas Keating, Anthony de Mello, Tilden Edwards, Richard Rohr, and Cynthia Bourgeault. There are also various formal and teachable modes of practice including lectio divina, psalm chanting, labyrinth walking, icon meditation, and centering prayer that have been handed down and developed over generations. Christian contemplative practice reveals a non-duality to the world that uncovers a unity with God. Put plainly, Christian contemplative practice could be summarized as: intent to simply be present to God in stillness.
Over the past year, as I have been establishing foundations for a new worshipping community centered in contemplative practice, I have been meeting with folks across the religious/spiritual spectrum and a few things have emerged.
There is clearly a longing for a deeper experience of life.
There is a growing mistrust of the Church, particularly among millennials.
There are burgeoning movements around mindfulness, yoga, and more general wellness, something for the sake of simplicity I will refer to (maybe unfairly) as secular spirituality since many (but certainly not all) practitioners in these emerging fields often go to great lengths to remain firmly secular.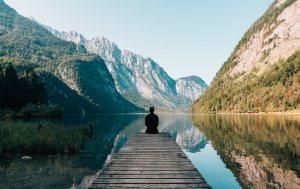 It could be easy to worry about these developments, particularly when coupled with declining religious engagement, but I have seen reason for hope. If anything I believe there is an opportunity.
It starts with the fact that secular spirituality movements have offered a wonderful gift: through practices that grew out of ancient faith traditions more and more people are getting a glimpse of a "loving stirring" to the "naked being of God" (as put by the anonymous author of the 14th century spiritual classic The Cloud of Unknowing). Folks are experiencing something larger than themselves, a wordless formless expanse that resonates deeply.
Rarely, though, do the practitioners of secular spirituality have the language or infrastructure to help people more deeply engage in these experiences. Not all who experience these transcendent moments will seek to go deeper, but many will. The more rational approaches of secular spirituality — rooted in language that seeks scientific proof of its efficacy, language that speaks to the rational mind, words that tend to dwell in neuro-biological space — are not particularly useful in helping people encounter and embrace the paradoxes explored by the poetic and mythic language of faith and mysticism. As a result practicers are often left with beautiful experiences but lack ways to engage that experience beyond the rational mind.
This is where the Church can help. It can mentor and walk with those seeking a deeper spiritual journey. The Church can dig deep into its past and offer a robust framework for those looking to engage more deeply in these spiritual realms of the heart mind and soul. Church can offer language and a treasure trove of diverse experiences that can act as guides and way points for the journey deeper into God. The Church is also practiced in community building and can help form covenant communities of accountability around practice, a central element of Christian contemplative practice over the millennia.
The beauty of this is it is not just that the Church has something to offer in terms of experience and tradition and practice, but that it can also learn from those engaging in spirituality beyond the walls of a church. This month's posts will explore both sides of this, from the secular side and the religious side, and will sometimes appear to be in paradoxical opposition to itself (just like good contemplative practice!). Hopefully these posts will get you to thinking, asking questions and seeking to dig a little bit deeper in this rich and abundant resource, a gift really, gift to the Church.
If we go back to our plain definition — intent to simply be present to God in stillness — in that simple presence exists amazing transformation. In that simple stillness we can trust that the "NEXT Church" will emerge out of the infinite love imbibed in creation by God.
---

Mike McNamara is a Presbyterian pastor serving Adelphi Presbyterian Church in Adelphi, MD, as well as forming a New Worshipping Community rooted in contemplative practice in Silver Spring, MD. Mike has a beautiful wife and two young boys ages 2 and 4. He has a particularly strong love of rock climbing and good coffee. Catch him at RevMcNamara.com and on instagram: @a_contemplative_life.
https://media.mywtenfold1.com/wp-content/uploads/sites/10/2019/08/29172540/featured-mindfulness-dock.jpg
200
398
Linda Kurtz
/wp-content/uploads/sites/10/2016/01/NEXT-Logo-FINAL-Horizontal_lato-1030x229.png
Linda Kurtz
2019-08-05 18:53:14
2019-08-11 21:22:59
More than Mindfulness