Each month, we post a series of blogs around a common topic. This month, Katy Stenta is curating a series called "Worship Outside the Box" that looks at the elements of worship in new ways and contexts. Each post will focus on one particular part of worship, providing new insights about how we can gather to worship God. Today's post serves as a hymn. What are the ways you worship God in your own community? We invite you to join the conversation on Facebook and Twitter!
by Drew Wilmesherr
"I would hurl words into this darkness and wait for an echo, and if an echo sounded, no matter how faintly, I would send other words to tell, to march, to fight, to create a sense of hunger for life that gnaws in us all." – Richard Wright, "American Hunger"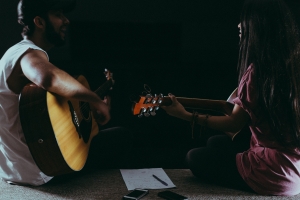 Songwriting is as much a passion/calling as it is a craft. Sometimes the lyrics are a jazzed up kangaroo, ready to burst out of the writer's head and into the listener's ear. Sometimes the lyric is a sedated panda, heavy, unyielding, and difficult to move forward. But catching rainwater of lyrics, when you have the right tools available, can be refreshing and life-giving without drowning in a blunt force flood of clichéd metaphors.
I love a fresh metaphor in worship music. John Mark McMillan writes in his song, "Baby Son,"
The inn is full, the out is dark
Have you no room inside your heart?
What a beautiful line to communicate so much! There's clever wordplay of "in" and "out" and the space to fill in who we're allowing in and who we're locking out.
Or William Matthews' gracious articulation of a faith journey through grey areas of life and faith, "In the Grey":
The place, the place, where I love you in the mystery
and you rewrite my history in the grey
There's honesty and encouragement to sing this as a community of faith, like Jeremiah or Lamentations, to say I have no clear black and white answers, but I still love you.
"Metaphors have a way of holding the most truth in the least space." – Orson Scott Card
Pat Pattison (lyric and poet professor at Berklee College of Music) defines metaphor as "… a collision between ideas, one crunched into another…" (Songwriting without Boundaries). Basically, all of corporate worship songs are a metaphor. We're singing about the Indescribable Divine using the limited language of our even more limited experiences. Having just finished the Christmas season, we probably sang songs about inn keepers without any room for parents with a newborn baby. Even though there are no surly innkeepers in the Gospels, it's still a great metaphor for the way we treat people even today at our borders, or even the way we allow the life, death, and resurrection of Christ to take up residence in our head and heart. It's a relatable metaphor, because we can imagine a full hotel on a long journey, or even simply being turned away from a full room.
I love co-writing metaphors for songs, especially with people who have lived through experiences different from my own. They bring fresh language for common experiences, and sometimes they relate uncommon experiences through very relatable images. I once co-wrote a worship song with a hip-hop artist who was using a lot of club and party imagery as a prophetic vision of the Isaiah mountain in Isaiah 2. Peace and abundance in the language of thumping beats and full dance floors. In the book How to Rap by Paul Edwards, hip-hop artist Immortal Technique explains, "Hip-hop was born in an era of social turmoil and real economically miserable conditions for the black and Latino people living in the hood of America, so in the same way that slaves used to sing songs on a plantation about being somewhere else – that's the party songs that used to have."
When we engage in worship songs beyond our hymnals (as extensive and deep and wide as they are), we hear the experiences of our common God through the uncommon and current languages of our brothers and sisters who might not occupy our pews with us on Sunday mornings. When we sing the songs of others, we breath and speak as they do, and find ourselves connected in our art. And I usually find a dialogue taking place between groups of people where bridges might not have been before.
"Sing to the LORD a new song, because God has done wonderful things!" Psalm 98:1 (CEB)
Singing a new song, as Psalm 98 instructs, gives us a glimpse into the way God works in the world, the way God addresses our fears (like desiring an escape from poverty). Let's write our songs, let's sing the songs of others, and let's find God in the lives of those living beyond our walls.
For more resources on lyric writing, see Pat Pattison's Writing Better Lyrics: The Essential Guide to Powerful Songwriting.
---

Drew Wilmesherr is a Top 40 Mashup of West Virginia and Mississippi. He was designed and made in Atlanta, Georgia. He's made of collard greens, guitar strings, 808 drums and stories about Jesus. He went to Middle-Tennessee State University (go Blue Raiders!), where he studied English and Recording Industry Management. In between classes and projects, he attended the Presbyterian Student Fellowship at MTSU, making lifelong friends, leading worship (the guitars and synthesizers kind), and discovering a passion for ministry and the person of Jesus. He recently graduated from Columbia Theological Seminary with a Masters of Divinity. And if you get him started on what the future might look and feel like, you have to let the jukebox play the whole song out (he won't stop talking about it).
https://media.mywtenfold1.com/wp-content/uploads/sites/10/2019/01/29173118/featured-music-guitars.jpg
200
398
Linda Kurtz
/wp-content/uploads/sites/10/2016/01/NEXT-Logo-FINAL-Horizontal_lato-1030x229.png
Linda Kurtz
2019-01-16 07:01:37
2019-01-19 16:06:06
Hymns as Songwriting