Each month, we post a series of blogs around a common topic. This month, Katy Stenta is curating a series called "Worship Outside the Box" that looks at the elements of worship in new ways and contexts. Each post will focus on one particular part of worship, providing new insights about how we can gather to worship God. Today's post serves as the benediction. What are the ways you worship God in your own community? We invite you to join the conversation on Facebook and Twitter!
by Andy Kort
The benediction. It is usually the last spoken piece in worship and is spared the distinction of being the last piece only by the inclusion of a postlude. The benediction is perhaps the shortest element in the worship service, usually only a few seconds to complete. Maybe that's why people often love it. It is a blessing offered at the end, a simple and wonderful way to remember that God's help, guidance, and grace goes with us as we leave the sanctuary. I hope that's actually the real reason why people love it. But in my mind, the benediction and the accompanying charge serves as more than a blessing. I also see it as a line of demarcation, with a before and an after.
What happens before shapes what comes after. Think about the typical Sunday morning and all that happens before the benediction. There is an education hour complete with Bible studies, conversations about faith, kids in Sunday school, prayer in the chapel, and people catching up about their lives from the last week. Before the benediction there are all the other elements of a worship service. We are called together, we praise God, we confess our sins and hear we are forgiven, we pass the peace, and we read God's Word and then proclaim it in sermon and song. We share our gifts as we are called to generosity, we pray, we sing, and on really good days we celebrate the sacraments. In all of this we hear about God's reconciling and liberating work in Jesus Christ and the power of the Holy Spirit. We hear about love, justice, mercy, compassion, and more. We cannot help but be shaped by this. And in turn this shapes what happens after the benediction.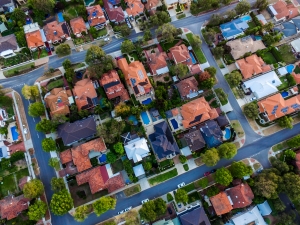 What usually happens after the benediction? In the congregation I serve, the pastors recess from the chancel and position themselves to greet worshipers at the doors. The worshipers either stay seated for the postlude or get up and begin to disperse. Eventually we all go into our fellowship hall for coffee hour. Then what? Do we all just go home until next week? No. We go into the world as people shaped by all that happens before the benediction, ready to do the work after the benediction. For many of us, that involves mission activity that has been informed and interpreted through our worship, Christian education, fellowship, and even committee meetings during the week.
Many of us love to quote St. Teresa of Avila, "Christ has no body on earth now but yours, no hands…no feet…no eyes…but yours." To that I would also add ears. Maybe even before we are the hands and feet, we are the eyes and ears, looking and listening, witnessing and watching what is going on in worship, but also in our neighborhood, community, and world. Once we learn more about what is going on around us, we are in a better position to engage while responding to being sent into our communities to work with our neighbors. This can also save us from imposing on our neighbors what we assume they need, or helping them with things they don't really need or even want.
I recently spent time listening to church members through surveys and ethnographic interviews to understand what is important to them as it relates to mission, how they understand mission, and feelings on what we have been doing. I also listened to community agencies to hear more about their needs. The results were informative and led us to adjust what we were doing. Some things changed, others were dropped, and a few new things began. One example of a new initiative is our "pop up missions" where we learn of an immediate need and try to help. But we also strengthened relationships with existing mission partners like Montgomery, West Virginia (15 years), a Catholic church in Nicaragua (20 years), and many local groups.
After the benediction we don't just get coffee in fellowship hall. We are sent out into the world, our neighborhoods, our communities, and our homes to participate in what God is doing. What is God doing? A whole lot. Christian education, the elements of worship help us to understand "who is our neighbor?" it informs our understanding and biblical best practices. We get a reminder that we are called, equipped, and sent out by God. And as we are sent out, we receive a blessing to send us on our way. It's absolutely beautiful.
---

Andy Kort is senior pastor at First Presbyterian Church in Bloomington, Indiana.
https://media.mywtenfold1.com/wp-content/uploads/sites/10/2019/01/29173036/featured-neighborhood.jpg
200
398
Linda Kurtz
/wp-content/uploads/sites/10/2016/01/NEXT-Logo-FINAL-Horizontal_lato-1030x229.png
Linda Kurtz
2019-01-31 07:07:13
2019-01-19 16:17:23
Sent Out into the World